Packers Training Camp by Position: Running Backs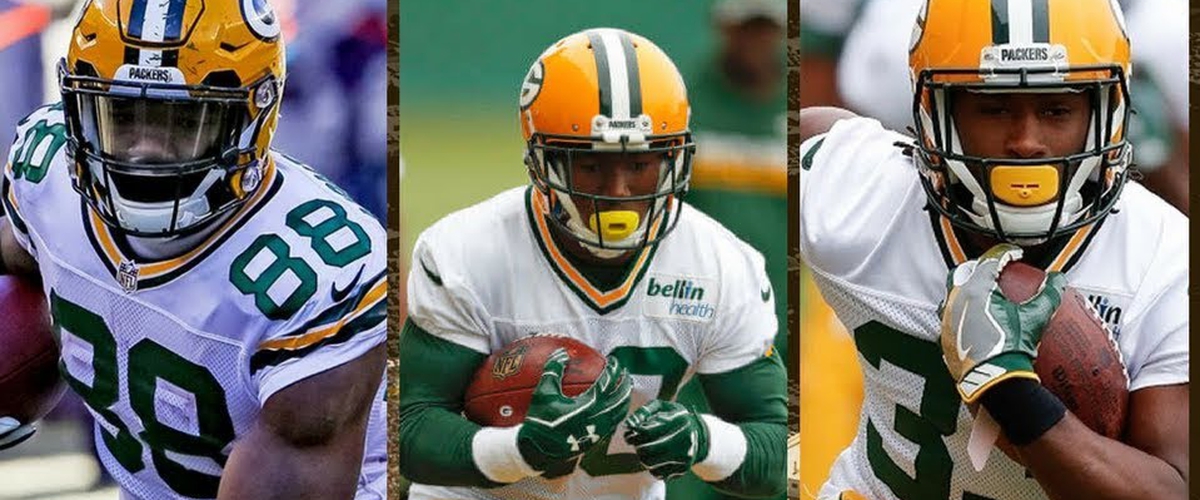 No one had any idea how the run game was going to play out in 2017, but the combination of converted Wide Receiver Ty Montgomery with Jamaal Williams and Aaron Jones, two mid-round rookies, ended up tallying over 1,700 Yards on the ground. This year, the Running Back reps will likely be split three ways again, but there is one player that could win the standalone RB1 job...
RUNNING BACKS:
Jamaal Williams - 23, 2nd season, 7 starts, $696K Salary
Williams is less flashy than Ty Montgomery or Aaron Jones, but he's the most dependable. His 7 starts were more than both of the other two, his 556 Rushing Yards led the team, and 153 rushing attempts is nearly twice as many as anyone else on the roster. It's also no small feat to be named Packers Hall of Fame's Rookie of the Year. Throughout OTA's and the first week of camp, many analysts claim Williams looks to be in a league of his own. To further that point, it's no coincidence Williams is getting over twice as many first team reps as any other back right now.
Ty Montgomery - 25, 4th season, 11 starts, $880K Salary
Montgomery was a pretty effective back when healthy last year, but defenses definitely figured him out better than 2016. In roughly the same number of carries, Montgomery's yards per carry drastically dropped from 5.9 to 3.8. That's a negative difference of over 55%. Williams doesn't seem like much of a third-down back, and Aaron Jones doesn't offer nearly the same amount of flexibility in passing packages, so Montgomery should still earn third-down and package-based reps. That being said, he's also older than the three other second-year backs and entering the final year of his contract, so a breakout season doesn't look too likely either.
Aaron Jones - 23, 2nd season, 4 starts, $539K Salary
Jones was kind of a wildcard entering his rookie year, but he finished tied with Jamaal Williams for the most Rushing Touchdowns (4), and his 5.5 yards per carry was substantially higher than anyone else on the team. A marijuana charge from last year leaves him suspended for the first two games of the season, but as for the rest of the 14, he'll definitely look to fight for more reps than last year. He has that burst of speed and agility no one else can offer out of the backfield.
Devante Mays - 24, 2nd season, $574K Salary
Mays was taken in the 7th Round last year, and he ran the ball just four times for a total of one yard. Yes, that's an average of 0.25 yards per carry. Barring injury or divine intervention, Mays is just another back-up option. His main hope for making the active roster again is Jones' two-game suspension, but after he returns, the opportunities and job security will simply be nonexistent.
Joel Bouagnon - 23, 2nd season, $480K Salary
The biggest thing Joel Bouagnon has goign for him is his 6'2" 230-pound frame. He was cut from Chicago's training camp last fall after going undrafted, and with a 4.66 40-yard time and injury concerns galore, he'll have to grind hard to earn just a practice squad spot.
FULLBACKS:
Aaron Ripkowski - 4th season, $732K Salary
Ripkowski may have only rushed the ball 5 times over 16 Games last season, but he made important blocks in both the running and passing games. Not a lot of teams have use for a fullback, but he's inexpensive and only has a year left on his rookie deal anyways, so his job (barring injury) should be relatively safe.
Joe Kerridge - $630K Salary
Kerridge has turned into somewhat of a practice squad fan favorite. He went from making the active roster to being cut, to being signed to the practice squad just to be promoted to the active roster again - all in one season. Kerridge only contributed on special teams during his four-game 2017 stint, and he'll likely wait end up on the practice squad and wait for the injuries to accrue come September.
SUMMARY:
Jamaal Williams: RB1 (well, at least a significant portion of starting reps)
Ty Montgomery: RB2/Third-Down Back
Aaron Jones: RB2 (at least more normal back-up reps than Montgomery)
Devante Mays: 50/50 odds of making the 53-man roster. Solid practice squad candidate, though
Joel Bouagnon: Misses the cut, mediocre odds of making the practice squad
Aaron Ripkowski: Starting Fullback
Joe Kerridge: (probably) Misses the cut, excellent practice squad candidate