Sam's Grading the Pack Week 10: An Above-Average Win from an Average Packers Squad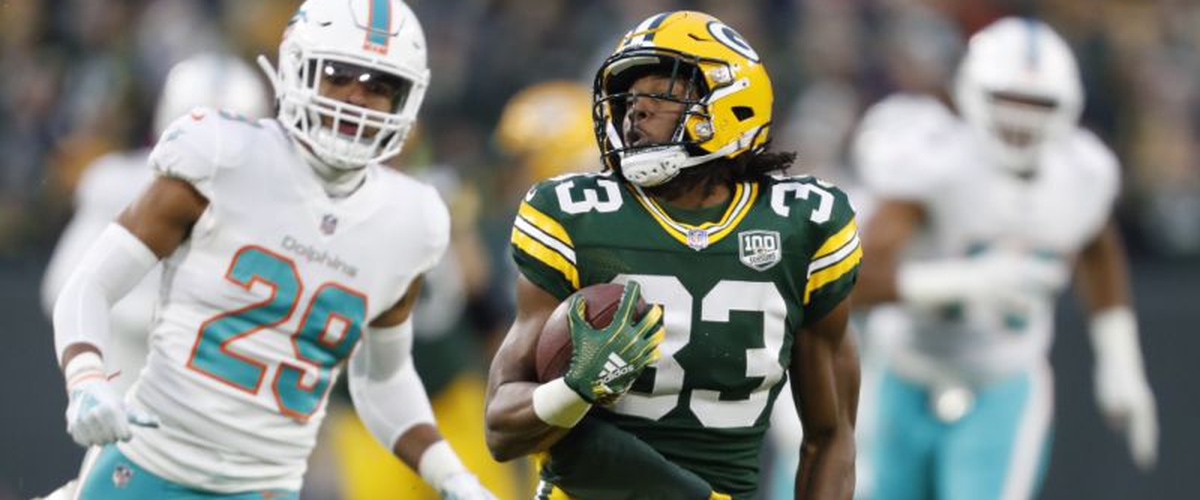 I spent Sunday afternoon driving back from Iowa, and like any other good Packers fan, I received push notifications from ESPN on every scoring play. From what I saw looking down at my phone during the boring drive through western Illinois, Green Bay played pretty well, wrapping up a 31-12 victory over a winning-record team. This is exactly why box scores can be deceiving.
Yes, a win is a win, but when watching the film upon returning home, they didn't look as good as the box score showed. Aaron Rodgers made more than a handful of mental errors. Aaron Jones had a breakout game, but even he made a couple of dumb penalties. Jimmy Graham couldn't get open, Randall Cobb was inactive, and Mr. Reliable David Bakhtiari had difficulties blocking Robert Quinn and Cameron Wake on the edge. On defense, Nick Perry failed to add pressure once again, and half the secondary couldn't keep up with cross routes and third down coverage.
Green Bay is back to a .500 record, but they'll need to get hot during the latter part of the season if they want to be playoff bound. The Packers demonstrated they can beat average or worse teams, but Titletown still hasn't proved they have the stuff to keep up with playoff-caliber squads.
OVERALL: C+
Offense: C+ QB/RB: B WR/TE: C+ OL: C
Defense: C+ DL: B LB: B- DB: C Special Teams: C
BEST GRADE: A-: WR Davante Adams, RB Aaron Jones, DT Kenny Clark, DE/OLB Reggie Gilbert, and S Raven Greene
Once again, Davante Adams is tied for the highest earned grade. He and Aaron Rodgers weren't always on the same page Sunday, but #17 still reeled in four receptions for 57 and a couple of Touchdowns. Aaron Jones had a monster game in the backfield, breaking out for 145 Yards and a pair of scores. Stupid penalties prevented him from reaching the "4.0" range. Kenny Clark stuffed the run and tallied a sack in the center of the D-Line, keeping his Pro Bowl hopes alive. Reggie Gilbert still proves to be the most effective edge rusher, both recovering a fumble and raking in a clutch fumble recovery. Raven Greene, usually relegated to remote Special Teams duties, posted an impressive Sack on a safety blitz and ran 26 Yards on a fake punt. After trading away Ha Ha and cutting Jermaine Whitehead, Greene might be playing his way into a full-time Safety job.
WORST GRADE: D-: Josh Jackson
Josh Jackson and Jaire Alexander were taken with the Packers' first two picks this past spring, but while the latter is having a Defensive Rookie of the Year campaign, Jackson struggled once again. He blew coverage a handful of times, didn't tackle well, and committed multiple penalties again. I'm not sure what his deal is regarding the penalties, but he hasn't been giving Mike Pettine many reasons to put him out on the field.
MVP Watch: Davante Adams only increased his MVP lead over Aaron Rodgers. Blake Martinez and Kenny Clark still sit in third and fourth, respectively.
STATS OVERVIEW:
Passing - Rodgers: B (19/28, 199 Yds, 2 TD, 0 INT, 112.1 Passer Rating; 6 Rush, 21 Yds)
Rushing - A. Jones: A- (15 Rush, 145 Yds, 2 TDs; 3 Rec, 27 Yds) J. Williams: C- (3 Rush, 3 Yds)
Receiving - D. Adams: A- (4 Rec, 57 Yds, 2 TDs); Valdez-Scantling: B+ (6 Rec, 44 Yds); Graham: C- (1 Rec, 14 Yds); Lewis: C+ (1 Rec, 30 Yds); Kendricks: B- (2 Rec, 24 Yds)
Defense - 1 Interception (Breeland), 6 Sacks (Clark, Lowry, Fackrell, Gilbert, Greene, M. Adams)
Questions? Comments? Concerns? General Feedback? Are the Packers anything more than an average team? Let me know!
Thank you and God Bless,
Samuel R. Fuller