Sam's Grading the Pack Week 13: Adios, Mike McCarthy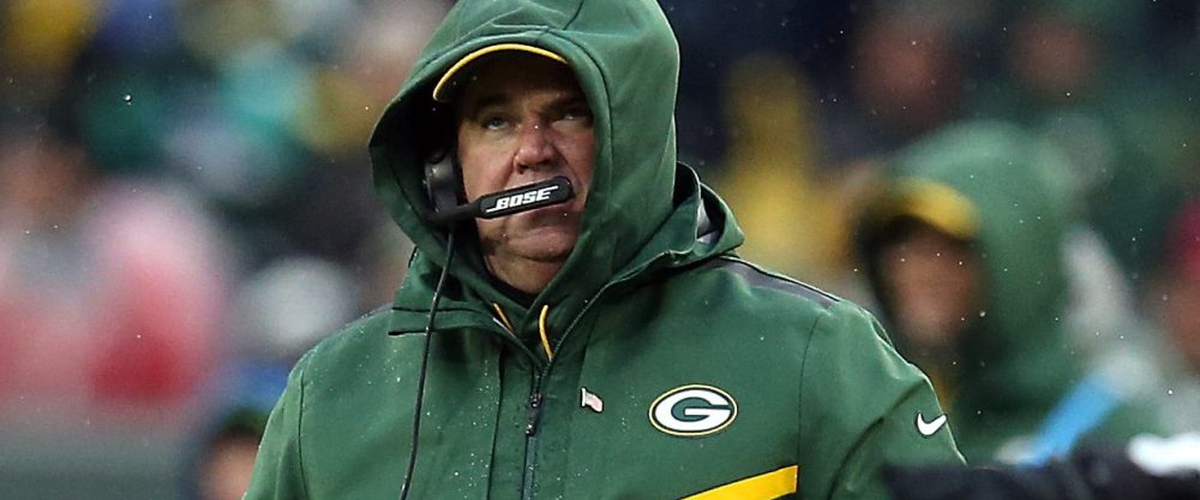 Green Bay just lost to one of the worst teams in the league at home. How embarrassing is this loss? I'm typing this just after 6 PM Sunday night, and I just received a push notification about ten minutes ago stating Green Bay has fired Mike McCarthy. There aren't a lot of things that merit a hastily written pink slip, but losing to a 2-9 Arizona Cardinals team at home and dropping to a 4-7-1 record with a Hall of Fame Quarterback? That'll do it.
Speaking of the Hall of Fame QB, Aaron Rodgers under-threw many a target Sunday, while failing to complete a single pass longer than 20 yards. Out of 76 offensive snaps, Aaron Jones was on the field for 39 and Jamaal Williams, clearly the inferior of the two backs, was on the field for 38. Why the hell did Aaron Jones only get one more rep than Jamaal Williams? A difference-maker like Jones should get far more than 11 Rushes against a weak Cardinals run defense. Davante Adams had another stellar game, but no one else was able to get open consistently, Jimmy Graham pulled in eight receptions, but only for 50 yards as he was used solely as a short-distance target. No one on the line (save Jason Spriggs) had an awful day blocking, but no one reached a "B" grade either.
Dean Lowry stepped up in Mike Daniels' absence, tallying one of the team's two sacks. Kenny Clark only had a couple moments, and none of the edge rushers had an above-average performance. Blake Martinez held his own inside, and Josh Jones' sack via safety blitz made him the only significant performer on defense. As far as special teams go, Jaire Alexander had a single spurt on a punt return, about half of JK Scott's punts were good, and Mason Crosby's blown field goal essentially secured Mike McCarthy's firing.
OVERALL: C
Offense: C+ QB/RB: B- WR/TE: B- OL: C+
Defense: C DL: C LB: C DB: C Special Teams: C-
BEST GRADE: A-: WR Davante Adams
Week 13 marks the eighth straight game with Davante Adams as the highest grade-earner. He pulled in eight catches for 93 yards and a touchdown. One bad drop knocked his grade down from a 4.0 this week. Only RB Aaron Jones and DE Dean Lowry got grades above a "B", so there was very little Green Bay star power beyond Adams.
WORST GRADE: D: RT Jason Spriggs and K Mason Crosby
Bryan Bulaga left the game earlier with yet another knee injury, and Arizona's best pass rusher Chandler Jones took full advantage of Jason Spriggs. For the second week in a row, Jason Spriggs comes in, commits at least one penalty and allows a relatively uncontested sack. It's hard enough putting up with Byron Bell and Bulaga starting on the right side; having Spriggs as the backup Tackle is just further torture and Rodgers deserves better. Mason Crosby was having a decent day until shanking a game-tying field goal attempt with time expiring, officially killing any remaining hope of a playoff appearance. It's safe to say we can't consider Mason Crosby a reliable Kicker anymore.
MVP Watch: Davante Adams earns the highest grade for the eight straight week, and it doesn't look like anyone will catch him. Aaron Rodgers and Blake Martinez have the next two podium spots, while Aaron Jones and Kenny Clark round out the top tier of players in fourth and fifth, respectively.
STATS OVERVIEW:
Passing - Rodgers: B- (31/50, 233 Yds, 1 TD, 0 INT, 79.8 Passer Rating)
Rushing - A. Jones: B+ (11 Rush, 36 Yds, 1 TD; 4 Rec, 16 Yds) J. Williams: C+ (7 Rush, 13 Yds; 4 Rec, 14 Yds)
Receiving - D. Adams: A- (8 Rec, 93 Yds, 1 TD); Cobb: C+ (3 Rec, 25 Yds); Valdez-Scantling: C+ (2 Rec, 19 Yds; 2 Rush, 29 Yds); Graham: B (8 Rec, 50 Yds);
Defense - No Interceptions, 2 Sacks (Lowry, J. Jones)
Questions? Comments? Concerns? General Feedback? Any ideas on who the next Head Coach should be? Let me know!
Thank you and God Bless,
Samuel R. Fuller