Sam's Grading the Pack Week 10: The Bears Still Suck (More than Us)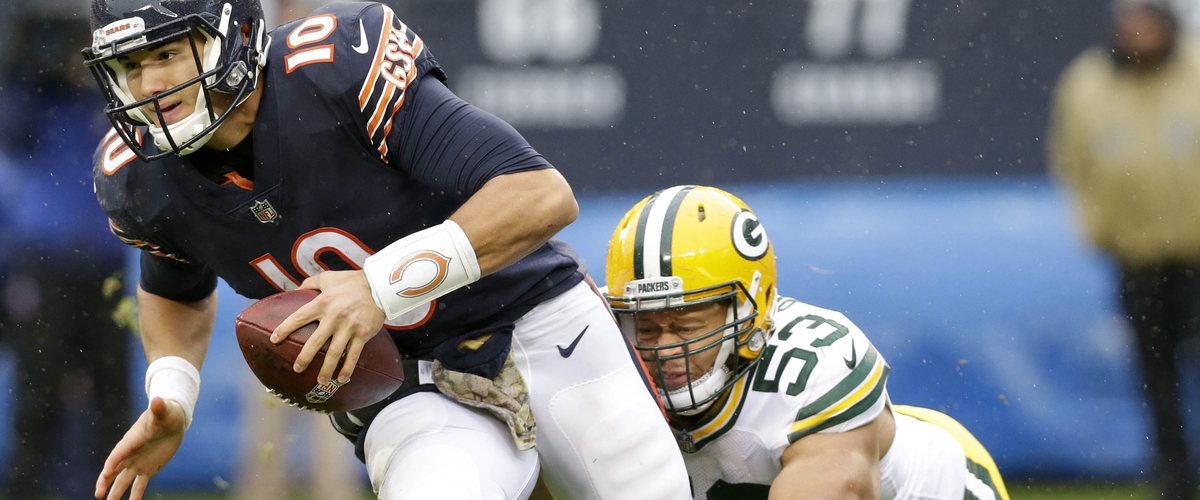 The Packers could've lost this game on a couple of occasions, but thank the lord they didn't. Brett Hundley put together his best game as a Packer by far, and a 110.8 Passer Rating shows that he might actually be the Quarterback for the rest of the season. What enabled him to stick to comfortable yet crucial pass plays was a formidable running game in horrible weather by three different running backs. Both Aaron Jones and Ty Montgomery went down with game-ending injuries at one point, but Jamaal Williams stepped up in their absence and as a unit, they ran for 160 Yards and a Touchdown. If they can find a good balance with a sneaky good running game, this could enable Brett Hundley to still make comfortable throws but have more open looks on play action opportunities. One could argue that the defense, despite not having an interception, won the game. That lack of an interception might stem from a season-high FIVE sacks on Mitch Trubisky & Co., three of which coming from newly-extended Nick Perry. The highest-paid defender finally played like it this season. His 7 Sacks in 9 Games is starting to look like his impressive 2016 numbers that earned his fat paycheck. This might be signs of better things to come against the mediocre Ravens, the ugly Bucs and god-awful Browns.
OVERALL: C+
Offense: B- QB/RB: B+ WR/TE: B- OL: B-
Defense: C+ DL: C+ LB: C+ DB: C+ Special Teams: C+
BEST GRADE: A+: Nick Perry, OLB
FINALLY somebody steps up for this lackluster Pass Defense. His Three sacks is by far the most anyone has had on this team all year, and if it weren't for the Falcon's Adrian Clayborne going postal for SIX sacks on the Cowboys, Perry might have been a shoo-in for NFL Defender of the Week. Without his pressure on Trubisky, the Bears' passing game could have really opened up, causing more trouble for a weak secondary than they ended up seeing.
WORST GRADE: C-: Geronimo Allison, WR; Kyler Fackrell, OLB; and Josh Hawkins, CB
When the worst grade on the day is a C-, the team overall played pretty well. Geronimo Allison didn't really do anything bad, but that's because he didn't really do anything at all. This is the second game in a row that Allison hasn't been involved at all on the field, but that's honestly probably due to Brett Hundley's limited knowledge of three or four wideout packages. Kyler Fackrell did an OK job when he was in the right position, but once again he looks lost in whatever defensive formation he's in. Josh Hawkins didn't see the field too much, but when he did he was giving the slot receiver far too much space. Let's give a hand to Justin McCray for actually doing an OK job filling in for Bryan Bulaga at Right Tackle. I'll give credit where credit is due.
Honorable Mentions: A: Davante Adams, WR
It looks like Davante Adams is to Brett Hundley what Jordy Nelson is to Aaron Rodgers. In Game 3 of the Brett Hudnley Project, Davante Adams caught five passes for 90 Yards and a Touchdown. Being short of 100 Yards was the only thing keeping Adams from an "A+" rating. He has become arguably the most important piece of this make-shift offense, and his consistency in getting open for Brett Hundley may be oen of the biggest elements for ending this season with an even or winning record. Sorry, Jordy.
MVP Watch: A week after Jordy Nelson was toppled by Blake Martinez for first place in the MVP race, a great performance by Davante Adams pushes him to a 3.32 GPA, enough to be first. Blake Martinez (3.26 GPA) is second, with Jordy Nelson (3.23 GPA) getting the bronze. Those three are far ahead of everyone else with Aaron Rodgers no longer qualified and nobody else having above a 3 GPA (yes, still).
STATS OVERVIEW:
Passing = Hundley: B+ (18/25, 212 Yds, 1 TD, 0 INT; 2 Rush, 16 Yds)
Rushing = A. Jones: C+ (3 Rush, 12 Yds); Montgomery: B+ (6 Rush, 54 Yds, 1 TD; 2 Rec, 14 Yds); J. Williams: B+ (20 Rush, 67 Yd; 1 Rec, 7 Yds)
Receiving = Nelson: B- (3 Rec, 20 Yds); Adams: A (5 Rec, 90 Yds, 1 TD); Cobb: B (3 Rec, 52 Yds; 4 Rush, 8 Yds), Kendricks: C+ (1 Rec, 9 Yds)
Defense = 0 INTs , 5 Sack (Perry x3, House 1, Daniels 1)
Question? Comments? Concerns? General Feedback? Did Dom Capers just save his job? Please let me know!
Thank you and God Bless,
Samuel R. Fuller
---