Sam's Grading the Pack Week 13: Well, an Aaron Still Won the Game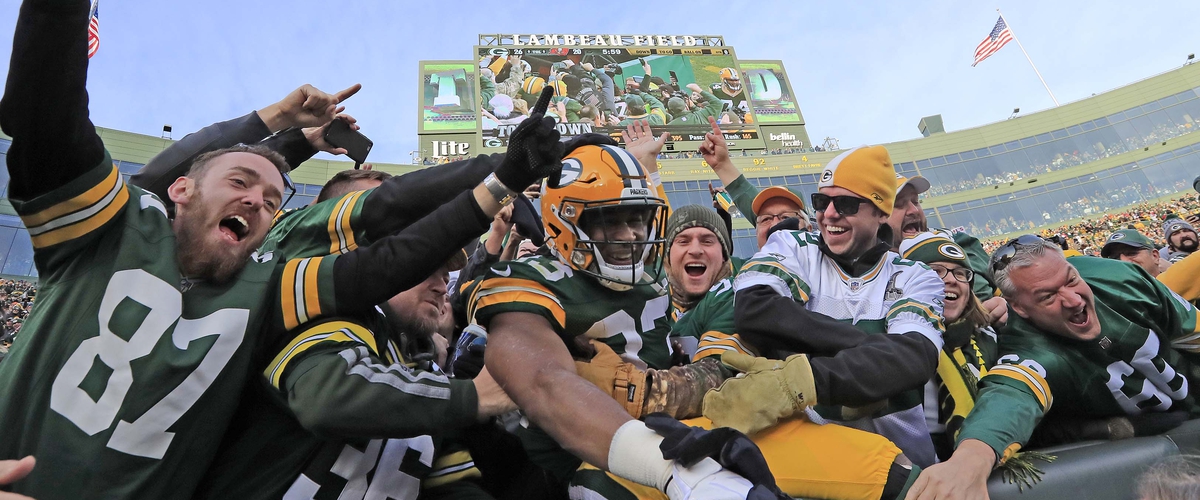 Well, it took overtime to beat the abysmal Tampa Bay Buccaneers, but a win, despite how ugly, is still enough to bring the battered Green Bay Packers to an even record. The Lions and the Panthers also lost, significantly increasing the probability of the Packers' changes to get a Wild Card spot.
Let's slow down the playoff train...
This Packers team, once again, relied on overtime to beat Tampa Bay, a team with a god-awful defense, and Brett Hundley still couldn't even reach 100 yards. Sure, his scrambling got a few clutch first downs, but about three or four drives were ended by Brett Hundley literally tripping over himself and either falling down for a sack (both sacks were self-imposed) or completely missing a wide receiver. Seriously, I feel so bad for Jordy Nelson. One of the best receivers in the league can't get an accurate target more than five yards down the field. The defense came up with big plays and turnovers leading to scores, and that definitely needs to happen if the Packers want to be playing in January, but it's extremely unlikely if Brett Hundley doesn't step it up before Aaron Rodgers gets back.
OVERALL: B-
Offense: B- QB/RB: C+ WR/TE: C OL: A-
Defense: B- DL: A- LB: B- DB: D+ Special Teams: C+
BEST GRADE: A+: Jamaal Williams, RB; Dean Lowry, DE; and
Clay Matthews, OLB
Once again, Jamaal Williams put the team on his back when the passing game was a complete failure. He had 21 Carries for 113 Yards and a Touchdown, a fantastic day for a starting running back. If Aaron Jones didn't come in for a game-winning 20 Yard score, I have very little doubt that Jamaal Williams would have done the same just a few plays later. Dean Lowry had a career day, bullying through the line for a sack and a huge 60+ Yard Fumble Return for a Touchdown. It's nice to see a defensive lineman having a killer day, since neither Mike Daniels nore Kenny Clark have played as well as they should over the course of the season. The Clay Matthews we saw against Tampa Bay was like a blast from the past. He was causing absolute mayhem all day, racking up 2.5 Sacks and giving Jameis Winston hell. We need to see more of a pass rush like Dean Lowry and Clay Matthews created going forward.
WORST GRADE: D: Brett Hundley, QB; and Morgan Burnett, SS
Brett Hundley is once again on the chopping block this week, and going 13/22 for only 84 Yards, no scores and one interception. His 66 Yards on the ground is the only thing keeping him from being a complete failure this week. Morgan Burnett might come as a surprise. He's always regarded as an "elite" safety, and he is the person in the huddle with the helmet headset, so the respect and leadership are implied. Is it deserved though? He only had three solo tackles despite being on the field as much as any other defender all game. Every time he rushed up in the box, he was swallowed up by the same offensive line that gave up seven sacks to a team bearing a historically atrocious pass rush. Like most strong safeties, he's supposed to cover tight ends and running backs. Cameron Brate scored twice and Peyton Barber, who on many teams would by no means be a starter, earned 143 total yards. He didn't fail, but if he's truly a leader on this defense, he needs to set a good example for this piss-poor secondary.
Honorable Mentions: A: David Bakhtiari, LT
The entire Offensive Line earned an A-, and David Bakhtiari is the best example. He just straight up didn't let anything past him. Gerald McCoy, Chris Baker and Lavonte David are not easy guys to block, but this offensive line held their own, especially in the running game. Again, the two sacks were by no means any of the O-Line's fault. A phenomenal job in the run blocking department helped a rookie backup running back total over 100 yards on the ground, which is extra vital giving the horrid passing game.
MVP Watch: Despite having a B- day, Davante Adams is still the GPA (3.38) leader for the season. Blake Martinez (3.29) and Jordy Nelson (3.05) still sit at second and third, with no other threats emerging for the podium.
STATS OVERVIEW:
Passing = Hundley: D (13/22, 84 Yds, 0 TD, 1 INT; 7 Rush, 66 Yds)
Rushing = J. Williams: A+ (21 Rush, 103 Yds, 1 TD; 2 Rec, 10 Yds);
A. Jones: A- (1 Rush, 20 Yards, Game-Winning TD)
Receiving = Nelson: B- (5 Rec, 17 Yds); Adams: B- (4 Rec, 42 Yds);
Kendricks: C (1 Rec, 11 Yds)
Defense = 0 INT, 7 Sacks (Matthews x2.5, Clark x2, Ryan x1, Lowry x1, Daniels x0.5), 1 Fumble Recovery for Touchdown (Lowry)
Question? Comments? Concerns? General Feedback? Do the Packers actually have a legitimate shot at the playoffs? Please let me know!
Thank you and God Bless,
Samuel R. Fuller