Sam's Grading the Pack Week 5: What a Kicking Nightmare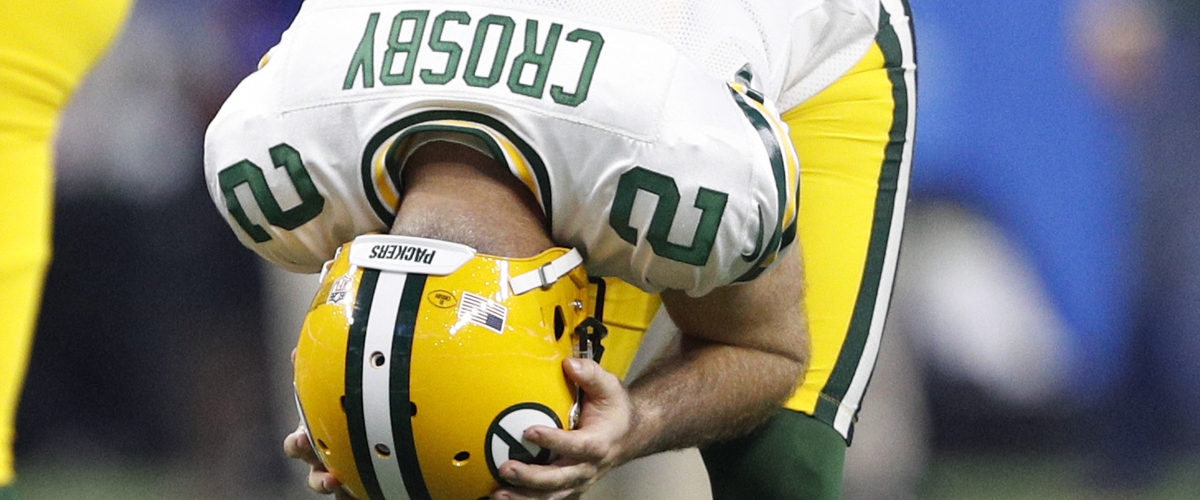 The picture says it all. Mason Crosby put together the worst kicking performance of any Packers kicker - ever. Before the meaningless final drive, Crosby had four Field Goal attempts and one Extra Point attempt. He missed them all. Cornerback Kevin King also earned an "F" grade, but all anyone will remember from this game was the kicking fiasco. Behind that head, Aaron Rodgers quietly threw 442 Yards for 3 scores and no interceptions, earning a 108 Passer Rating. Aaron Jones and Jamaal Williams both averaged over 5.4 Yards a carry. Rookie receivers EQ St. Brown and Marquez Valdes-Scantling combined for 10 receptions, 157 Yards and a Touchdown. Davanta Adams reeled in All-Pro Numbers (9 catches, 140 Yards and a score) and Blake Martinez did the same on defense (2 Sacks, led the team in tackling). Overall, it wasn't the worst performance I've seen from Green Bay, but it was a costly loss against an average-at-best divisional opponent. Cheeseheads expect better.
OVERALL: C-
Offense: C+ QB/RB: B WR/TE: B- OL: C
Defense: C- DL: C LB: C DB: D+ Special Teams: D
BEST GRADE: A+: Davante Adams, WR
Out of all the receivers Aaron Rodgers has thrown to over the years, Davante Adams is making a solid case for "Most Talented" (sorry Jordy). He was the only receiver to create space on more than a handful of plays, where he raked in 9 Receptions, 140 Yards and a Touchdown. He's on pace to pull in well over 1,000 Yards, double-digit scores, and current the Team MVP in my grading.
WORST GRADE: F: Mason Crosby, K; and Kevin King, CB
If I could give a grade lower than an "F", Mason Crosby would get it. However, "F" is the floor here, and Kevin King also managed to fail. Not counting the feel-good final drive, Crosby went 0/4 on Field Goals and missed his only extra point try. If he wasn't the franchise's all-time leader in points scored, he'd be without a job right now. Kevin Kind couldn't cover anyone in Detroit, giving up multiple touchdowns and straight up blowing coverage, but he had no problem tallying penalties. If he's the "answer" at Cornerback, I want to ask the question again this offseason.
MVP Watch: With another impeccable performance, Davante Adams leapfrogs over his gunslinger Aaron Rodgers for first place in the Team MVP race. Geronimo Allison and Blake Martinez are the only two others close behind, and the former didn't even play in Detroit.
STATS OVERVIEW:
Passing - Rodgers: A (32/52, 442 Yds, 3 TD, 0 INT, 108 Passer Rating; 3 Rush, 10 Yds)
Rushing - J. Williams: B- (6 Rush, 33 Yds; 2 Rec, 19 Yds); Montgomery: B- (4 Rush, 15 Yds; 1 Rec, 23 Yds); A. Jones: A- (7 Rush, 40 Yds; 2 Rec, 19 Yds)
Receiving - D. Adams: A+ (9 Rec, 140 Yds, 1 TD) Graham: B- (6 Rec, 76 Yds); St. Brown: B+ (3 Rec, 89 Yds); Valdez-Scantling: B+ (7 Rec, 68 Yds, 1 TD); Kendricks: B (2 Rec, 8 Yds, 1 TD)
Defense - 0 INT, 3 Sacks (Martinez x2, Clinton-Dix)
Questions? Comments? Concerns? General Feedback? Is McCarthy officially on the hot seat? Please let me know!
Thank you and God Bless,
Samuel R. Fuller