Sam's Grading the Pack Week 9: A Losing Effort from a Losing-Record Team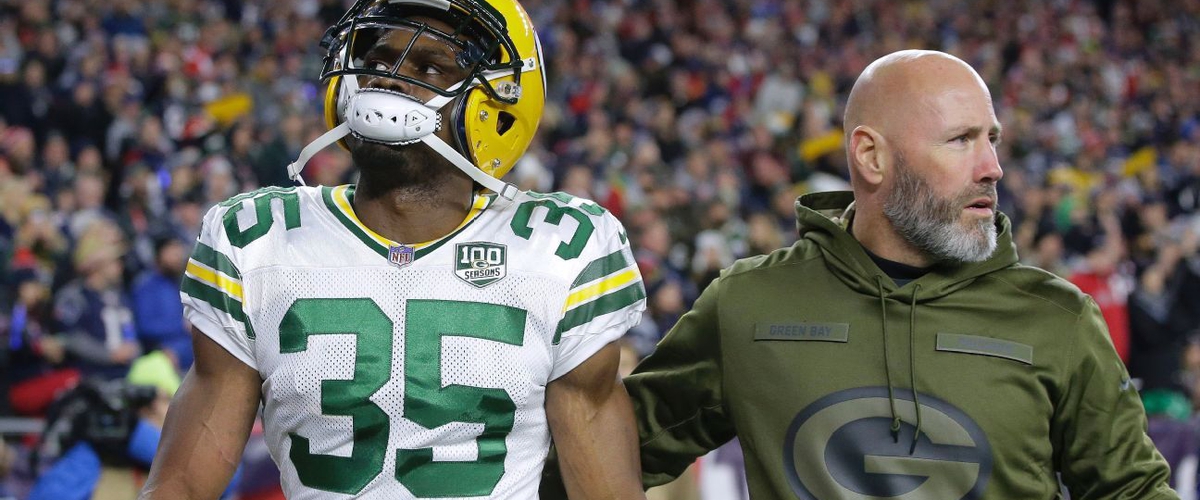 Green Bay definitely had their moments in Sunday night's trip to New England, but Tom Brady & friends proved too much in what will likely be the second and last ever matchup between Aaron Rodgers and Tom Brady. Just like last week, I'm going to skip the long summary passes and just post some highs and lows of the game, followed by the normal grades and stats. However, instead of four positives and four negatives, I could only chalk up two positives and limited myself to only six negatives.
+ WR Marquez Valdez-Scantling proved once again why he's the most prolific offensive rookie right now, reeling in three big catches for 101 Yards.
+ ILB Antonio Morrison posted a season-high 8 Tackles, good enough to co-lead the team on Sunday Night, and tallied his first Sack as a Packer
- Jermaine Whitehead couldn't hold his own in the hybrid linebacker spot nor as a natural Strong Safety, and his lack of maturity was on full display when he slapped a New England O-Lineman in the face and earned an ejection.
- RB Aaron Jones was having a good rushing game before fumbling the ball, which ultimately swung the momentum permanently in New England's favor.
- CB Tramon Williams straight up whiffed tackling Josh Gordon on a deep route, leading to a wide-open, game-sealing touchdown for the Patriots.
- LT David Bakhtiari had one of the worst pass protection games I've ever seen from him, and no one else on the line picked up the slack.
- RT Bryan Bulaga and CB Kevin King once again find themselves in the Injury Report, continuing the narrative of both of their careers.
- Mike McCarthy's offensive playacting has looked stagnant and boring all year, but it was most apparent when directly compared to the free-flowing, creative genius of Bill Belichick and what he can call and execute well with a 41-year-old Quarterback in Tom Brady.
OVERALL: C
Offense: C QB/RB: C+ WR/TE: B- OL: D+
Defense: C DL: B- LB: C+ DB: C- Special Teams: C+
BEST GRADE: A-: WR Davante Adams, WR Marquez Valdez-Scantling, and TE Jimmy Graham
Just like half the season, Davante Adams finds himself as the highest grade-earner this week. Six catches for 44 Yards isn't too impressive, but he fought through double coverage most of the game and sprung loose for his seventh Touchdown of the season, tied for the most out of all NFC wideouts. MVS shined as a deep threat once again, turning a mere three catches into the second 100-yard game of his rookie season. Jimmy Graham proved to be a reliable red zone target, pulling in an impressive Touchdown grab against a tough New England secondary.
WORST GRADE: F: Jermaine Whitehead
Jermaine Whitehead simply didn't do anything well. He blew coverage near the line of scrimmage, got trucked over as a hybrid linebacker and lost track of receivers while playing the traditional Strong Safety spot. It all came to a peak when he open-hand slapped Patriots Center David Andrews, immediately earning an ejection. After trading Ha Ha Clinton-Dix right before the trade deadline, Safety was already a weak spot, so Whitehead's ejection was both stupid and extremely costly to the defensive depth chart.
MVP Watch: Davante Adams did everything he could on only seven targets, and he increased his MVP lead over Aaron Rodgers. Their weekly star power is enough to keep All-Pro defensive talents Blake Martinez and Kenny Clark in third and fourth, respectively.
STATS OVERVIEW:
Passing - Rodgers: B+ (24/43, 259 Yds, 2 TD, 0 INT, 89.2 Passer Rating; 4 Rush, 8 Yds)
Rushing - A. Jones: C (14 Rush, 76 Yds, Fumble; 2 Rec, 10 Yds) J. Williams: B- (7 Rush, 34 Yds; 2 Rec, 20 Yds)
Receiving - D. Adams: A- (6 Rec, 40 Yds, TD); Cobb: B- (5 Rec, 25 Yds); Graham: A- (4 Rec, 55 Yds, TD); Valdez-Scantling: A- (3 Rec, 103 Yds);
Defense - No Interceptions, 2 Sacks (Morrison, Daniels)
Questions? Comments? Concerns? General Feedback? Do we have any reason to trust Mike McCarthy moving forward? Please let me know!
Thank you and God Bless,
Samuel R. Fuller