The Bucks Trading for Hassan Whiteside? Milwaukee Should Make It Happen.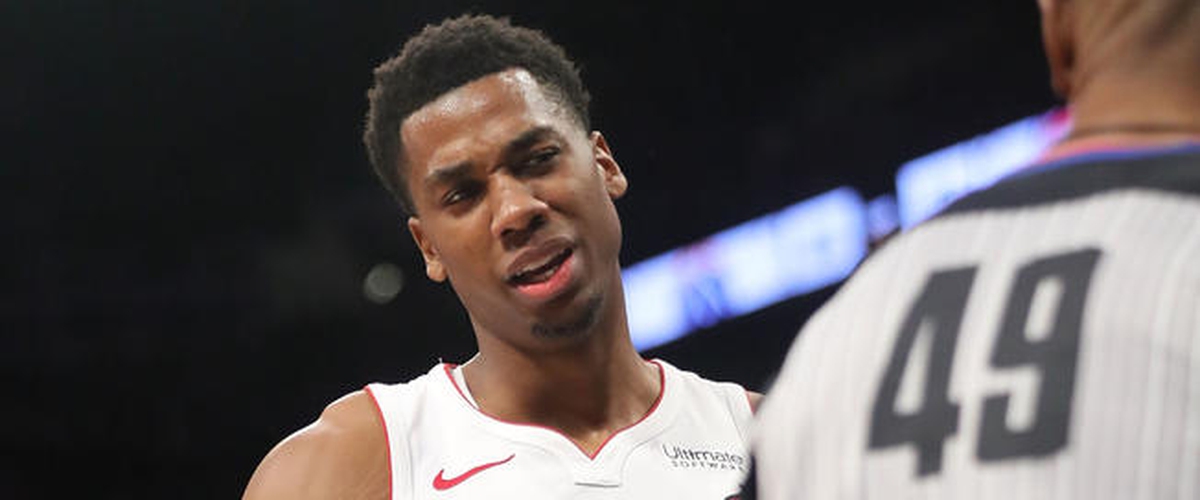 I woke up this morning feeling good about the Bucks close victory over the Celtics, one of the best teams in the East. Then I opened up Bleacher Report and felt even better.
"Potential Trade Packages for Hassan Whiteside." What was the first team mentioned? The Milwaukee Bucks.
Immediately, thoughts of an All-Star Center starting instead of John Henson rushed to my head, putting me in an unusually good mood. Then reality kicked in, and I had to start seeing how realistic this would even be? I was all for acquiring Dwight Howard or DeAndre Jordan at the deadline, but neither of those rumors came to fruition. Could this even happen?
On Hassan Whiteside's end, he would certainly entertain the idea. Miami's resorted to using small-ball matchups and giving decent playing time to fellow bigs Kelly Olynyk and Bam Adebayo. Whiteside's displeasure with the situation reached its peak after playing just 20 minutes in an OT loss to the horrid Brooklyn Nets, nor should he have been. When Ira Windman of the South Florida Sun-Sentinel asked Whiteside about his playing time, he didn't hold back:
"Why we matching up? We got one of the best centers in the league. Why we matching up? A lot of teams don't have a good center. They're going to use their strength... It's bulls--t. It's bulls--t, man... There's a lot of teams that could use a center. S--t. That's bulls--t."
Hassan Whiteside sounds unhappy to me.
Miami fined him for his comments, and both parties have told different media outlets that they've since moved on, but in the modern era of professional athletes and their thin skins, mid-season riffs often turn into ugly off-season breakups. The Heat made Whiteside their highest-paid player, but he's currently SEVENTH in average minutes per game. Coming from a Bucks fan who's seen Hassan absolutely torch Milwaukee's lack of interior defense, it's certainly an intriguing possibility.
How badly do the Bucks need a player like Hassan Whiteside? Very badly.
Milwaukee's Centers this season are John Henson, Thon Maker and Tyler Zeller. Henson has increased his productivity this season, I'll give him that, but he's only bumped it up from poor to mediocre. Thon Maker still needs a good amount of time to develop before contributing on a regular basis, and Tyler Zeller is just an average backup. Together, Milwaukee's Centers rank dead last in points (15.4 per game) and second-to-last in rebounds (11 per game) per HoopsStats.com. Hassan Whiteside was a name that bounced around the rumor mill during the deadline frenzy, but with the Heat still in contention for a playoff spot, he wasn't expected to be off-loaded by Pat Riley & co.
What would the Bucks have to give up?
Now it's time to look at the big man's contract. On July 7th, 2016, Whiteside signed a back-loaded 4 year, $98.4 Million maximum extension with the Heat. The only player getting paid more on the Bucks is Giannis, and he's an MVP candidate. This is also around the ballpark of what Jabari Parker would be looking for in an extension. However, that's also a lot of money Miami could spend elsewhere if they shed their biggest contract. In order for the Bucks to make the trade fit under the luxury tax line, they'd need to shed $20,392,488 of salary (thanks NBA Trade Machine for making me do math). This means the Bucks would have to give up John Henson for sure, and either Tony Snell or Matthew Dellavedova. Fine by me. I've been wanting to ship Henson elsewhere for at least three years now. Both Snell and Delly are expendable as well. Just those two players wouldn't be enough, which is why Bleacher Report made this prediction:
Milwaukee gets: C Hassan Whiteside
Miami gets: C John Henson, PG Matthew Dellavedova, and a 2019 First Round Pick
Personally, I love this. Hell, I'm willing to throw in a two-way player like Marshall Plumlee or Xavier Munford just to sweeten the deal. John Henson and his overpaid contact is finally gone, the Bucks still have Eric Bledsoe and Malcolm Brogdon at Point Guard, and Thon Maker gets to learn under one of the best shot-blockers in the game. Milwaukee finally gets the interior production they've missed since Andrew Bogut's injury streak began and Larry Sanders lost his mind.
Bleacher Report wasn't wrong in saying "The Bucks might be a big man shy of terrifying", and with this trade, Milwaukee is one formidable head coach away from making a run at the Eastern Conference Championship.
---