FullerMetrics NFL Mock Draft 4.0: Three Rounds!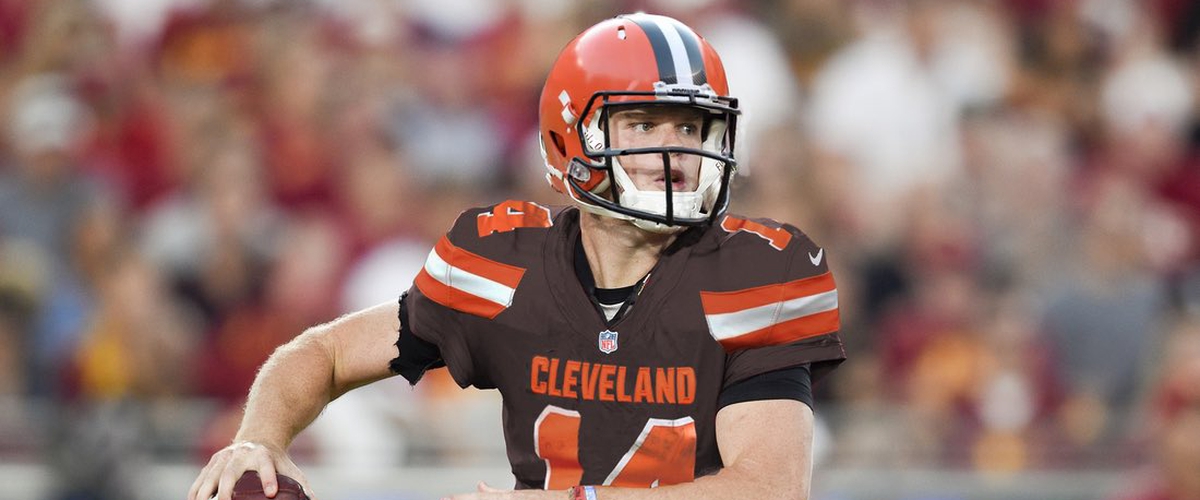 Before I begin, get used to this image of Sam Darnold in a Browns jersey...
While this is indeed the fourth of five (maybe six, depending on potential pre-draft shakeups) mock drafts this season, this one will be a different format. Instead of just simply going from pick #1 to pick #2 and so on and so forth, I set up this mock draft in a similar fashion to Todd McShay and Mel Kiper's new three-round mocks. Because ESPN's Insider service is complete horseshit, here are Reddit hyperlinks to their mock draft: Todd McShay and Mel Kiper
Just like the ESPN buffoons did:
- I'm pretending to be each team's draft room from pick #1 to pick #100
- I'm also abiding by their rule on no-trades, despite my confidence in Denver trading pick #5 to Buffalo
- It's also organized by team in the order of the draft, so scroll down to find your team like you normally would
The only differences are a) I'm statistically proven to be more accurate than both of them; and b) I'm never going to try and make you pay for a damn guess. It's like being a weatherman; it's all an educated guess. No one pays extra just to find out a somewhat-educated guess on anything. Sorry, I know I'm ranting about ESPN Insider again. Anyways, let's get the show on the road:
Cleveland Browns
Round 1 (1): Sam Darnold, QB, USC
Round 1 (4): Saquon Barkley, RB, Penn State
Round 2 (33): Justin Reid, S, Stanford
Round 2 (35): D.J. Moore, WR, Maryland
Round 2 (64): Jamarco Jones, T, Ohio State
At this point, all signs point to Sam Darnold being the guy at #1, despite Mel Kiper's love of Josh Allen. Saquon Barkley drops to #4, and a Saquon Barkley/Carlos Hyde backfield is killer. Justin Reid is a great value at #33 and a talented, rangy Safety who frees up Jabrill Peppers to play his much-preferred in-the-box style more often. D.J. Moore at #35 gives Cleveland a stable deep threat in a receiving corps of slot-inclined Jarvis Landry, a disappointing Corey Coleman, and the inconsistencies of Rashard Higgins, Jeff Janis and Josh Gordon. Joe Thomas has retired, leaving a hole at left tackle that Jamarco Jones at #64, a player who idolized Thomas while playing college ball in Ohio, can fill pretty much as well as anyone in this draft class.
New York Giants
Round 1 (2): Josh Allen, QB, Wyoming
Round 2 (34): Derrius Guice, RB, LSU
Round 3 (66): Arden Key, DE/OLB, LSU
Round 3 (69): Tyrell Crosby, T, Oregon
Saquon Barkley, Bradley Chubb and Quenton Nelson may all be better players overall and fit the Giants' needs better, but it's not everyday that a team has a legitimate chance at a high-upside potential franchise quarterback like Josh Allen. Derrius Guice has the upside of a first-round back and will pair nicely with Jonathan Stewart over the next couple years. If the Giants can work with Arden Key's character issues, he has the potential to replace Jason Pierre-Paul's explosiveness off the edge in no time. Tyrell Crosby is a talented swing Tackle that's more than capable of covering for Erick Flowers during his contract dispute.
New York Jets
Round 1 (3): Josh Rosen, QB, UCLA
Round 3 (72): Rasheem Green, DL, USC
It's no secret New York like Josh Rosen and can handle his big personality. It's also no secret they traded up for #3 to nab a Quarterback. Rasheem Green is a pass-rushing 3-4 Lineman, just what the Jets need after cutting Mo Wilkerson.
Denver Broncos
Round 1 (5): Quenton Nelson, OG, Notre Dame
Round 2 (40): Isaiah Oliver, CB, Colorado
Round 3 (71): Dalton Schultz, TE, Stanford
Round 3 (99): Equanimeous St. Brown, WR, Notre Dame
Assuming Denver keeps this pick, Quenton Nelson instantly becomes the best O-Lineman on the Broncos roster. Aqib Talib is gone and Denver gets a lengthy, NFL-ready corner in Isaiah Oliver. Virgil Green is gone and Jake Butt, already not a good blocking Tight End, is coming off an Achilles injury. Dalton Schultz is the best blocking Tight End in this draft, instantly the TE2 behind Butt. Demaryius Thomas and Emmanuel Sanders are both cap burdens, and they don't have great depth behind them either. Equanimeous St. Brown is 6'5" with big hands and he ran a 4.48 40-yard-dash. He's a project as far as production is concerned, but if there's anyone with his build to learn behind, it's Demaryius Thomas.
Indianapolis Colts
Round 1 (6): Bradley Chubb, DE/OLB, North Carolina State
Round 2 (36): Sony Michel, RB, Georgia
Round 2 (37): Malik Jefferson, LB, Texas
Round 2 (49): James Washington, WR, Oklahoma State
Round 3 (67): B.J. Hill, DT, North Carolina State
Indianapolis had the third-lowest Sacks total, demonstrating a desperate need for pass rush. Bradley Chubb just so happens to be the best edge rusher in the draft. Indy's current Running Back mix is Robert Turbin, Marlon Mack and Matt Jones, none of which deserve starting reps. Sony Michel is an every-down back that some think can have as Alvin Kamara-like impact. Jon Bostic and Barkevious Mingo left, depleting the second line of defense. Malik Jefferson is a versatile, every-down Linebacker who could relieve pressure off John Simon's shoulders inside. James Washington gives the Colts another deep-threat option next to T.Y. Hilton and newly-signed Ryan Grant, while further filling the void left by the departures of Donte Moncrief and Kamar Aiken. Johnathan Hankins was cut for cap purposes, and B.J. is a plug-in run stopper with great value in the early third round.
Tampa Bay Buccaneers
Round 1 (7): Denzel Ward, CB, Ohio State
Round 2 (38): Ronald Jones II, RB, USC
While Minkah Fitzpatrick is just as good of a defensive back, Denzel Ward is the best one-on-one coverage player, giving Tampa Bay relief in the NFL's worst pass defense. Jacquizz Rodgers and Peyton Barber currently stand to split starting Running Back reps, and Ronald Jones II can instantly become both RB1 and a valuable receiving weapon out of the backfield for Jameis Winston.
Chicago Bears
Round 1 (8): Tremaine Edmunds, OLB, Virginia Tech
Round 2 (39): Isaiah Wynn, G, Georgia
Pernell McPhee, Willie Young and Lamarr Houston are all gone, meaning Chicago needs a 4-3 Outside Linebacker badly. Tremaine Edmunds is a perfect fit and the second-best pass rusher in this draft. Isaiah Wynn, an NFL-ready dual-threat blocker, immediately fills the void Josh Sitton left.
San Francisco 49ers
Round 1 (9): Derwin James, SS, Florida State
Round 2 (59): Sam Hubbard, DE/OLB, Ohio State
Round 3 (70): Mark Andrews, TE, Oklahoma
Round 3 (74): Dante Pettis, WR, Washington
Derwin James is a dynamic playmaker who allows San Fran to fill Eric Reid's old spot. Aaron Lynch and Elvis Dumervil are both gone, and Sam Hubbard will be just as explosive and more reliable than both players, even in year one. The 49ers don't have a true receiving Tight End on the roster, and Mark Andrews would prefer to only take receiving responsibilities: it's a win-win. Dante Pettis provides Jimmy Garoppolo with yet another young, talented receiving option.
Oakland Raiders
Round 1 (10): Roquan Smith, LB, Georgia
Round 2 (41): D.J. Chark, WR, LSU
Round 3 (75): Chukwuma Okorafor, OT, Western Michigan
The only hole Oakland hasn't addressed in free agency is Inside Linebacker, and Roquan Smith is an immediate sideline-to-sideline playmaker who can fit anywhere alone the second line. D.J. Chark add another speedy option for Derek Carr in a corps featuring Amari Cooper, Jordy Nelson, Seth Roberts and Dwayne Harris. The Raiders probably want a better, more dependable option than Right Tackle Breno Giacomini, and Chukwuma Okorafor gives him a run for his starting job right away.
Miami Dolphins
Round 1 (11): Minkah Fitzpatrick, DB, Alabama
Round 2 (42): Harrison Phillips, DT, Stanford
Round 3 (73): Luke Falk, QB, Washington State
While Miami should consider pouncing on a new Quarterback if one happens to fall to #11, they need a fresh playmaker for their culturally-reborn defense. Minkah Fitzpatrick fills the voids of Nate Allen and Michael Thomas at Safety, while also providing flexibility for turnover-forcing all across the secondary. Harrison Phillips is a trench warrior who can handle many of the reps Ndamukong Suh left behind. Luke Falk gives Miami a long-term option to develop behind Ryan Tannehill and Brock Osweiler, both of whom will fight for the starting job in 2018 but could easily see the door by the 2019 offseason.
Buffalo Bills
Round 1 (12): Baker Mayfield, QB, Oklahoma
Round 1 (22): Rashaan Evans, ILB, Alabama
Round 2 (53): Billy Price, G/C, Ohio State
Round 2 (56): Jordan Lasley, WR, UCLA
Round 3 (65): Anthony Averett, CB, Alabama
Round 3 (96): Desmond Harrison, T, West Georgia
Buffalo is lucky as hell they didn't have to trade up and sacrifice pick to get Baker Mayfield in this scenario. I'm not buying that A.J. McCarron is the long-term Quarterback option - not yet. Rashaan Evans provides versatility and NFL-readiness to the hole Preston Brown left. The Bills signed Russell Bodine as an immediate replacement for Eric Wood, but if he performs just as average as he did in Cincinnati, or they're not content with their Guard rotation of Ryan Groy, John Miller and Vlad Ducasse, Billy Price provides maturity and depth to Buffalo. Jordan Lasley is a Torrey Smith-2.0 who will develop nicely alongside Kelvin Benjamin, Zay Jones and Andre Holmes. Anthony Averett is a strong shot at a young CB3 behind Vontae Davis and Tre'DAvious White. Desmond Harrison is a boom-or-bust prospect that, if coached well, can soon take the Left Tackle spot from the departed Cordy Glenn.
Washington Redskins
Round 1 (13): Vita Vea, DT, Washington
Round 2 (44): Courtland Sutton, WR, SMU
Washington had one of the worst run defenses in the NFL last season, a bad situation that's immediately much better by the addition of Vita Vea, a massive trench-fighting workhorse inside. They can also replace a 6'4" starting talent receiver in Terrelle Pryor with another: Courtland Sutton. He'd instantly earn considerable reps with Paul Richardson, Josh Doctson and Jamison Crowder with a burning desire to prove he's deserving of the Alshon Jeffrey comparisons.
Green Bay Packers
Round 1 (14): Marcus Davenport, OLB, Texas-San Antonio
Round 2 (45): Orlando Brown, OT, Oklahoma
Round 3 (76): Duke Dawson, CB, Florida
Edge Rusher is by far Green Bay's biggest need, and Marcus Davenport has drool-worthy size and freak athleticism to be a difference maker right away. This also allows Clay Matthews to move inside, which makes everyone involved happy. Orlando Brown had an awful combine, but his size (6'8", 360 lb.) and nastiness on game film gives him good odds to be Green Bay's starting Right Tackle by Week One. Duke Dawson is a great press corner who could quickly become a Micah Hyde-like starting Nickel Cornerback, a perfect compliment to Tramon Williams, Davon House and Kevin King.
Arizona Cardinals
Round 1 (15): Josh Jackson, CB, Iowa
Round 2 (47): Christian Kirk, WR, Texas A&M
Round 3 (79): Kyle Lauletta, QB, Richmond
Round 3 (97): DeShon Elliott, SS, Texas
Arizona needs a starting corner opposite Patrick Peterson, and while Jaire Alexander and Mike Hughes could also go #15, Josh Jackson is the best start-ready corner available. At receiver, The Cards' best option behind Larry Fitzgerald is J.J. Nelson, so adding a big play threat like Christian Kirk is a major boost. Sam Bradford got paid, but he's a short-term option. Kyle Lauletta may need a year or two before he sees the field, but Arizona can afford to give him that time behind Bradford. DeShon Elliott may be a one-trick pony as far as his press-first, line-of-scrimmage skills, but that's exactly what Arizona is missing after cutting Tyrann Mathieu.
Baltimore Ravens
Round 1 (16): Mike McGlinchey, T, Notre Dame
Round 2 (52): Anthony Miller, WR, Memphis
Round 3 (83): Frank Ragnow, G/C, Arkansas
Baltimore cut Austin Howard, and while they re-signed James Hurst, they need a legitimate Right Tackle option. Mike McGlinchey is Left Tackle Ronnie Stanley's former teammate at Notre Dame, and he's an immediate starting Tackle talent. Anthony Miller gives Joe Flacco another lengthy option to throw to alongside Michael Crabtree and John Brown. Baltimore has no starting Center option, so Frank Ragnow fills a big hole.
Los Angeles Chargers
Round 1 (17): Da'Ron Payne, DT, Alabama
Round 2 (48): Jessie Bates, S, Wake Forest
Round 3 (84): Rashaad Penny, RB, San Diego State
The Chargers were dead last in run defense in 2017, and DT Corey Luiget is suspended the first four games. Da'Ron Payne is a mauler up front who will start right away and quickly take Liuget's spot. Jessie Bates fills the Free Safety spot formerly occupied by Tre Boston. Rashaad Penny gives the Bolts a flashy young backup behind Melvin Gordon.
Seattle Seahawks
Round 1 (18): Jaire Alexander, CB, Louisville
After cutting Richard Sherman and Jeremy Lane, Seattle's best corners are Justin Coleman, Neiko Thorpe and Shaquill Griffin. That's not good. Jaire Alexander gives Seattle a start-worthy corner with the length and athleticism Pete Carroll drools over defensively.
Dallas Cowboys
Round 1 (19): Taven Bryan, DT, Florida
Round 2 (50): Mike Gesicki, TE, Penn State
Round 3 (81): Michael Gallup, WR, Colorado State
Dallas still doesn't have a run-stopping Defensive Tackle on the roster, and they haven't replaced Stephen Paea either. They do both by taking Taven Bryan, who's stock is skyrocketing recently, at #19. Mike Gesicki is a crazy athletic Tight End that gives them an option opposite of the near-retirement Jason Witten. Cutting Dez Bryant slashed the already-bleak Wide Receiver corps further, and project receiver Michael Gallup gives them a wild card option to grow into their offense.
Detroit Lions
Round 1 (20): James Daniels, C/G, Iowa
Round 2 (51): Nick Chubb, RB, Georgia
Round 3 (82): Uchenna Nwosu, OLB, USC
T.J. Lang is a great interior O-Lineman, but I'm not confident in Graham Glasgow, Wesley Johnson and Kenny Wiggins sharing the Center and other Guard spots. James Daniels is the best Center prospect in the draft, and he's a difference maker at Guard if the Lions truly see Johnson as the new Center. Nick Chubb has big play potential that balances nicely with power back LeGarette Blount and speed option Ameer Abdullah. Detroit might not re-sign Ansah to a mega-deal once his franchise tag is up, so giving Uchenna Nwosu a year to develop behind Ansah and possibly succeed him in 2019 is a no-brainer.
Cincinnati Bengals
Round 1 (21): Connor Williams, T, Texas
Round 2 (46): Braden Smith, G, Auburn
Round 3 (77): Josey Jewell, ILB, Iowa
Round 3 (100): Tre'Quan Smith, WR, Central Florida
Cincy had one of the NFL's worst Offensive Lines in 2017. Trading for Buffalo's LT Cordy Glenn was a smart move, and so is drafting Connor Williams at #21 to replace the departed Eric Winston. Cedric Ogbuehi was a dissapointment at Left Tackle last year, and to make sure Andy Dalton has no excuses this year, taking sure-thing prospect Braden Smith to start opposite of Clint Boling at Guard is ideal. Josey Jewell can cover for Vontaze Burfict at Inside Linebacker while he's suspended, and learn a mean streak from him when he's back. Tre'Quan Smith gives Cincy a speedy, young option to join A.J. Green, Brandon LaFell and John Ross.
New England Patriots
Round 1 (23): Kolton Miller, OT, UCLA
Round 1 (31): Mike Hughes, CB, Central Florida
Round 2 (43): Lorenzo Carter, OLB, Georgia
Round 2 (63): Mason Rudolph, QB, Oklahoma State
Round 3 (95): Ogbonnia Okoronkwo, DE/OLB, Oklahoma
New England allowed the Giants to make their former Left Tackle Nate Solder the highest-paid O-Lineman ever. Kolton Miller is a 6'8" mauler that can fight for Solder's old spot right away. Mike Hughes is an instant replacement for Malcolm Butler as a Slot Cornerback. Lorenzo Carter can line up as an Outside Linebacker in the 3-4 or 4-3, giving the Patriots more athleticism and versatility on Defense. Mason Rudolph might just be the perfect pro-style Quarterback to learn under Tom Brady and eventually succeed him. Obo Okoronkwo is a pursuit-first edge rusher, giving New England a young, fast option to compete with Trey Flowers and Lawrence Guy.
Carolina Panthers
Round 1 (24): Calvin Ridley, WR, Alabama
Round 2 (55): Austin Corbett, G/C, Nevada
Round 3 (85): Tyquan Lewis, DE, Ohio State
Round 3 (88): Kameron Kelly, DB, San Diego State
This Receiver draft class is super deep, so Calvin Ridley dropping to #24 isn't farfetched. Ridley won't get past Carolina though, who desperately need another target for Cam Newton. The Panthers let All-Pro Guard Andrew Norwell walk, and haven't replaced him yet. Austin Corbett is a start-ready interior lineman with a relatively high upside. Tyquan Lewis isn't NFL-ready on the edge, but give him a year to learn behind Julius Peppers and Mario Addison and he''l be primed for a starting spot in 2019. Kurt Coleman and Jairus Byrd both left, and while Da'Norris Searcy is a solid addition, he's not a Free Safety. Kameron Kelly is a former wideout who provides the length and ranginess combination every team is looking for in Free Safeties.
Tennessee Titans
Round 1 (25): Harold Landry, DE/OLB, Boston College
Round 2 (57): Ronnie Harrison, SS, Alabama
Round 3 (89): Deon Cain, WR, Clemson
Tennessee had a lackluster pass attack last season, and the aging edge rushers Brian Orakpo and Derrick Morgan are on the last years of their respective contracts. Harold Landry is an immediately be a difference maker on the edge, and quite possibly their best pass rusher Week One. Ronnie Harrison immediately fills the Strong Safety hole left by Da'Norris Searcy. Deon Cain is a boom-or-bust prospect, but he provides an athletic option alongside Rishard Matthews, Corey Davis, and Taywan Taylor.
Atlanta Falcons
Round 1 (26): Maurice Hurst, DT, Michigan
Round 2 (58): DaeSean Hamilton, WR, Penn State
Round 3 (90): Ian Thomas, TE, Indiana
Losing both Adrian Clayborn and Dontari Poe in one offseason is tough, but having Takk McKinley step up and drafting All-American Maurice Hurst could quickly fill both large holes on defense. DaeSean Hamilton immediately takes Taylor Gabriel's old role as an underneath-route aficionado. Ian Thompson steps into Levine Toilolo's old TE2 spot in a solid pairing with Austin Hooper.
New Orleans Saints
Round 1 (27): Dallas Goedert, TE, South Dakota State
Round 3 (91): Mike White, QB, Western Kentucky
Even though New Orleans signed Ben Watson and didn't cut Coby Fleener, drafting a dual-threat monster Tight End in Dallas Goedert is incredible. Drew Brees will finish out his career in two years, giving just enough time for pro-style prospect Mike White to learn behind him and take the reigns in 2020.
Pittsburgh Steelers
Round 1 (28): Leighton Vander Esch, ILB, Boise State
Round 2 (60): M.J. Stewart, CB, North Carolina
Round 3 (92): Marcus Allen, S, Penn State
Ryan Shazier was ruled out for 2018 and a Vince Williams/Jon Bostic pairing isn't exactly drool-worthy. Leighton Vander Esch gives Pittsburgh a hard-hitting, young playmaker at Inside Linebacker. The Steelers are weak at Cornerback depth after cutting Will Gay, and M.J. Stewart steps in as a nice third option behind Joe Haden and Artie Burns.
Jacksonville Jaguars
Round 1 (29): Lamar Jackson, QB, Louisville
Round 2 (61): Antonio Callaway, WR, Florida
Round 3 (93): Oren Burks, LB, Vanderbilt
Blake Bortles is getting paid big time, but only on a short extension. Lamar Jackson can spend a year learning in a somewhat-familiar system to potentially take over once the Bortles project reaches a halt. Antonio Callaway is a speedy option with Donte Moncrief and Marquis Lee, who could also be a factor as a returner. Oren Burks gives Jacksonville the flexibility to move Myles Jack inside or simply put Burks in between Jack and Telvin Smith.
Minnesota Vikings
Round 1 (30): Will Hernandez, G, Texas-El Paso
Round 2 (62): Carlton Davis, CB, Auburn
Round 3 (94): Chris Herndon, TE, Miami
Minnesota's line looks like Riley Reiff and Mike Remmers as Tackles, and Nick Easton and Pat Elfein as Interior Linemen. Assuming they don't have erroneously high hopes for Danny Isidora, Will Hernandez immediately becomes a quality starting Guard. Carlton Davis is a great press-corner who should get the third-most Cornerback reps behind Xavier Rhodes and Trae Waynes. Chris Herndon is a big wild card, but a gamble Minnesota can afford to take. If he pans out, the Vikes have a second incredible receiving option at Tight End for Kirk Cousins to utilize. Think of his connection with Jordan Reed. Yeah.
Philadelphia Eagles
Round 1 (32): Hayden Hurst, TE, South Carolina
Philly has one pick in the first three rounds, and they use it wisely by taking a solid TE2 receiving option in Hayden Hurst. Cutting Brent Celek and letting Trey Burton walk make this an ideal pick for an already-stacked depth chart.
Kansas City Chiefs
Round 2 (54): Donte Jackson, CB, LSU
Round 3 (78): Derrick Nnadi, DL, Florida State
Round 3 (86): Dorance Armstrong, DE/OLB, Kansas
Kansas City loves speed, and they get even more of it by nabbing Donte Jackson at #54. He's instantly the third-best corner behind Kendall Fuller and Steven Nelson. Bennie Logan is gone, and no other Chief can currently fill the Nost Tackle spot. Derrick Nnadi instantly steps in deserving of major reps. Dorance Armstrong is an in-state edge rusher who can fill the void left by Tamba Hali in 2018.
Houston Texans
Round 3 (68): Brian O'Neill, T, Pittsburgh
Round 3 (80): Tim Settle, DT, Virginia Tech
Round 3 (98): Jordan Akins, TE, Central Florida
Houston doesn't pick until the Third Round, and knowing that, they've filled nearly every hole this offseason via free agency. Currently, their best Right Tackle option is Seantrel Henderson, so Brian O'Neill has a shot at a starting job right away. Tim Settle fills out a relatively-thin Defensive Tackle corps. Jordan Akins is a riskier pick, but he's a needed wild card in a Tight End group featuring the complacent Ryan Griffin and C.J. Fiedorowicz.
Los Angeles Rams
Round 3 (87): Darius Leonard, LB, South Carolina State
With a third round pick standing as the Rams' earliest selection, they gain a valuable option in Darius Leonard, who's perfectly built to take Connor Barwin's old 4-3 Edge Rusher spot.