The Unofficial 90s NBA All-Decade Team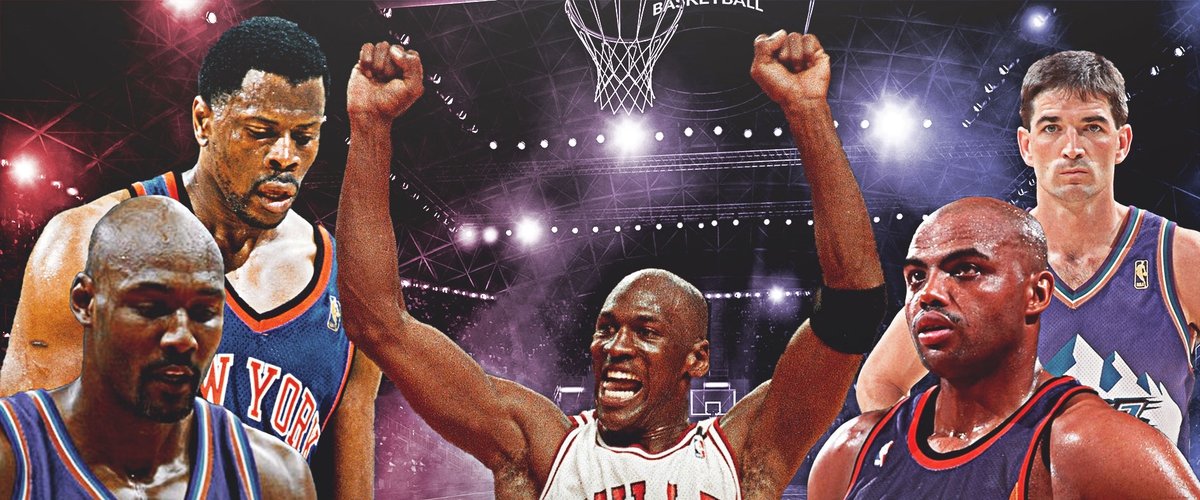 If you didn't have the privilege to watch NBA basketball in the 1990s then you missed out on a lot.
Between the 1992 Dream Team, the global takeover of Michael Jordan and the dominance of the Chicago Bulls the 90s were an unforgettable era for the sport.
YouTube and ESPN highlights can't capture how special of a time it was to watch some of the all-time greats do battle, so I assembled the 1990s All-Decade First and Second Teams and what they accomplished during the best era of hoops.
All-Decade First Team:
Michael Jordan- (CHI) 30.3 PPG 6.2 RPG 4.9 APG
NBA Champion (1991-193, 1996-1998)
NBA MVP ( 1991, 1992, 1996, 1998)
NBA All-Star ( 1990-1993, 1996-1998)
All-NBA First Team (1990-1993, 1996-1998)
John Stockton- (UTA) 14.4 PPG 11.3 APG 2.2 SPG
NBA All-Star (1990-1997)
NBA assists leader (1990-1996)
NBA steal leaders (1992)
Scottie Pippen- (CHI) 18.8 PPG 7.1 RPG 5.8 APG
NBA champion (1991-1993, 1996-1998)
NBA All-Star (1990, 1992-1997)
NBA All-Defensive First Team (1992-1999)
Karl Malone (UTA)- 26.7 PPG 10.6 RPG
NBA MVP (1997. 1999)
NBA All-Star (1990-1998)
All-NBA First Team (1990-1999)
Hakeem Olajuwon- (HOU) 23.0 PPG 10.9 RPG 3.2 BPG
NBA champion (1994, 1995)
NBA MVP (1994)
NBA All-Star (1990, 1992-1997)
All-NBA First Team (1993, 1994, 1997)
All-Decade Second Team:
Shaquille O'Neal- (ORL, LAL) 27.1 PPG 12.2 RPG
NBA All-Star (1993-1998)
NBA Rookie of the Year (1993)
All-NBA First Team (1998)
Charles Barkley- (PHI, PHX, HOU) 22.4 PPG 11.6 RPG 4.2 APG
NBA MVP (1993)
NBA All-Star (1990-1997)
All-NBA First Team (1990, 1991, 1993)
David Robinson- (SAS) 24.4 PPG 11.5 RPG 3.4 BPG
NBA champion (1999)
NBA MVP (1995)
Defensive Player of the Year (1992)
NBA All-Star (1990-1996, 1998)
All-NBA First Team (1991, 1992, 1995, 1996)
Patrick Ewing (NYK) 24.1 PPG 11.0 RPG 2.7 BPG
NBA All-Star (1990-1997)
All-NBA First Team (1990)
Gary Payton (SEA) 16.3 PPG 6.8 APG 2.3 SPG
NBA All-Star (1994-1998)
All-NBA First Team (1998)
NBA Defensive Player of the Year (1996)
NBA All-Defensive First Team (1994-1999)
---