NFL's newest superstar Patrick Mahomes II almost never played football.
It's not a rare occurrence in the NFL today that quarterbacks were two sport athletes. In fact, current and future quarterbacks are still two sport athletes (something that while cool to see is ill advised my many). For the Kansas City Chiefs' Patrick Mahomes II, a football career was discouraged, and almost never happened.
Rumored to be a projected top 10 round pick out of high school, Mahomes declared his intention to play quarterback at Texas Tech before the MLB Draft. A sport he started to play his Junior year of high school, Mahomes II shined in it despite his late entry into the sport. Despite that, he shined as a quarterback and drew the attention of Kliff Kingsbury enough to earn a scholarship. His illustrious, and almost record breaking, career at Tech led to him getting selected by the Kansas City Chiefs in 2017. He played second string to Alex Smith last season before taking over a potent Chiefs offense this season. Now, Mahomes II is the talk of the league as the most electric quarterback in the league - a sport he almost never played and a career that almost never happened. What could have been of Pat Mahomes II the baseball player?
To start, we have to look at his father, Pat Mahomes.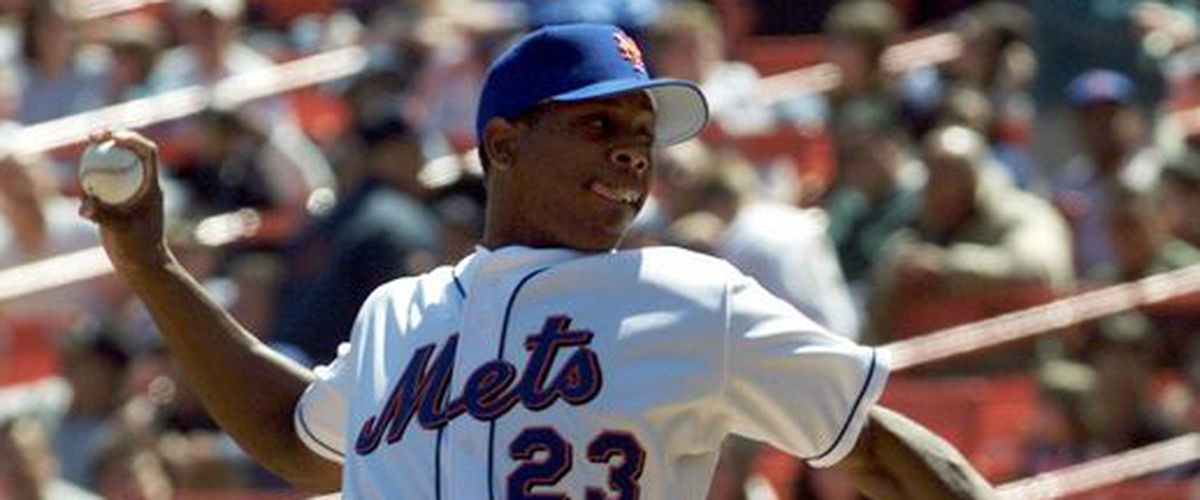 Mahomes father (above with the Mets in 2000) was a journeyman pitcher through the 90's and early 2000's. A career that began after being drafted in the 6th round in 1988, declining a scholarship offer from Arkansas to begin his 11 year MLB career. His career, while not spectacular, set a benchmark in the Mahomes family for success. Whether the catalyst for success was set by his father, Mahomes II lived in clubhouses that had Nomar Garciaparra, Mike Piazza, Sammy Sosa, and Alex Rodriguez around him daily. The environment provided by his father was detrimental for Mahomes II at a developmental age. In an interview with Yahoo! Mahomes explained how that daily environment set him up for success. "It definitely helped me, just seeing professional athletes growing up. You saw how hard they worked [and] when they got to the big leagues, how hard they worked to stay there. They really have shown me the way to be a professional athlete and that's definitely something I feel is an advantage for me."
A baseball family first, Mahomes II worked his way into a potential baseball career after being one of the best in the state of Texas. He's even received praise from opponents, especially Michael Kopech. Playing Mahomes II in high school, Kopech knew he was special. "We'd be pretty similar pitchers now," He said to the Kansas City Star in 2017. Kopech had been ranked as high as baseballs No. 10 prospect according to MLB.com, showing just how good Mahomes II could have been. "He was just a bulldog. To be honest, I think anyone who ever played with or against Patrick would've assumed he would've been a pro in any sport he played."
So how good could he have been? This is impossible to tell, but the words of others speak for themselves.
Mahomes coming out of high school was highly recruited and scouted, but was drafted in the 37th round due to his declaration to play football in college - causing him to lose value. Tim Grieve, the regional scout for the Detroit Tigers that helped Detroit draft him, is very familiar with the baseball playing Mahomes II. It had been stated by Grieve that Mahomes could throw in the mid-90s, which isn't mind-blowing when you see him throw a football downfield. He was also a very good outfielder, another not-so-surprising fact due to his ease in scrambling to create a pass, and his three-sport athlete pedigree. He just had that natural athleticism that made it easy, and it translated well across all mediums.
Had he not publicly stated his intent to play college football, it's believed he would have went much higher in the draft. Could a Top 10 round selection have swayed Mahomes II away from the glamour of Divison I football? It's tough to tell, but easy to dream of what could have been for Mahomes II had he decided to take the long road to success in professional baseball. Mahomes went from prospect to household name in football in only 3 years, and will be due for a massive pay raise if he keeps up his current play.
"The stuff he's doing on the football field now, we've seen him do," Mahomes said to USA Today. "It's nothing at all new to us. He does things that most people his age wouldn't even think about doing with his no-look passes, the way he reads defenses. Nothing really surprises me. Really, I laugh about it, because I expect him to do everything.
In the end, despite his opposition to being his football career, is nothing but love and admiration for a father to his son.
"You know I was pretty proud of my baseball career, but I've got to say, he's already passed me up."
*quotes for interviews were pulled from USA Today, Lubbock Online, MLB's Cut4, and the Kansas City Star. All credit to quotes goes directly to the articles and the writers for said articles.*
---