2017 Clemson Baseball Preview: Infielders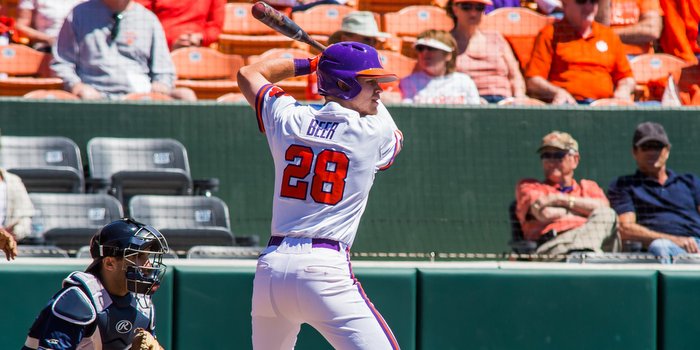 Courtesy of TigerNet.com
Not much was expected of the Clemson baseball team heading into the 2016 season. After a disappointing 2015 campaign which ended with an early exit from the Fullerton Regional and the firing of Coach Jack Leggett, the Tigers were projected to finish 6th in the Atlantic Division in 2016. However, first-year coach Monte Lee led the team to a 44-20 overall record, winning the ACC and ultimately earning the #7 national seed and hosting a Regional.
Expectations are at an all-time high leading into the 2017 season, even though the Tigers will be without many key contributors from last year's team. Now that spring workouts have officially begun, let's take a look at what the infield might look like this spring.
Departures
The Tigers will be looking to replace the middle infield duo of Eli White and Weston Wilson, who were both key contributors to last year's team. White, an 11th round draft pick of the Oakland Athletics hit .272 with 54 runs scored and 24 stolen bases, but was inconsistent in the field at times. Wilson, a 17th round pick of the Milwaukee Brewers hit .279 with 7 home runs and 12 doubles, and was one of the most consistent bats in the lineup throughout the course of the season.
Returners
The most prominent name on this list is Seth Beer, a sophomore who is expected to play first base in 2016 after a phenomenal freshman campaign. Beer was awarded the Dick Howser Trophy as the college baseball player of the year after hitting .369/.535/.700 with 18 home runs and 70 RBI. While it will be hard to replicate those numbers, Beer is expected to be an impact bat again in 2017, and has an opportunity to prove himself as the best hitter in the country.
Junior Adam Renwick began 2016 as the starting third baseman, but struggled both offensively and defensively, ultimately losing playing time. He turned in a solid season in the Coastal Plain League this past summer, hitting .269 in 29 games and earning an invitation to the All-Star game. He's been getting some reps at shortstop, and will have every opportunity to earn playing time at either middle infield spot.
Jordan Greene got a fair share of playing time during his freshman campaign, getting on base at a .422 clip while seeing action at both second and third base. He profiles best as a second baseman, and will be competing for the starting job this spring.
Redshirt graduate Andrew Cox was a key contributor in the lineup a season ago before fracturing his foot in mid-March and missing some time. Look for "Rudy" to make an impact as a designated hitter against right-handers and off the bench throughout the course of the season.
Newcomers
Freshman Logan Davidson impressed during the fall, and seems to be the favorite to win the starting shortstop job this spring. The 2016 North Carolina High School Player of the Year, Davidson is a strong defender and has the potential to become a top of the order bat.
Similarly, junior college transfer Pat Cromwell might be the best bet to start at the hot corner. He hit .331 with 4 home runs in 36 games last spring for Santa Ana College, and gives the Tigers a reliable defensive option at third base, something they lacked last season.
A transfer from LSU, Grayson Byrd sat out last spring due to NCAA requirements, and then missed most of fall workouts due to a back injury. He is an above-average defender at short, and will be competing for time at both middle infield spots.
Another player dealing with injuries is redshirt freshman Grant Cox. A highly touted recruit, Cox missed the 2016 season with a torn labrum, and missed time this past fall due to injury as well. He's said to be a very good defensive player, but ultimately his health will determine whether or not he gets the chance to compete for the second base job this spring.
A switch hitter with speed, Brock Howard is another first-year player with a chance to compete for time at second base. He may start the season behind Greene, Byrd and Cox on the depth chart, but should be able to have an immediate impact off the bench as a pinch runner.
Follow along as we continue to preview to 2017 Clemson baseball team as well as news and notes from around the world of baseball over the course of the season.
---