2016-17 Pacific Division Preview
This will be a four part blog post, with this being the second, in which I will tackle some predictions of how teams will perform as well as where they will fall come playoff time. Playoff teams will be marked with a "X"
Pacific Division
1. San Jose Sharks X
The Sharks return in 2016-17 with nearly the same roster they ended the 2016 Stanley Cup Finals with. New additions include David Schlemko and Mikkel Boedker. Schlemko may or may not make much of a difference on the blueline, but the signing most fans seem to be cheering about is Boedker, for $4 million a year. Put bluntly, he is far overpaid, and he is not a good player possession wise. This signing certainly helps with San Jose's speed issues they faced against Pittsburgh as well as on the power play, but during five on five he will most likely make a minimal impact. As you can see in this HERO Chart, Boedker actually makes his teammates worse when he is on the ice. While one bad signing won't make or break this team, it won't exactly help them either.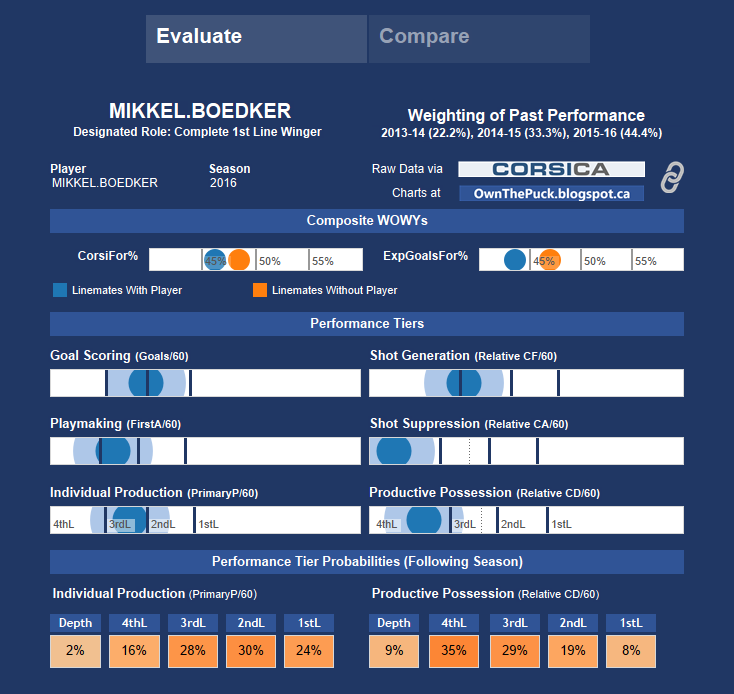 Mikkel Boedker HERO Chart
The biggest issues San Jose will face this upcoming season though, is the decline of many key players. Marleau has already shown signs of seriously slowing down, his 2015-16 point total was his lowest since 2007-08 (minus the lockout season) with only 48 points, and he's only getting older, already 37 years old. Thornton is also 37, Ward and Martin are almost 36, Pavelski is 32, along with Burns nearing his 32nd birthday. Even if the core is aging rather rapidly, most will not show signs of decline like Marleau has. However, Burns will not be able to replicate his career year of 75 points, he will undoubtedly have a terrific season, but not likely top 15 in points again.
There is some good here though, and that is the fact that they finally have fixed their goaltending situation after years of uncertainty. Martin Jones has truly proved that he's a reliable number one goalie in this league, after taking his team all the way to the Stanley Cup Finals, and even stole a couple of games along the way.
This team will return as one of the best in the league, with threats throughout their lineup like Logan Couture, Tomas Hertl, Joe Pavelski and Joel Ward, just to name a few. The blueline will continue to be solid with veterans like Burns, Martin and Vlasic. Not to mention that Martin Jones will continue where he left off the past spring, helping the Sharks claim home ice advantage for at least one round of the playoffs.
2. Los Angeles Kings X
The Kings have been a fantastic club for years now. They have consistently been one of the absolute best Corsi teams in the league, thanks to the excellent systems set in place by head coach Darryl Sutter, and they will probably continue this trend in 2016-17.
The Kings do have some issues though. Where will their scoring come from? Sure, they have Kopitar, Carter, Gaborik, Toffoli and Pearson, but after that it drastically falls off. Behind the top six, LA practically has 2 fourth lines, which doesn't tend to equal too much success. The stars can only carry you so far.
To battle the lack of scoring in LA , the group will need to heavily rely on a slightly above average goaltender in Jonathan Quick. He's a very competitive guy, but not the most skilled, contrary to popular belief. This past year he sported a very average .918 save percentage. Quick will be under the microscope and expected to play lights out nearly every night to combat the lack of scoring. Whether he will be able to do it is another story.
In front of Quick, are a couple of excellent D-men in Drew Doughty and Jake Muzzin, but there are also some not so excellent players. Mainly Rob Scuderi. Scuderi is slow, can't make a breakout pass, is unable to generate offense and is often caught out of position. Any team with him on it is far from perfect and will probably struggle while he's on the ice.
3. Anaheim Ducks X
The Ducks have made some changes this summer, some bad, some decent, some terrible. They kicked off their offseason by firing head coach Bruce Boudreau to bring in former Leafs and Ducks coach, Randy Carlyle. Some think that this is a good move since last time Carlyle coached in Anaheim, they had won a Stanley Cup. But it would be hard to lose while coaching a team that included all star players like Scott Niedermayer, Chris Pronger and Teemu Selanne. Look back to his tenure with the Leafs, they were plagued by poor coaching decisions. Carlyle is unable to change with the times, dressing played like Colton Orr over more skilled players.
With the signing on Jared Boll, these poor lineup decisions are bound to reoccur. Boll has never scored more than 12 points in a season during his career, and last year he had 33.7% possession. Yikes. With Randy Carlyle's track record, i think it's safe to assume that Boll will sadly be in the lineup just about every night.
Their biggest issue though, is their second line center: Ryan Kesler. He was once a top player in the NHL, but those days are long gone. Not only has his play seriously declines, but his contract runs through the 2021-22 season at the hefty price tag of $6,875,000 a year. He's essentially trade proof and he's being paid for the player he used to be, not the one he currently is. Kesler is still doing fine on the possession front, (though for that contract it should be much better) but his Points/60 is in drastic decline.
Ryan Kesler HERO Chart
There is some good news though. Beyond the forwards, the rest of the team seem to be in fine shape. They have a fantastic D-core that includes Hampus Lindholm, Sami Vatanen and Cam Fowler, with solid defensemen behind them like Simon Depres and Josh Manson. Not to mention that despite trading Fredrick Andersen, they still have a great tandem in net with young John Gibson and vet Jonathan Bernier.
The Anaheim Ducks may not be heading in a great direction with some of the questionable decisions they have made this offseason, but they are in a weak division so it should be fairly easy to find themselves in the playoffs this spring. They will still be competitive and they are still a good team, they may not be in a few years, but for 2016-17 they will still be a threat most nights.
4. Calgary Flames
The Calgary Flames are going to be one of the most exciting teams to watch this season, despite where they finish in the standings. The Flames have an electrifying forward core that include the likes of Johnny Gaudreau, Sean Monahan and Sam Bennett, all of which are 23 years or younger. On top of the core, the Flames have also helped by adding veteran Troy Brouwer to the squad, hoping that he can add another dimension of scoring as well as teach the kids a thing or two about the NHL.
On the back end, Calgary is also in very good shape (other than the sore spot that is Deryk Engelland and his contract, but I won't get into that mess). Captain Mark Giordano will continue to be a top defenseman and prove that he is worth his $6,750,000 contract. Alongside the captain, there are two very reliable players in TJ Brodie and Dougie Hamilton. But neither the forwards nor the defense were the Flames' biggest issue last season, that accolade belongs to the goaltending.
Thankfully, GM Brian Burke found a pair reliable goaltenders, one coming via trade (Brian Elliott), the other from free agency (Chad Johnson). Brian Elliott proved during the 2015-16 season that he is truly starting material, posting an impressive .930 save percent and 2.07 goals against per game. Elliott may not match those great numbers this year since the Flames are currently a step down from the Blues, but he will continue to play well and at the very least be average, and that's all the Flames really need out of him. Behind Elliott, Calgary has Chad Johnson as the backup. He also had quite the season with his former club, Buffalo, finishing the season with a .920 save percentage in 45 games played. These upgrades in net will make a world of difference in Calgary without a doubt.
5. Edmonton Oilers
The Edmonton Oilers seem to finally be heading in the right direction after nearly a decade of top 10 picks and failure. Now there are no excuses for anymore disappointments, the team needs to see improvements this year and I think that is exactly what they will get.
A full season out of Connor McDavid will help greatly, I wouldn't be surprised to see him net 30 goals this season, especially if Todd McLellan decided to go the Gretzky-McSorely approach with McDavid and Lucic. While newly acquired winger Milan Lucic isn't exactly a goon, seeing as how he can actually play decent hockey, his reputation around the league may stop some cheap shots on his center and his large stature could clear some space for McDavid to do his magic.
We all know that the Taylor Hall for Adam Larsson was not a good trade. But by drafting Jesse Pulijujarvi, it seriously softens that gap in the roster. Aside from that though, the Oilers received something that they desperately needed, which is another defenseman. Larsson certainly is far from a stud or a number one defenseman, but he does help a previously weak blueline. With Klefbom hopefully returning at 100% health, Darnell Nurse growing and gaining experience, and now Larsson, the blueline is much stronger than last year. Not the best around, but much more serviceable. In a couple more years, the Oilers should be back into the playoffs. But for now, they'll have to settle with not finishing bottom three, which is still a victory in my books.
6. Vancouver Canucks
Vancouver is a lot like Colorado, neither team knows what they are doing. The Canucks should be a draft lottery team, rebuilding with young prospects, but instead they opt to trade their prospects and picks for players that make minimal impact. Their window to win is over, but for whatever reason they can't move forward from the game 7 loss to Boston. The Sedin twins are still great players, but they're not getting any younger and aren't what they used to be, they can't carry the Canucks anymore. So what does the brain trust do? Go out and sign Loui Eriksson, of course. Vancouver needs to take a page out of Toronto's book, trade the players with value for picks and prospects and move on from Burrows, Miller, Edler and the rest of the vets. It also doesn't help that they have a fourth liner, Brandon Sutter, playing on the second line.
7. Arizona Coyotes
The Coyotes know what they're doing. Taking on big contracts of inactive players like Pavel Datsyuk and Chris Pronger in exchange for picks. They already have an abundance of young talent like Max Domi, Anothony Duclair and Dylan Strome, not to mention they have Norris caliber defenseman Oliver Ekman-Larsson, and they are only adding to the pool.
Despite the contracts given out to Goligoski, Vrbata, Luke Schenn and Jamie McGinn, that's not enough to make them a competitive team, especially with Mike Smith in net. The prospects will continue to grow this year, which will be fantastic for the team in a couple of seasons, but for now, Arizona is destined to be a basement dwelling team.
---