25 Teams in 25 Days: Thomas Jefferson Orange Wave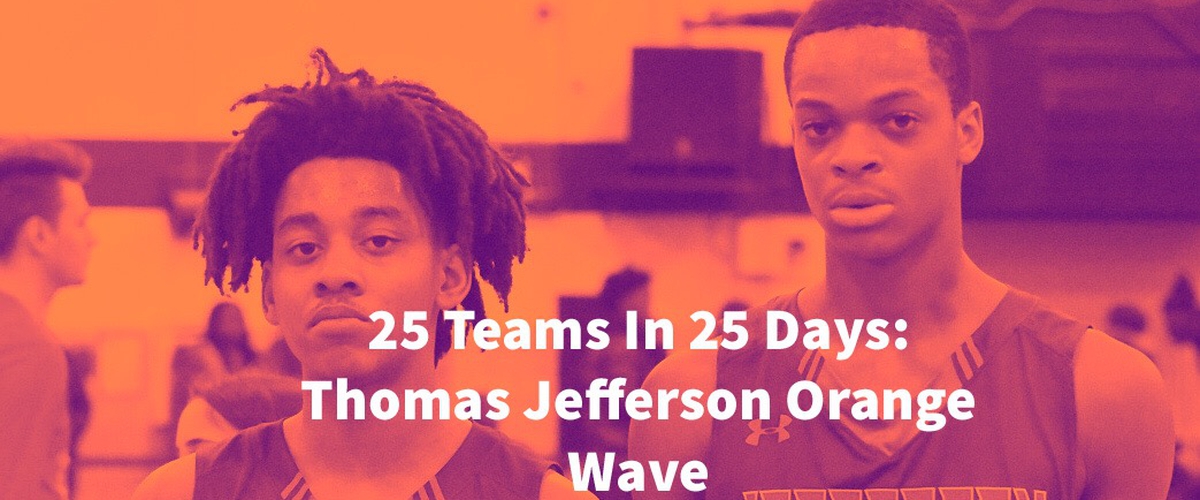 The 2017-18 season at a Glance: 18-7 overall record 10-4 regular season record, reached PSAL final four
Players to Watch: Jaquan Carlos, Marcus Burnett, Kareem Welsh
The buzz continues to grow over in East New York as the Thomas Jefferson Orange Wave prepare for another title run in 2018-19. The Orange wave has one of the top sophomore guards in the city, and their supporting cast is one of the toughest in the city. The Orange wave may be young, but with one of the best coaching staffs in the city, they are prepared for anything that comes at them.
The amount of depth that Jefferson has at the guard and wing position is astounding. We already know how deadly the combo of Jaquan Carlos and Marcus Barnett are on a nightly basis, but there are also some players who know their roles and will step up on a nightly basis when needed. Carlos can already shoot and run an offense with the best of them, and when he's hot, he definitely plays a lot more like an upperclassman.
The X-factor on this Orange wave squad is senior Kareem Welch, the 5-10 guard is scrappy can defend, score and has a great knack for rebounding getting loose balls. In many games, Welch is the much-needed boost that Jefferson needs to propel them to victory, and he will continue to do so this upcoming season. Other players that can step up on a nightly basis are Dashan Crittendon and Ramsey King. Both can be huge sparks off the bench
Key Games to Watch.
November 17th vs. MSIT
The Orange wave will begin their season November 17th at their annual Hersh Tip-off Classic. They will go up against the Staten Island power MSIT.
December 6th vs. Brooklyn Collegiate
The Orange wave will have a test on their hands at home against an emerging Brooklyn Collegiate team. The matchup in the backcourt between Jaquan Carlos and Majesty Johnson will be one to watch out for in this game.
December 8th vs LuHi
If you want to see a game that features two of the top point guards in the city this game will be one to attend. Jaquan Carlos and LuHi junior point guard Andre Curbelo are one of the best point guards of their respective classes when both teams face each other its a sure thing that if you are high school basketball fan, all eyes will be on this game. The last time these two teams played was at the Hype City/Slam preseason invitational. in that game LuHi manhandled Jefferson. The Orange wave will be looking for revenge in this game.
December 22nd vs. Eagle Academy (Bronx) @ The Brooklyn Bridge Holiday Classic
In a rematch of last year's PSAL Elite 8 game, The Orange wave will face defending Bronx Borough champions Eagle Academy. The Eagles will be searching for revenge in this game, but the Orange wave will look to protect home court in this Bronx vs. Brooklyn matchup.
January 3rd vs. South Shore
The Orange wave will start off 2019 with a big home game vs. defending PSAL city champion South Shore. The Orange wave went 1-1 against the Vikings, and if there is any game where they need to make a statement, this will be the game. Expect the game to be sold out before game day.
February 7th at Boys and Girls HS
It's always a high stakes battle when these two teams play each other. In this second meeting between both programs, the Orange Wave will travel over to Bed-Stuy to perform the Kangaroos. This game might be for positioning in the Brooklyn AA division as both squads are expected to finish within the top five of the division standings at the end of the regular season.
Prediction for the 2018-19 season
When Jefferson plays well together, there is no way they can be stopped. competing in the Brooklyn AA division will once again a huge challenge for the Orange wave, but it's a sure thing that they will finish within the top three of the division. As for a playoff run expect the Orange wave to make a deep playoff run once again.
---