A Look Back At NY vs NY Weeks 2 And 3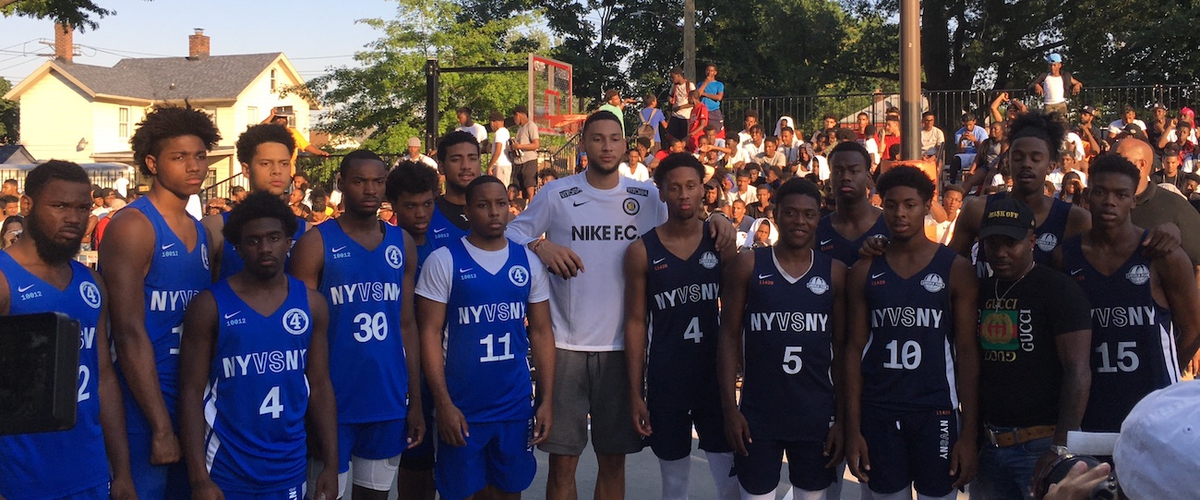 In week 2 at Tri-State, Dyckman bounced back from their opening week loss to Gersh by edging Tri-State 50-49. In that game Al-Amir Dawes a rising senior at The Patrick School in New Jersey led Dyckman with 22 points and 5 steals. Gersh Blew past West 4th 61-53 to remain undefeated at 2-0.
Patrick School (NJ) guard Al-amir dawes gave defenders the fits during week 2 of NY vs NY Photo Credit: Nicole Sweet Sports
Week three was a big day for NY vs NY as the tournament made its way to Queens. Tri State and West 4th were looking to get their first wins of the tournament while Watson and Lincoln Park were willing to remain undefeated. All teams were missing key players due to the 1st NCAA live period, but both teams made big adjustments on their roster and it worked out well. In Game 1 Tri-State edged Watson 64-62 behind 15 points from Matthew Cotton and 14 points from Tyler Bourne. Watson was led by Jacob Toppin who scored 16 points and grabbed 12 boards.
In the night cap, It was Team Lincoln Park vs Team West 4th. With the home crowd behind them, Team Lincoln Park was confident they could take care of home court while West 4th came into queens determined to spoil the party and they did. Team Lincoln threw the first punches early, but Team West 4th fought back and used a second half surge to bear Team Lincoln 70-63. Nariq Chisholm a late addition to Team West 4th came up big with 20 points and 10 boards, but another player who stole the show was Brooklyn Collegiate rising junior Majesty Johnson. Johnson scored 18 points and hit some big shots down the stretch to help West 4th get the win.
Despite the loss it was a big day for Lincoln Park as they have proved to be one of the best summer leagues in NYC. NBA Rookie is the Year Ben Simmons came through to watch the games as well as fellow queens native and Social media comedian/Influencer The Shiggy Show. The people of queens definitely showed that night that their borough should not have be slept on.
---