Six Things We Learned From Week 1 of the 2020 NFL Season
The first week of the 2020 NFL season was one of excitement, shock and downright enjoyment.
After the ups and downs over the course of the year, it was nice for football to be back on our screens on Thursday, Sunday and Monday.
No preseason games meant that this was the first time we had seen these squads in action against each other and it sure taught us a considerable amount about what the season should look like.
Week 2 starts with a Ohio-themed matchup on Thursday night with the Browns and Bengals facing off, and Sunday's headliners will surely be filled with action we should look forward to.
But not before we look back on a Week 1 to remember.
Here is a touchdowns worth of things we learned from the first week of the 2020 season.
TOMpa Bay aren't ready yet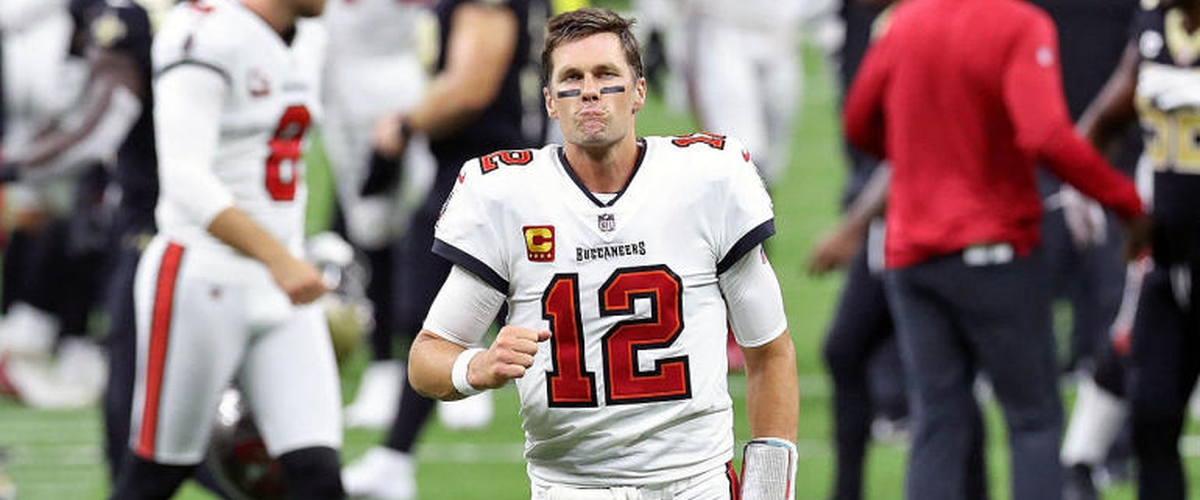 Discussions of Tom Brady being washed up have been going on for years now, but they picked up Sunday night when the GOAT put on a memorable performance for the wrong reasons.
Tampa Tom threw for an underwhelming 239 yards and added two touchdowns and two interceptions to his statline. Fair to say the Bucs' new QB would've liked to get off to a better start this season.
Despite a bad game, Brady still looks like he has enough left in the tank to pull some wins out of the hat. It's just a shame that the new pieces couldn't come together in Week 1 to take a win away from a division rival. They aren't a cohesive unit yet, but if that time comes, it could be dangerous.
To defend the bad performance from the Tampa squad, they were going up against a powerhouse Saints side who have dominated the NFC South for a number of years now. The Saints showed again Sunday night that they were a force to be reckoned with, especially on defense.
The Bucs will need to bounce back against the Panthers this week to avoid falling to 0-2.
Look for Tom and the team to have an easier game this week, and hopefully a win could set them back on the right path.
The West is the best
Hear me out, I think it's possible for all four of the NFC West's teams to make the playoffs this year.
Something crazy would have to happen for this, but it's hard to think of one team in this division missing out on one of the seven playoff spots.
The Seahawks killed the Falcons on offense and defense, with Russ priming himself for another season of stupendous play.
The Rams held off a hyped Dallas team to snatch a win on the opening night of their new stadium. Although a controversial victory, their key players stepped up and secured a 1-0 start to the year.
The Cardinals proved they were the real deal by coming back to beat a 49er side who just reached the Super Bowl mere months ago. Kyler, D-Hop and that defense are set to shake things up.
As for the 49ers, they started their year with a loss to a division rival, that's never good, but having Kyle Shanahan as your head coach should be enough of a boost to rack up some wins over the next 16 weeks.
It is a long shot. But never impossible.
Keep an eye out for the best division in football, because it has the chance to make history.
The Ravens are the Ravens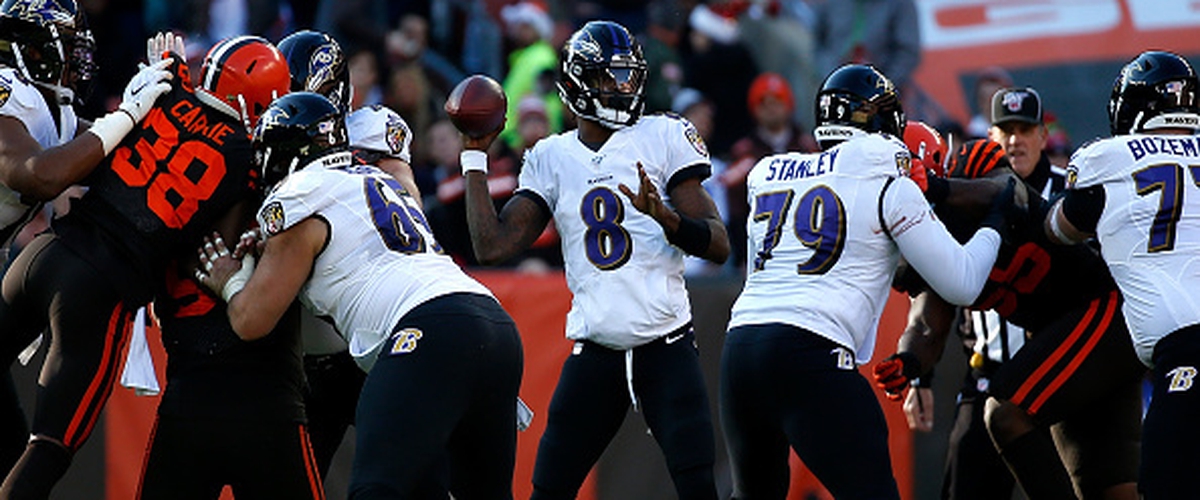 They're who we thought they were.
The Baltimore Ravens came through on Sunday with an exceptional performance against the Cleveland Browns.
Although the Browns aren't at the top of the NFL food chain, they were still effective enough (ineffective themselves) in showing us how the Ravens would perform this year.
Lamar, coming off of an MVP season, showed no signs of slowing down as he racked up three touchdowns for himself. And stud rookie running back J.K Dobbins had two TD's in his first NFL game.
The defense allowed only six points throughout the game's 60 minutes and showed no slowing down, even after the departure of Earl Thomas during training camp.
Rookie linebacker Patrick Queen quickly filled a leadership void left by Thomas on defense, contributing to the overall defensive effort with a handful of important plays. Ravens debutant Calais Campbell was another addition to an already stacked defense, he'll look to make an impact throughout the season.
If there was any doubt in people's heads that the Ravens weren't going to be just as dominant a football team this year, then surely it has been erased.
Lamar and Co. travel to Houston to face the Texans on Sunday. More eyes will be on them this week, as this looks to be a marquee matchup with two superstar QB's.
Another outstanding performance is expected by Baltimore, and if delivered, then maybe they'll get some people's vote of confidence to reach the Super Bowl this year.
All to play for in the NFC Least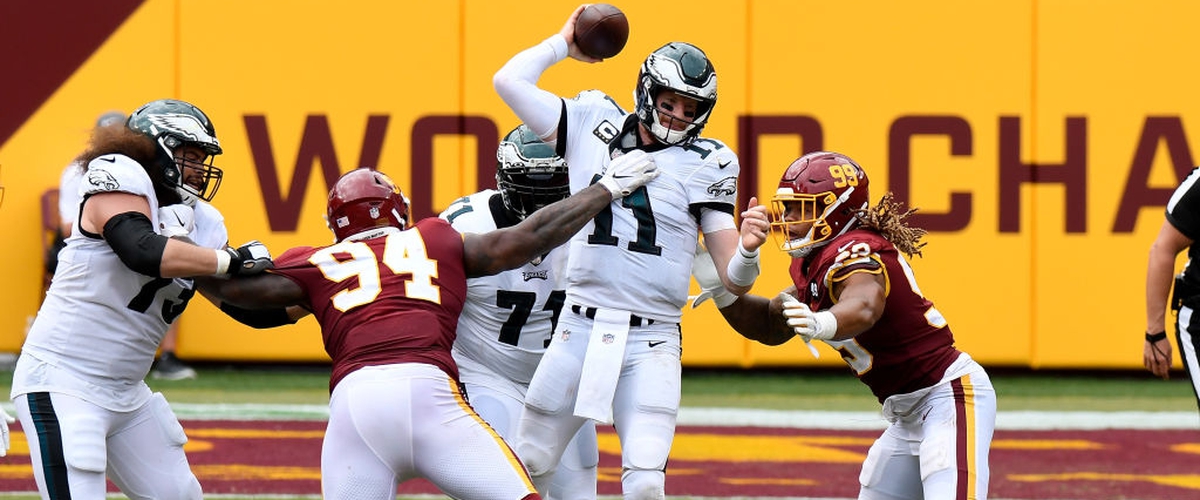 Wow. Just Wow.
My expectations were low. But I'm still quite disappointed.
Just to point out, the 'Football Team' are leading this division. That's how bad it has turned out.
The Eagles, Cowboys and even the Giants should all be hanging their heads in shame after Week 1 because they had some horrendous games.
How did the Eagles blow a 17-point-lead to Washington? Honestly, I don't know.
Some credit should be given to Ron Rivera and his side for showing such resilience in a game that was effectively over for them at halftime. But the Eagles, albeit a banged up Eagles side, just didn't turn up in the second half.
Carson Wentz has to be given part of the blame for failing to lead his team down the field and score, the QB needs to learn when to sometimes give up on a play and not hold onto the football for too long because that Washington pass rush ate him up. And it was because of their defensive play why they ended up winning.
On the west coast, the Cowboys laid an egg against the LA Rams. Whilst Dallas fans may argue they were screwed out of a win by a late call, the honest truth is that America's team just didn't play well enough for the win.
Albeit, they were up against Aaron Donald, Jalen Ramsey and an overall great defense, but for a team that was hyped up a lot before the season, they now seem like a let down compared to what they should be.
And as it concerns the Giants, they were the same ole' Giants we've watched in years past.
If Saquon isn't doing well then its likely that the G-Men aren't either. Six total rushing yards was all he put up against the Steelers and that isn't good enough for the Giants to come out as a victorious side. My expectations weren't high for them anyway.
There's potential for a lot to happen in this division throughout the season, but the likelihood is that whoever makes it into the playoffs can probably kiss away any chance of making it past Wild Card Weekend.
The Steelers are ready to rock and roll
Expectations weren't too high for the Steelers coming into this season. Some people, including myself, tipped them to be a wild card team in the AFC and win around 9/10 games but their performance Monday night might indicate that Pittsburgh are capable of making some noise.
Big Ben didn't have a performance for the ages in his comeback game, but 200+ yards and three touchdowns ain't too shabby for the veteran quarterback. And considering that Benny Snell Jr had to step in at running back after James Connor's injury, the offense actually done quite well.
But the most obvious thing to notice from Monday's game was that the Steelers' defense is an unstoppable unit. Slowing down Saquon Barkley is one thing, but absolutely pummelling the man and making him leave the game with only a total of six rushing yards is unheard of.
T.J Watt, Cam Heyward, Joe Haden, Bud Dupree, I could go on and on about every single defensive player who suited up for the Steelers in Week 1, that's how dominant they were.
Yes, they played the miserable New York Giants. But the game seemed easy for them, especially once they started their run in the second quarter which saw them score 23 straight points.
I'm not tipping the Steelers to overtake the Ravens in the AFC North. But they are certainly a team to watch in the coming weeks.
Guys, I'm telling you, the Steelers are no joke.
In fact, they're just getting started.
A p*ssed off Aaron Rodgers is the best Aaron Rodgers
Was drafting Jordan Love with their first round pick a mastermind move by the Green Bay Packers' front office? Because if they done so to get this Aaron Rodgers out of his shell then give them a round of applause.
Seriously though, the Packers, and especially A-Rod, were firing on all cylinders against the Vikings on Sunday.
Whilst it started off as a close one, the Rodgers-Adams connection became to much for the Minnesota defense. I mean, when Rodgers is throwing for four TD's and Adams is catching two of them, you know the duo means business.
It was as if the Green Bay QB went out on Sunday and dedicated the game he had to every writer, analyst or fan who wrote him off after last season saying that he was 'washed up' and 'not the same old Rodgers'.
But while he may not have changed some people's minds yet, he's definitely set the bar high for himself after the Week 1 performance. Maybe some people who picked him for MVP aren't crazy after all.
Could he compete for it though with Lamar, Russ and Pat Mahomes out there putting up big numbers?
Well, if he keeps performing like how he did on Sunday, then he'll certainly be in the conversation.
---