Six Things We Learned From Week 2 of the 2020 NFL Season
Two weeks have come and gone in this 2020 NFL season and what a two weeks it has been!
Week 1 offered us a bunch of juicy games to sink our teeth into, but Week 2 was a completely different animal. We had several elite QB's go head-to-head, we had down to the wire games, we had amazing comebacks, and we had some overall great football.
Hopefully, we can all look forward to an even better Week 3 and that starts with the Jaguars and Dolphins facing off on Thursday Night Football down in Duval.
But before we get excited about that, we still have to look back at the matchups we witnessed over the last week.
A touchdowns worth of things we learned from Week 2 coming right up!
Russ rises above the rest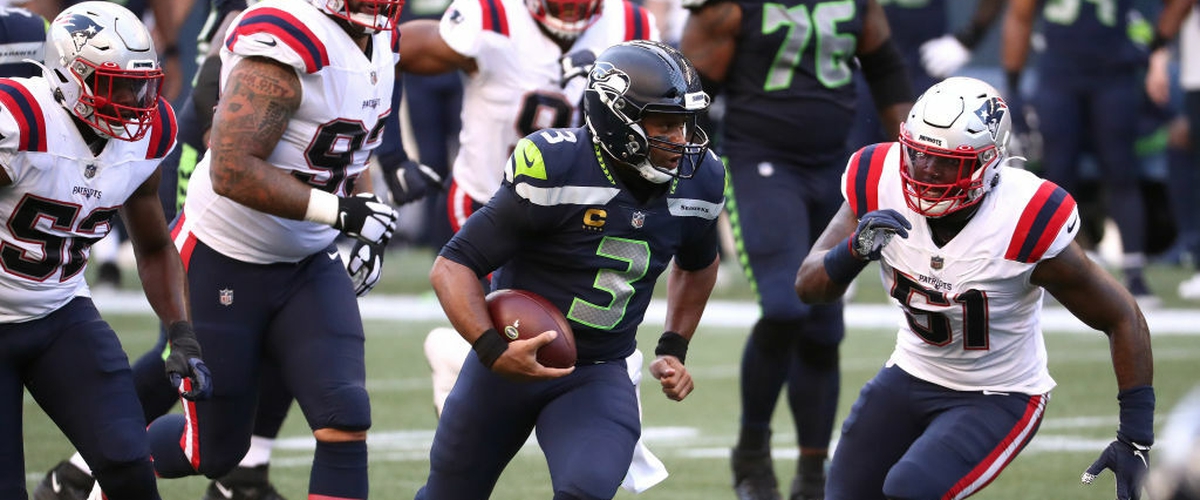 Our Sunday Night Football game was host to two outstanding quarterback performances from both Cam Newton and Russell Wilson.
Although Cam, who was picked up by the Patriots in early July, had a stellar performance throwing for 397 yards and scoring three touchdowns, it was actually Russ and the Seahawks who walked away victorious.
Wilson was picked off early by the Pats' star safety Devin McCourty, but this was made an afterthought after the Seattle QB threw for five TD's to five different receivers in the contest.
Russell Wilson looked electric out there at CenturyLink Field putting up 35 points for his squad, and by many accounts put himself into first place in the MVP rankings.
Maybe it's an overreaction, but Wilson's performances in his first two outings have outshined rivals Pat Mahomes, Lamar Jackson and second-year sensation Kyler Murray.
A total of nine touchdown passes to one interception, along with passing stats of 53/64 for 610 yards, has electrified the NFL and has not only put Wilson's name in MVP discussions, but has the pivoted the Seattle Seahawks into the mix as Super Bowl contenders.
We'll see how the third-round steal performs in the coming weeks against the likes of the Cowboys and Cardinals, but if Russ continues to cook like he has, and the Seahawks continue to win, then expect the MVP award to be heading to Seattle this season.
If not the award though, I'm sure Russ would at least appreciate a vote for the first time.
There's two beasts in the AFC East
We already mentioned the brilliance of Cam Newton on Sunday night. The QB who was written off by most teams balled out against a hardened Seattle defense and came just one yard short of winning the whole game for the Patriots.
That win would've put them at 2-0 alongside division rival Buffalo Bills who picked up a hard-fought win against the Miami Dolphins on Sunday.
Make no mistake about it though, Cam and the Pats are still in the battle for the AFC East division title. At this point in the season it's obviously still up for grabs and with a chance to face the rival Bills twice before the end of the year, Belichick and co. will be focused on winning those all-important matchups.
To counteract Newton's brilliance for New England, Josh Allen has put up some insane numbers over the first two games of the season. The quarterback has thrown for 729 yards with six touchdowns and zero interceptions over the course of his games versus the Jets and Dolphins.
Plus, the addition of Stefon Diggs to the Buffalo offense had added some much-needed star power, an important factor in order to have their young quarterback succeed. Diggs caught eight balls for 153 yards in Sunday's game against the Dolphins and was arguably the best player on the field.
With two games against each other on the horizon, and competitive schedules ahead for both teams, look for the Bills and Pats to fight down to the wire for their division crown in 2020.
Bad luck for big stars
The injury bug hit the NFL in Week 2, and it hit hard!
It was expected that a lack of preseason due to the league's new regulations regarding covid-19 would impact players' physical condition on the field, resulting in a few bumps here or there. But this past week was a travesty as some of the NFL's biggest stars picked up brutal injuries.
Two of the most startling were to young studs Saquon Barkley and Nick Bosa, both of whom torn their ACL's in their Week 2 games. This will likely rule both of them out for the season with expected recovery time for their injuries being between 6-9 months.
In addition to Bosa, the San Francisco 49ers lost their QB Jimmy Garoppolo, RB Raheem Mostert and DL Soloman Thomas during their game with the Jets at Metlife Stadium.
The surface that the Niners and Jets played on was brought into question after their game with San Francisco players revealing their concerns about playing on the same turf next week against the New York Giants. However, the NFL claim that the playing surface at Metlife passed all necessary inspections and is safe to play on.
The injury list did not stop there, so to be quick, here's a list of some of the most important players who went down with injuries in Week 2:
- Christian McCaffrey (High Ankle Sprain)
- Drew Lock (Torn AC Joint)
- Davante Adams (Hamstring)
- Anthony Barr (Torn Pec)
- Bruce Irvin (Torn ACL)
- Brandon Scherff (Sprained MCL)
- Courtland Sutton (Torn ACL)
These were just to name a few.
Many more injuries occurred over the course of the Week 2 matchups. Some players will only have a few weeks recovery, while the season is over for others.
Those who bit the bug will be sorely missed, but their teams will have to move forward. An injury can change a squad's season in so many ways, so let's hope that the league can stay upright in the coming weeks.
Here's to a speedy recovery for all injured players, and a healthy rest of the season to others.
Kirk calls it in
Oh, Cousins!
The Minnesota Vikings put up another bad performance in Week 2.
After their opener loss to the Green Bay Packers they travelled to Indianapolis to take on Philip Rivers and the Colts. But to be honest, they might as well have not shown up at all.
Kirk Cousins had one of his worst performances to date in a Vikings uniform throwing for an abysmal 11-for-26 for 113 yards and three interceptions. Cousins was also sacked three times by the Colts defense who forced the QB into a pitiful 15.9 passer rating.
The question is though, is Kirk's time in Minnesota coming to an end?
Yes, he did sign a big contract extension earlier this year, but if his first two performances of the seasons are anything to go on then who's to say that the 'Tank for Trevor' won't commence in the next few weeks.
An overreaction it may be, but its obvious that Kirk Cousins, although a serviceable QB to have, isn't going to win your franchise a Super Bowl. And surely that was the goal for the Vikings when they brought him in to be the franchise quarterback in 2018.
Trading your number one wideout probably wasn't a good idea either, and now the team has to watch former star Stefon Diggs ball out in Buffalo. Add in the fact that the team's record is now 0-2 and it looks unlikely that the Vikings will even sniff the playoff picture this year.
The thought before the season started was that Minnesota would be fighting for the division with Green Bay, but now they're not even as good as the mediocre Chicago Bears.
It's only been two weeks, but I think Minnesota might need another miracle.
Rookie QB's prove they've got IT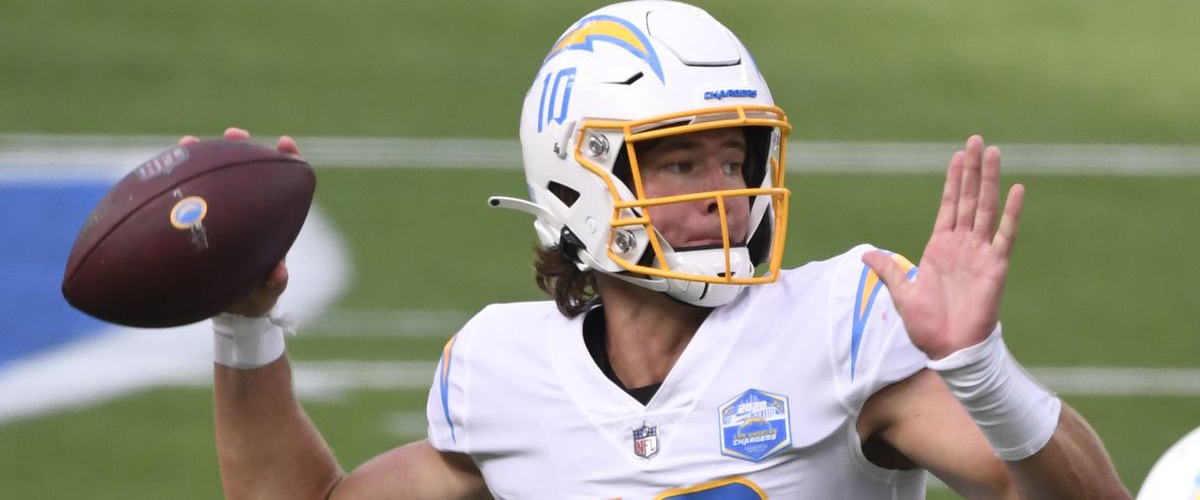 Now maybe I'm getting ahead of myself, but these rookie quarterbacks are looking like absolute studs out there.
First, we had Joe Burrow dot up the Browns on Thursday night. He passed for his first NFL touchdown, had three in total, and chucked the ball for 316 yards in a close one against his Ohio rivals.
After his final drive in Week 1 which ended in misery for the Bengals, Burrow came back out, looked confident in what he was doing, and showed the league that he's got next!
We also got a glimpse over in Los Angeles of what former Oregon QB Justin Herbert has to offer. The rookie was told minutes before the game that he was going to start after Tyrod Taylor suffered a chest injury in warmups, and you know what, he delivered!
Going up against Patrick Mahomes and the Chiefs is not an easy task, but in his first NFL start Herbert threw for 311 yards, threw for a touchdown and ran one in to the endzone himself.
If it wasn't for a late comeback by the Super Bowl champs, then the rookie would've had the perfect start to his NFL career. But things are looking up for Herbert.
We're yet to see whether Anthony Lynn names his rookie sensation as the starter for Week 3, but after showing out against Kansas City, I'm imaging it would be hard for him to not pick the hot hand.
Perfect by no means, however the rookie QB's who started in Week 2 certainly looked like they belonged out there on the field.
At the end of the day the quarterbacks didn't manage to get the win, but they certainly got people's attention.
Run Raiders Run!
Not only did they run the ball like hell, but the Las Vegas Raiders dotted up the Saints D on Monday Night Football.
What seemed like an easy game for the New Orleans Saints quickly became a barnburner with the Raiders coming out with a glorious win in their first game at Allegiant Stadium.
Without a doubt, Monday night's game became the most significant win during Jon Gruden's second tenure with the Raiders.
The silver and black looked like their usual selves in the first quarter, giving up big plays on defense, letting Alvin Kamara run all over them, and failing to put up any points. By this point, Derek Carr was being roasted on Twitter and Raiders fans were calling for defensive coordinator Paul Guenther's head!
But once the offense started going there was no stopping this underdog team. Carr looked comfortable in the pocket and was hitting the likes of Waller, Edwards and Renfrow for big plays up the field leading his team to a 24-0 unanswered run at one point, which sealed the game.
Josh Jacobs also impressed spectators. His 27 gruelling carries throughout the game managed to gain him not only 88 yards, but also the respect and admiration of those watching.
The only thing that could've made this win for the squad more special would be if their fans were able to attend it. Mark Davis, the Raiders owner, reportedly missed his first game since 1963 because it didn't feel right for him to be there if the fans couldn't either.
For now, Raider Nation will have to watch their squad pull off big wins on their screens. Continuing next week when they face off against the Patriots in New England.
Don't get it twisted, the Raiders aren't the AFC's best team, they're not even the AFC West's best team, but they might just be the team that wants it the most in the whole NFL.
Whether it's a blowout, a tight game, or a downright dogfight, the Raiders will have one goal in mind come the rest of the season.
'Just Win, Baby!'
---