Six Things We Learned From Week 4 of the 2020 NFL Season
Without a doubt the most impactful week of the 2020 NFL season, Week 4 provided us with some twists and turns that we never expected.
Shock results, big performances, staff changes, and coronavirus outbreaks were the headlines after the week we had of NFL matchups.
So before Thursday Night Football, we should have a look back at the week behind us.
As per usual, here's a touchdowns worth of things we learned from Week 4 of the 2020 NFL season.
Dallas in despair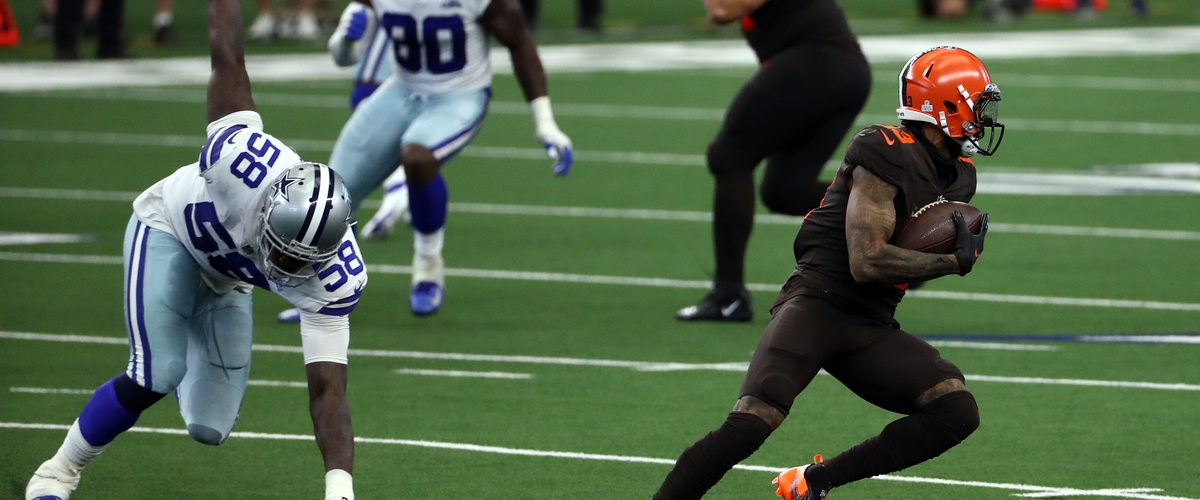 The Browns were spoken about in last week's post, and I wish they could be given their own segment in this piece, but their opponents from Sunday were so shocking that I just had to call them out on their bad play.
Yes, the Cowboys were that bad in Week 4.
Looking at the final score it would appear as if they hung in there during a big shootout, but that wasn't really the case.
Yes, there was the possibility of another miraculous comeback late in the game, but for the first 50+ minutes they were absolutely dreadful.
Their defense is without a doubt the worst in the whole league right now, and statistically the worst Cowboys defense since 1960.
They've allowed at least 38 points to each of their last three opponents, and on Sunday allowed the Browns to rush for a whopping 307 yards. And to make it worse, Cleveland's starting running back Nick Chubb went out of the game with an injury in the first quarter.
The offense should also take a part of the blame. We haven't actually seen them put up big points unless their backs are up against the wall.
Everyone's been mesmerised by Dak's big throwing numbers, but he's only put up that many yards because the offense has been forced to throw over and over again.
The Cowboys are in a bad spot right now. But they can thank their lucky stars that they're in the NFC East. The division was theirs for the taking, but they're no longer in the driver's seat. And with a multitude of problems popping up every week, it looks like America's Team could be in trouble.
Tom trumps father time
An upset was about to happen down in Tampa on Sunday, at least that's what we thought before Tom Brady turned back the clock and had his best performance in a Bucs uniform to date.
The GOAT got off to a rough start against the LA Chargers and their rookie QB Justin Herbert but he marched his team back into the thick off it with a late second quarter touchdown pass to Mike Evans, cutting the lead down to 10 and giving the Bucs a fighting chance.
A half later, and the Bucs came out on top 38-31 thanks to their quarterback.
By the game's end, Brady had thrown for a total of five TD's and 369 yards, with a 78-yard pick six being the only blemish on his big day.
Tampa Bay now sit at 3-1 at the top of the NFC South above the New Orleans Saints, the team that defeated them in Week 1. Ever since that game, this team has only improved, and Brady has visibly become more comfortable with his offense.
While he is susceptible to an odd mistake here or there, no.12 has proven to still be amongst the very best in the entire league with his recent performances.
He hasn't silenced the haters just yet, and he probably never will. But Tom's proving he still has it, and the Bucs are winning because of it.
New England needs Newton
The Pats defense shut down the Chiefs for a majority of the game on Monday night. Now conventional wisdom would suggest that because of this they won, right?
Well, they didn't.
Their offense was just as bad. Starting Brian Hoyer in a big game against the Chiefs is never the right move, especially in 2020. And to be honest, Jarrett Stidham wasn't that much better when he came in at QB for New England.
Throughout the whole game, all anybody couldn't wonder was – would the Patriots win this game if Cam was starting?
They probably would have if the first three weeks were anything to go by.
Cam, although not the perfect quarterback, wouldn't have made the silly mistakes his backups did and undoubtedly would have put up more yards, more touchdowns, and a much better performance if he wasn't ruled out with Covid.
It's strange to say that a Belichick team needs a specific player, especially a QB, considering how much success he's had with non-starters in years past.
But this year it's different.
This Pats team is led by Cam. He's their leader on and off the field. And when he's not under center for them. Then they're in big, big, trouble.
Bengals built for the future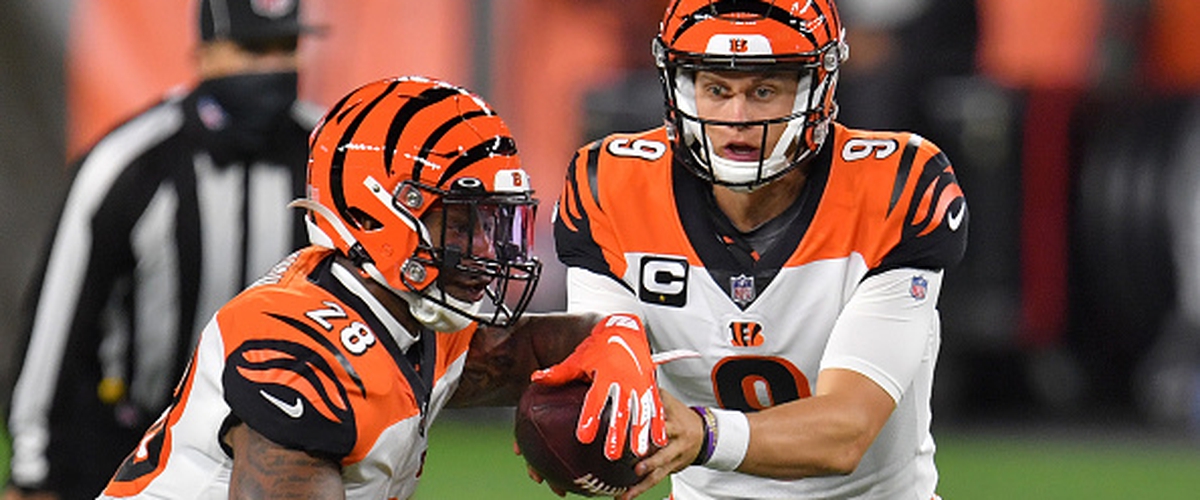 The Joe's showed out for Cincinnati in Week 4 as the team rolled through the not-so-great Jacksonville Jaguars. Burrow and Mixon led the Bengals on offense as they picked up their first win of the season, and the first of Burrow's career.
Mixon was by far the standout performer of the whole game, rushing for 151 yards and two touchdowns on the ground, whilst also accumulating 30 receiving yards and catching a TD pass from his rookie quarterback.
Speaking of that rookie QB, he had a 300-yard game to pick up his first W and found a total of nine receivers during the game.
It wasn't only the Bengals dynamic backfield that showed out. Young receivers Tyler Boyd and Tee Higgins were the team's leading pass catchers on Sunday, and have been all season.
The Bengals proved on Sunday that they were built for the future.
The old Andy Dalton-Marvin Lewis days are over and they're ready to rise again.
Although it seems like a longshot this season, look for the Bengals to make noise in years to come.
Who knows, maybe Burrow can lead the Bengals all the way to the promised land.
Houston hit the reset button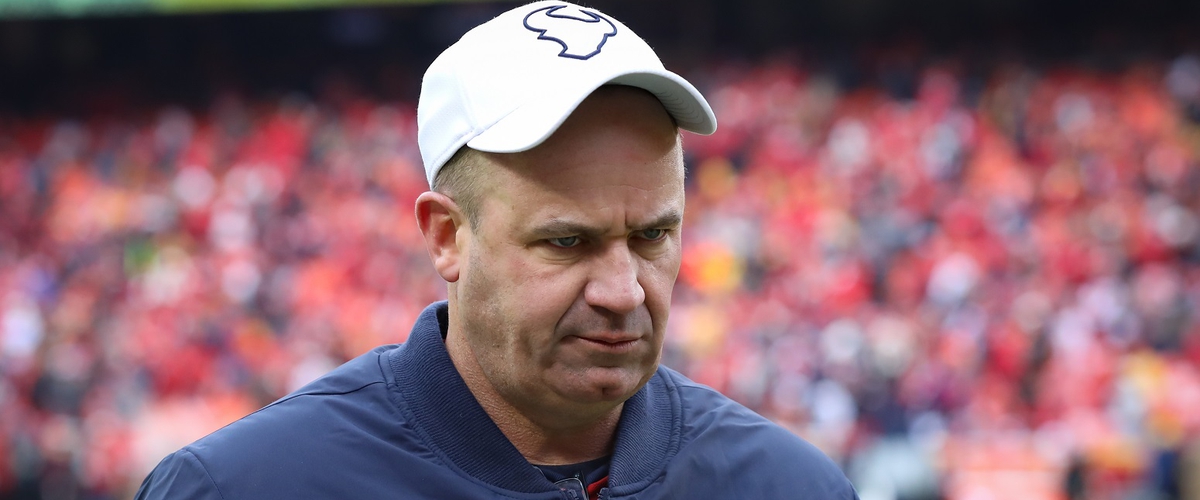 So, what've we learned about the Houston Texans so far this season.
Well we know they've got off to a dreadful 0-4 start. We know they're without DeAndre Hopkins thanks to a bizarre offseason trade. And we know that they've totally combust and fired their head coach.
A lot to take in so far, but I bet most of it could've been predicted.
To be fair to the team, they didn't have a great set of opening games this year. Ravens, Chiefs and Steelers in the first three weeks is far from optimal.
But to not bounce back against the dire Minnesota Vikings in Week 4 was an absolute travesty.
Dalvin Cook ran all over them Texans and ultimately got head coach Bill O'Brien fired the very next day.
Houston will now look to hit the reset button.
Their season looks unsalvageable, even with the likes of Deshaun Watson and JJ Watt in the squad. And the uncertainty surrounding the coaching staff will also create a distraction for this winless Texans team.
Fans should be relieved though. Not only was your team not going to do well this season with O'Brien in charge, but their future looked just as dark thanks to his management.
Kicking O'Brien out of the door will allow for a fresh set of eyes to evaluate the Texans.
They have stars on both sides of the ball. They have potential. But the question now is, will they bring in the right person to lead them forward?

NFL's biggest threat = Covid-19
Unfortunately, the biggest lesson we learned this week was that the coronavirus is a serious threat to not only players, staffers and fans, but also to the entire NFL season.
We knew before last week's games that the Pittsburgh-Tennessee matchup was not going to happen. But little did we know that more outbreaks would limit certain players from competing in Week 4.
The outbreak at the Tennessee Titans facility has been the most drastic situation within the NFL this year and could lead to further complications for their season. The Pittsburgh game was postponed last week, and now their matchup with the Bill in Week 5 is looking unlikelier by the day.
Star cornerback Stephon Gilmore tested positive on Wednesday, leading many to believe that an outbreak could have occurred during the Patriots' game Monday night against the Chiefs.
I for one am glad the league is taking this so seriously, at the end of the day the health of everyone around the league should be the top priority.
Expect the season to not go as planned. Additional game weeks are looking more likely, and reports suggest that the NFL have booked out Tampa hotels for the entire month of February in case of a rescheduled Super Bowl.
A lot of teams look dangerous this year, but make no mistake – Covid is the real threat this season.
---