Philadelphia Sports- What are we Thankful for?
First of all I would like to wish a happy Thanksgiving to all of our supporters. One of the many things I am thankful for is the support of everybody in this growing blog! On this Thanksgiving many of us, and myself included are thankful for many things. From family to friends, and good health. But on this day, one thing we are all extremely thankful for is our Philadelphia sports teams. From the Eagles, Phillies, Flyers, Sixers, Union, and all of our other pro and college teams.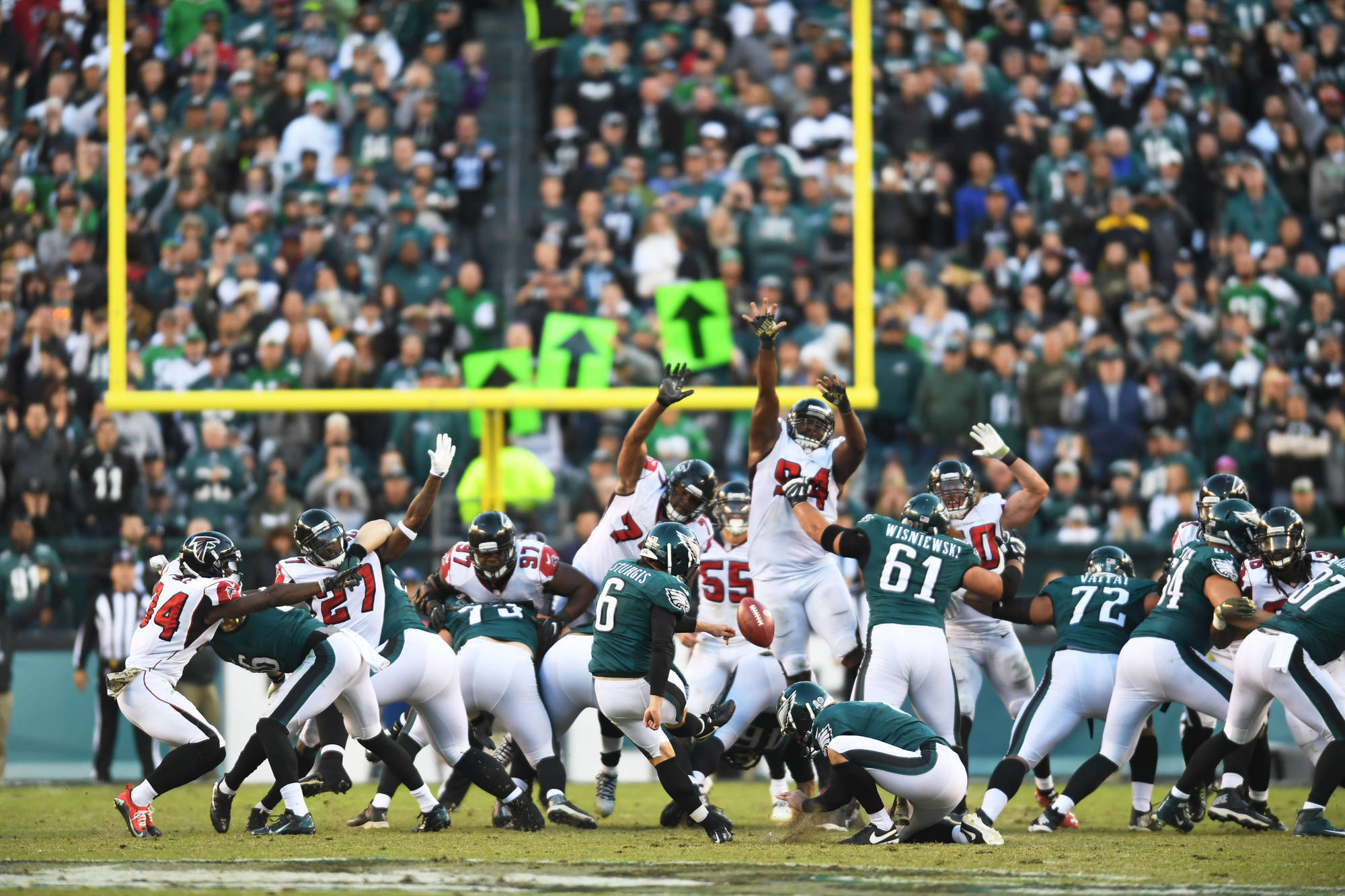 Every Eagles home game, 70,000 of our closest friends join together to watch our Eagles Fly!
James Lang-USA TODAY Sports
Let me start out by saying that being a fan of Philadelphia sports is one of the most frustrating things there is. It may always seem that we are always set up for disappointment, which has definitely been the case in recent memory. But, there have been those glory days, which have been very few and far between. It seems no matter what happens though, our Philadelphia sports teams are something we can always lean on. And that is something to be thankful for on this Thanksgiving. When times get tough, whether it is in school or work, we always know that we have our Philly sports teams to watch and cheer for to take our mind off of other things, and that is something to be extremely thankful for.
First of all, what are we all thankful in this past year in Philadelphia sports?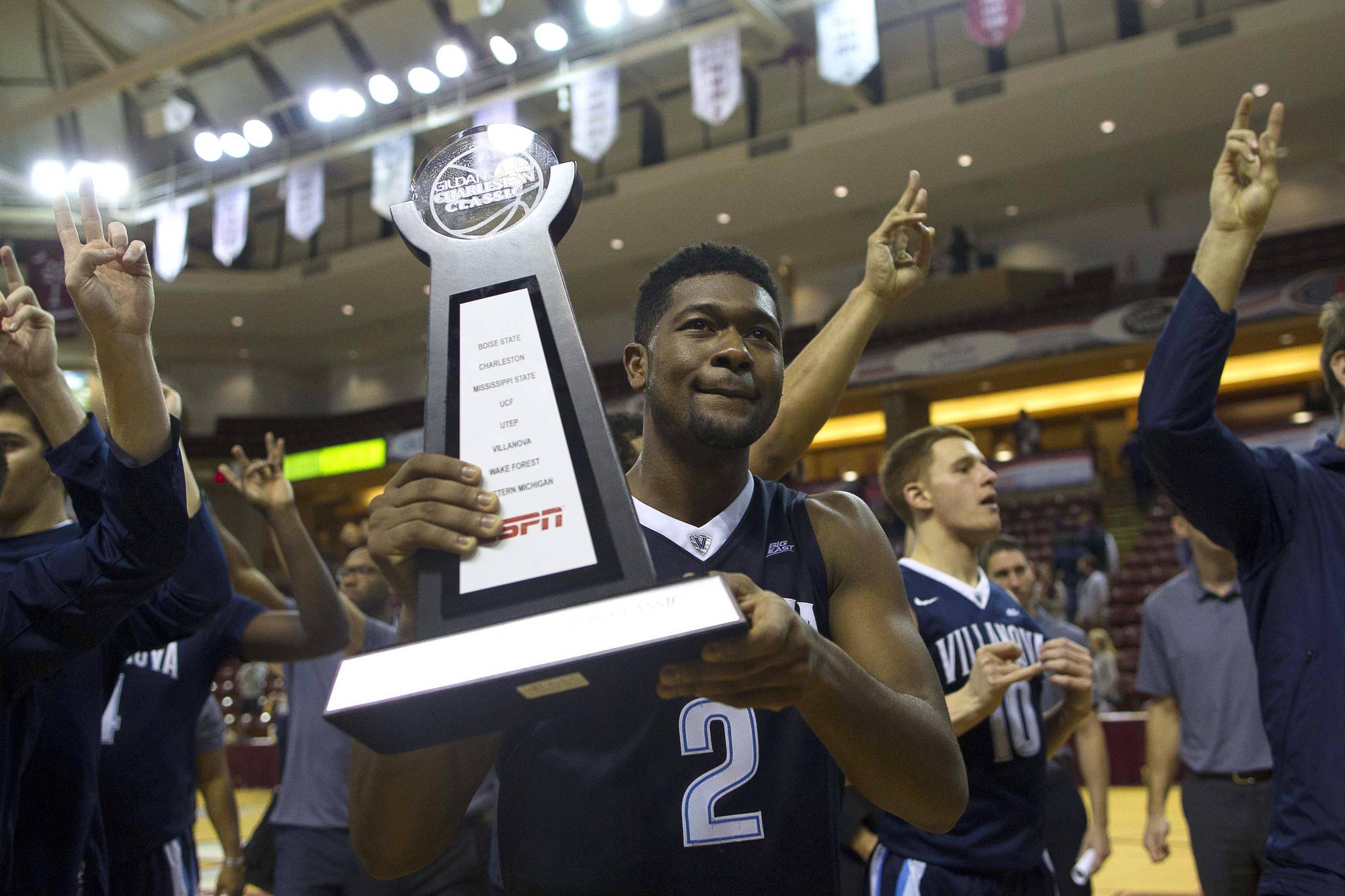 Kirs Jenkins hit one of the biggest shots in sports history this past year, to bring Villanova a National Championship
Joshua S. Kelly-USA TODAY Sports
I think we can begin with the incredible run the Villanova Wildcats brought for this city in the NCAA tournament back in the spring. Culminating all down to the last shot, as Ryan Arcidiacono dribbled up the floor, he hit a trailing Kris Jenkins for the championship winning shot. Which capped off an incredible championship run, bringing this city their first college championship since 1985.
With the second pick in the 2016 NFL Draft, the Eagles selected quarterback Carson Wentz, out of North Dakota State University. I think we can all say that 10 games into the season, we are all thankful for Howie Roseman moving up in the draft to select Carson Wentz. Wentz looks like a franchise quarterback and once he has surrounding talent, then this team will be great for many years to come.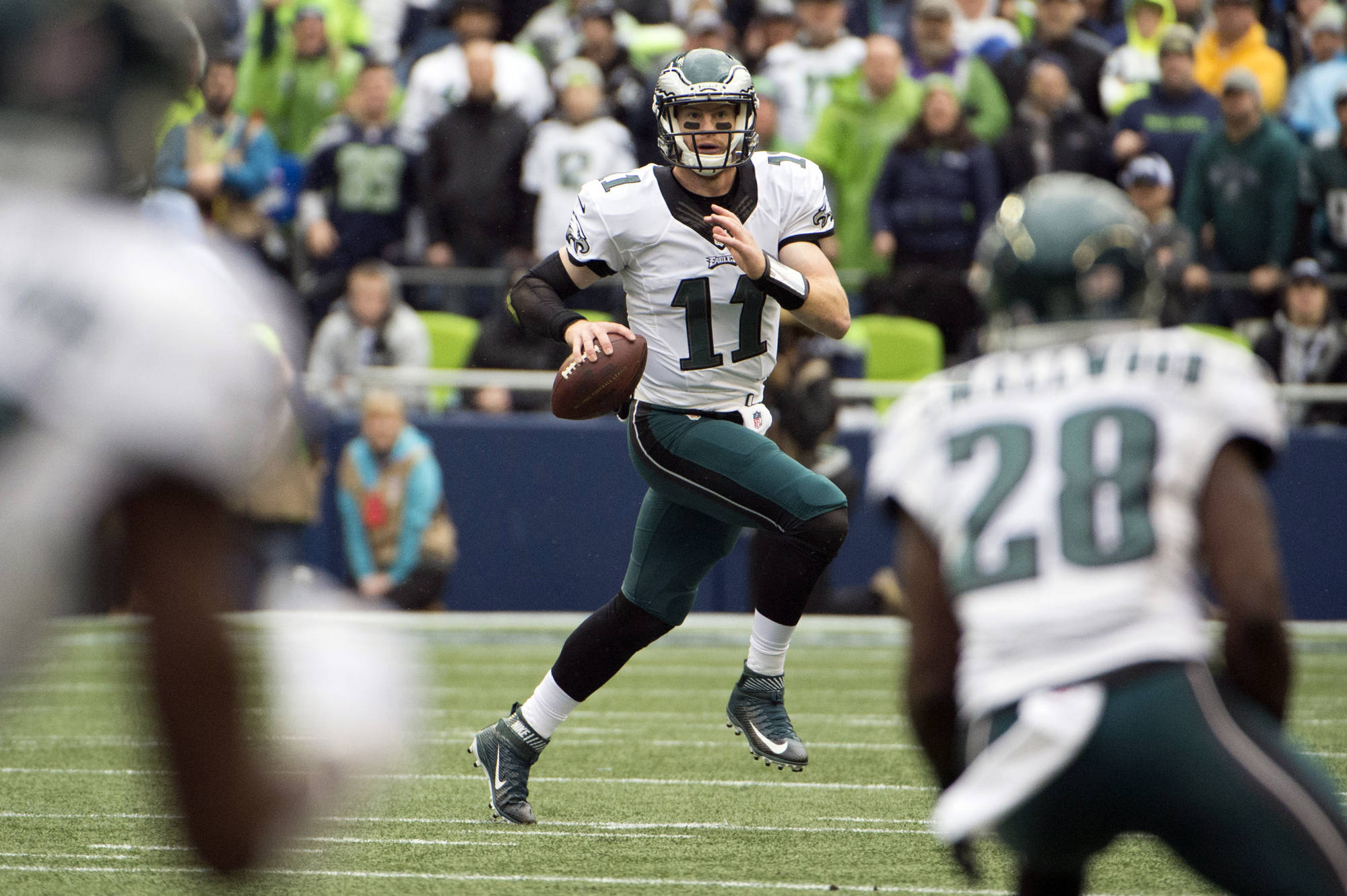 We are all extremely thankful to have Carson Wentz as the quarterback of our Eagles
Troy Wayrynen-USA TODAY Sports
Even though Sam Hinkie is not here anymore, Sixers fans are thankful for his contributions to the 76ers franchise. Ben Simmons was selected first overall in this year's draft and even though he has not played yet, he looks to have the potential to be a franchise player. And also joining the Sixers this season, after two extremely long years of waiting, Joel Embiid is finally playing and thriving. We are all thankful to finally have Joel Embiid on the court and dominating the NBA so early in his career. Trust the Process Sixers fans!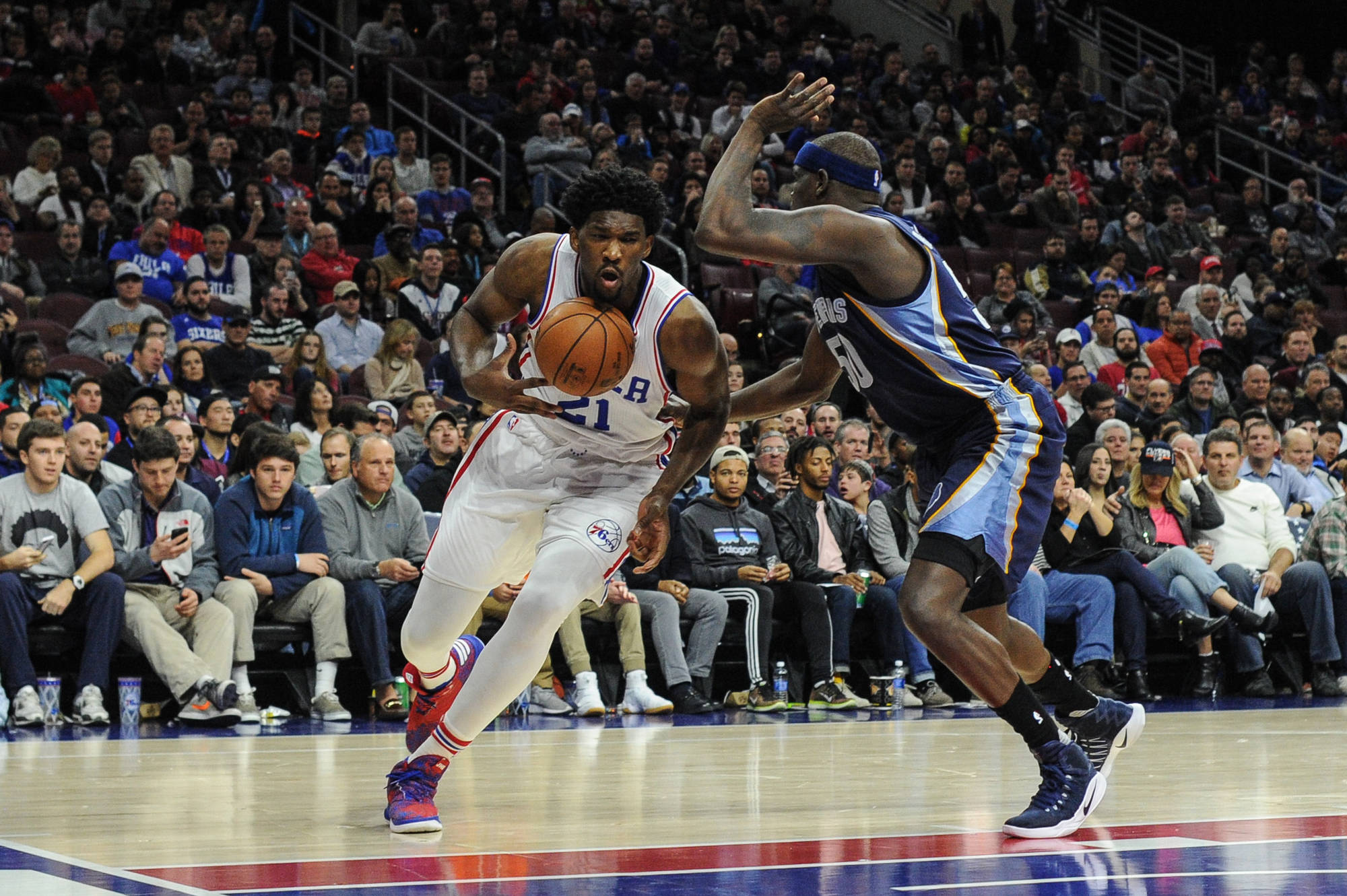 Trust the Process
John Geliebter-USA TODAY Sports
Now, this is a city that while yes has not had many championships to celebrate, still does have an extremely rich history. And while it may be frustrating being a fan at times, there is nothing we would ever trade this for. We always know that no matter what is going on, our teams will be there for us. Even though they frustrate us at times, mainly the Eagles, we all love them. And no matter how good or bad they are we all still find a way to tune in every Sunday to watch our Eagles fly. And not just the Eagles, but all of our teams.
While right now some things may seem bleak in the Philadelphia sports landscape, the future is for sure bright, and we can all be thankful to have so many teams on the rise.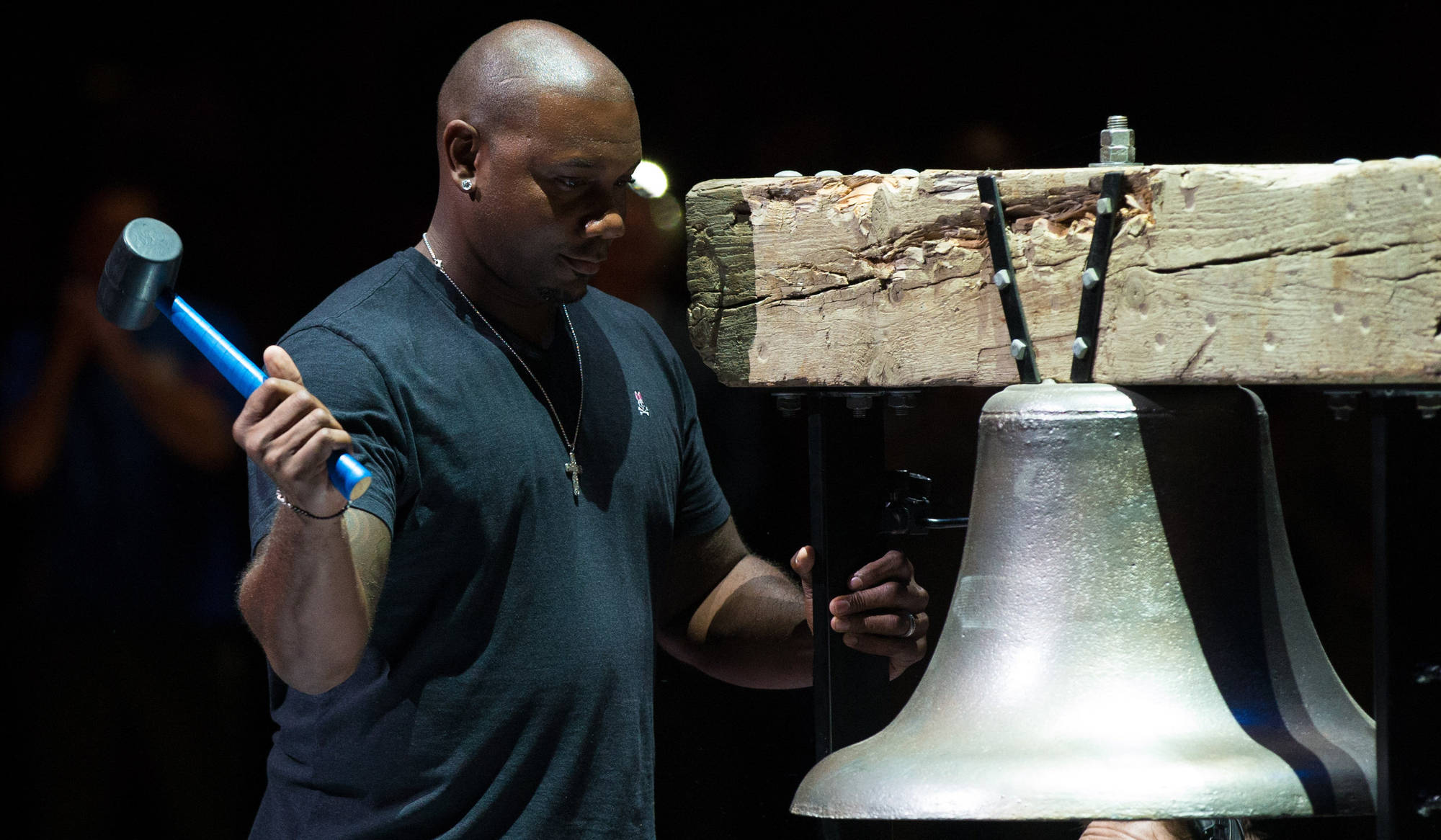 On this Thanksgiving we are all thankful for our great teams
Bill Streicher-USA TODAY Sports
This is a city with the best fans, who love their teams the most, know matter what. The environment down at the sports complex is always second to none, and being surrounded by fellow passionate fans is amazing. There are so many athletes in this city, current and former, that we are thankful for getting the privilege to watch them. Ryan Howard, Chase Utley, Brian Dawkins, and Allen Iverson to name a few. There are broadcaster we have gotten to listen to that are the best of their craft. Harry Kalas and Merrill Reese are some of the greatest announcers ever, and we got the joy of listening to them for so many years.
On this thanksgiving there are so many things to be thankful for. But, the one thing that many of us are very thankful for is having our sports teams to cheer for. While many things come and go, the one thing that is always a staple in our lives is Philadelphia sports. There have been some incredible rides we have all embarked on, from the Phillies World Series to other team's deep playoff runs. And every year, whether it is the start of Phillies, Eagles, Flyers, or Sixers season, each and every one of us embark on a new journey with our teams. And we get to do it with thousands of our closest friends. The one common thing that brings us all together, is our love and passion for our sports team. No matter our background, we can all relate with this one common bond. And on this Thanksgiving, that is something that myself, and all sports fans around can be extremely thankful for!
Have a great Thanksgiving everybody!
Follow us on Twitter @phillysportsdr and on Instagram @phillysportsdoctor
E-Mail us at [email protected]
---