What Should Jalen Hurts Do?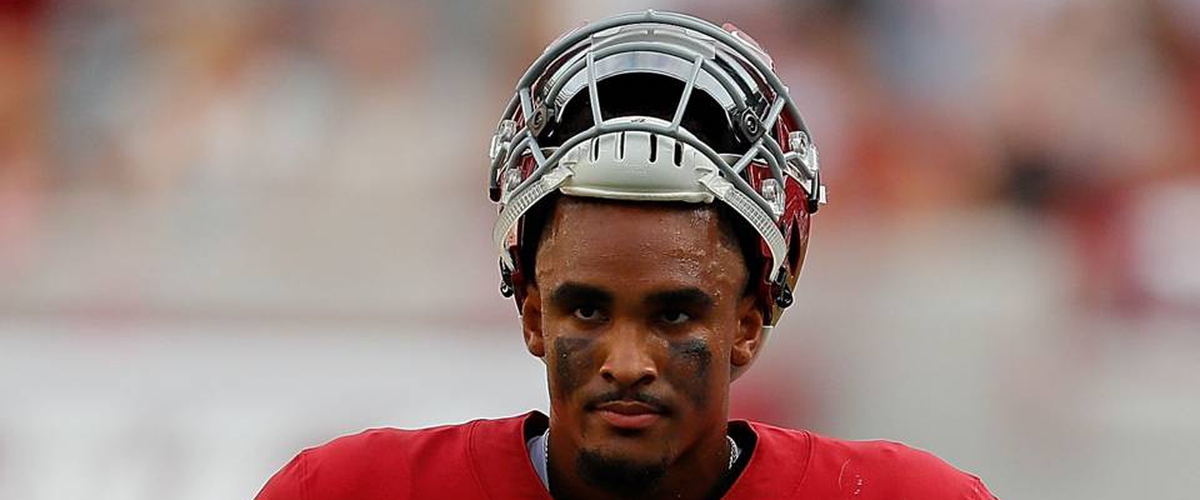 If you follow college football, you would have heard about Alabama's QB situation. They have two great QBs who have lost two games combined in their college career. Jalen Hurts was the starter for two years. The first year, he lost to Clemson in the national championship to end the season 14-1.
He then started the next season as well, with his only loss coming against arch-rival Auburn. He started in the national championship against Georgia and failed to show that Alabama could win the game. Then Tua Tagovailoa replaced him and led Bama to an overtime win. Then the question came up: who would start for the 2018 season?
While there was a lot of speculation, most people were convinced Tua would be the starter, and this turned out to be correct, but in the SEC Championship, Alabama was down 14 against Georgia, and Tua had just gotten hurt. Jalen Hurts was brought back in and led the team in a comeback and a playoff appearance. Tua then came back and led Bama to a somewhat ugly win against Oklahoma in the semifinals of the playoffs.
(Insert something about national championship)
Now, this all begs the question: What should Jalen do? He won't be starter unless Tua gets injured, so here are some of his options.
Stay as Backup
The easiest to pull off would be to do nothing. Keep the situation the same and hope for the best. The problem is that it's almost certain he will not start unless Tua is injured. This gives him limited playing time, only if they are blowouts. Even then, this paints him as a fighter for his job. It shows he doesn't give up and that he strives for greatness. Even if he doesn't get the starting job next season, it will show a mentality that many players don't have: he's in it for the team. He accepts decisions even if he knows he has the skill to lead a team.
Grade on chance to reflect well: B
Grade on riskiness: C-
Grade on draft chances: C
Overall grade: C+
Leave College for the NFL Draft
This seems to have the least effect because... well... it would be the reflection of the situation he is in currently. He is not projected to do very well in the draft, but if he wanted to be drafted, it is very likely he wouldn't get drafted by pick no. 256. He has the skills of many QBs, and he can run. While this may not result in a long career, it is possible that it can help out a squad significantly. Event then, he probably wouldn't get a good contract if he got drafted.
Grade on chance to reflect well: C
Grade on riskiness: A-
Grade on draft chances: C-
Overall grade: C+
Transfer to a Powerhouse
This could be extremely impactful in college football, but it could come at a cost. Say that Jalen transfers to any powerhouse lacking a QB: possibly Ohio State, Washington, or somewhere else that has had lots of success in recent years. This could enable him to easily lead a team to the conference championship and possibly the playoffs, but what's the downside? He didn't improve the team. He just jumped on the bandwagon and made it last a little longer (maybe). This is my least favorite of the five options I will present, but it is an option nonetheless.
Grade on chance to reflect well: B-
Grade on riskiness: D
Grade on draft chances: C-
Overall grade: C-
Transfer to a Second Tier School
What I mean by "second tier" is the tier right below the powerhouses. He could transfer to Penn State, Texas A&M, Auburn, NC State, Texas, or many others. If he shows that he can bring one of these schools to the next level, it could show how NFL-ready he really is. However, if he doesn't help much, it won't reflect too poorly, unless he has a poor season. This could show his extreme determination as well as ways to bring life to a squad, which is exactly what will help him get drafted. If you couldn't tell, this is what I would do.
Grade on chance to reflect well: A
Grade on riskiness: C+
Grade on draft chances: A-
Overall grade: B+
Transfer to a Group of Five School
This seems the most oddball, but Josh Allen was at Wyoming and got drafted as the seventh pick. What does Jalen have to do? Bring that squad to relevance. Wyoming was competing for their conference when Allen was there. Jalen just has to do something similar. He could go to schools like Temple, Cincinnati, or any other middle-of-the road squads. This is also very risky because if he fails to compete, it could reflect very poorly.
Grade on chance to reflect well: B+
Grade on riskiness: D-
Grade on draft chances: B
Overall grade: C+