Are the Chicago Blackhawks Still Stanley Cup Contenders?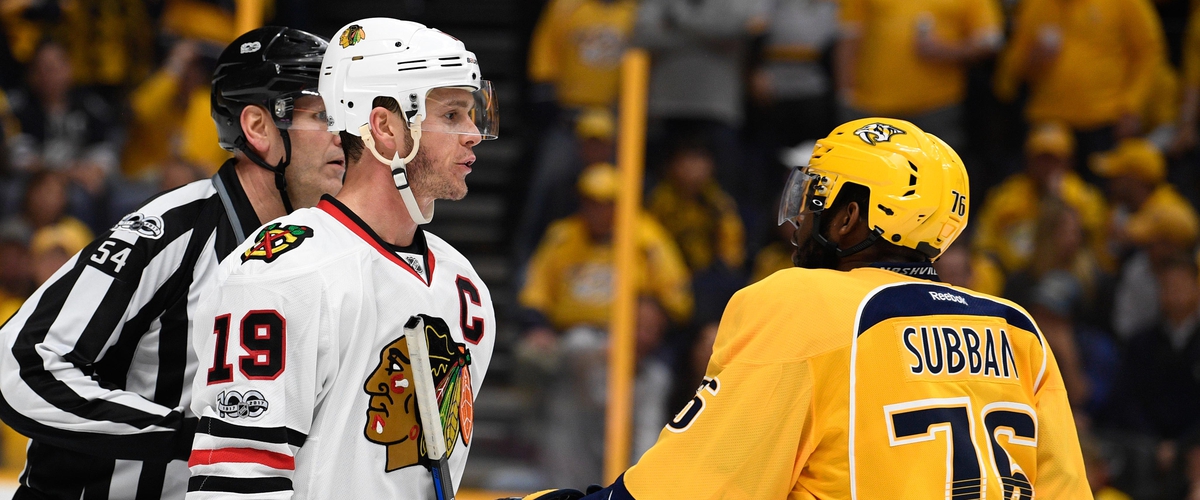 Last season, the Chicago Blackhawks were eliminated in the first round of the playoffs for the second straight year. They did win the Central Division, however, and finish the season with 109 points. Despite the regular season success and most of their core remaining intact, the Blackhawks are far the from the team they were when they won 3 Stanley Cups. That leaves me asking the question, Is Chicago even a contender anymore?
Much like Washington, Chicago is a team in cap trouble and that has destroyed their depth. The Blackhawks roster going into this season is not very good, especially on defense. They lost Marian Hossa, Niklas Hjalmarsson, Trevor Van Riemsdyk, and Artemi Panarin. They brought in Connor Murphy, Patrick Sharp, Brandon Saad, and a couple of depth players in Lance Bouma and Tommy Wingels. They also lost backup goaltender Scott Darling, and brought in Anton Forsberg to replace him. Chicago made a point to make changes this offseason, obviously they were not happy after getting bounced in the first round again. However, I do not see how any of these changes made them better. Brandon Saad for Artemi Panarin is a wash, Connor Murphy is a downgrade from Niklas Hjarlmarsson, Anton Forsberg is a downgrade from Scott Darling, and the Patrick Sharp they brought back is a shell of the player that won 3 Cups with them. I don't see this team being any better, in fact, I think they got worse.
Their goaltending is probably going to decline this season. Corey Crawford is almost 33 and his play is going to start declining at some point. Also, I am not sold on Anton Forsberg as an NHL goalie. That does not mean he is necessarily going to be bad, I'm just not sold yet. If he was an NHL caliber goalie I don't think Columbus would have traded him. Scott Darling is definitely better.
Chicago's defense is completely reliant on young players stepping up. They still have Duncan Keith and Brent Seabrook, but after that it's not much. Connor Murphy is a good young defenseman, but no one has any idea if he can be a top pairing guy at just 24. Michal Kempny is also going to get thrown into a top 4 role in just his second NHL season. He only had 8 points in 50 games last year, and putting him in the top 4 might not work out too well. The bottom pair could end up being a disaster. Michal Rozsival will be 39 when the season starts and has not been good in years. His partner will probably be Gustav Forsling, who is completely unproven and only has 38 career games. After that, their depth on defense is nonexistent. Jan Rutta was signed out of Europe, and the rest of the defensemen on the depth chart are kids or unproven. Chicago's defense is pretty poor on paper. They could be in for a long year.
Up front things are a little better, but not much. Jonathan Toews, Patrick Kane, Brandon Saad, Artem Anisimov, and Richard Panik are fine in the top six. Two superstars and three other really good players. Patrick Sharp, however, is not nearly the player he was even a couple years ago. Age and injuries have caught up to him, and I think Chicago will be lucky if he scores 20 goals and 40 points this season. That's if he can even stay healthy for a full season. This team is really going to miss Marian Hossa. The bottom six is where Chicago really falls short. They are extremely young on the third and fourth line. To have any success this year, they will need Ryan Hartman, Nick Schmaltz, Tomas Jurco, Vinnie Hinostroza, and Tanner Kero to significantly improve this year. I'm not betting on all of them meeting expectations. Jordin Tootoo is a decent fourth liner and is the only toughness the team has, but gives you nothing offensively. They also brought in Lance Bouma and Tommy Wingels to compete for 4th line jobs. Neither of those two give you much offensively either. I think Chicago is much too reliant on their top six for offense.
Overall this team is banking on a lot of kids to play really well this year. Their defense is suspect, they have almost no secondary scoring, and depth is a major issue. This could be a 2nd place team if no one gets injured all year. We know that is not going to happen, so this could be rough year for Chicago. They have a lot of issues and no cap space to fix them. I think this is a down year for the Blackhawks, but they will make the playoffs. I can't see them being so bad they miss the playoffs, not with Crawford in net and Kane, Toews, and Keith still in the lineup. However, I do not think they are a legitimate Stanley Cup contender. There are far too many holes in the lineup for them to survive four playoff rounds. Depth, secondary scoring, solid defense, and great goaltending are all vital to making a deep playoff run. Chicago only has one of those things, and that's if they get great goaltending from Crawford. Unfortunately for Blackhawk fans, this season does not look promising, and I envision another first round exit for the boys from Chicago.
---