As the NFLPA prepares for a strike to increase active player salaries - don't forget about better pensions for former NFL Players!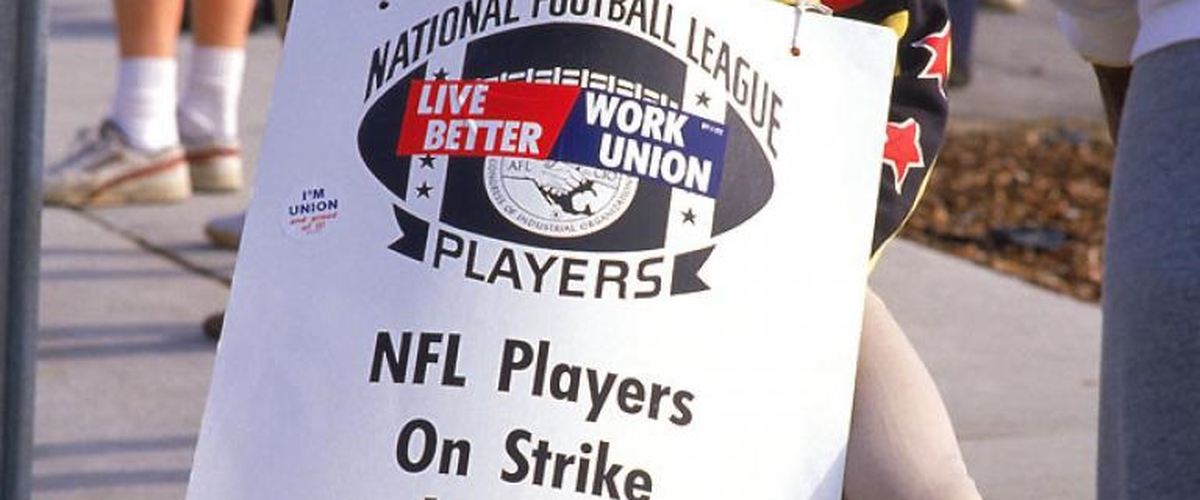 The NFLPA doesn't really want to go on strike, but they may be forced to take that drastic step if they want to make substantial gains in the next CBA - which will likely include the goal of obtaining guaranteed contracts like we see in the NBA and Major League Baseball.
Players haven't been on the picket line since 1987. Imagine that – 30 years since the last strike!
Some players, like Richard Sherman are already talking about that possibility. Here's a link to a recent article about that subject: Richard Sherman says NFL players need to be willing to strike for better salaries
Even though the player strikes of 1968, 1970, 1974, 1982 and 1987 were unsuccessful with respect to obtaining free agency, they did lead to some significant player demands being met. Most notably, pension and disability plan improvements; severance pay; the right to second opinions on injuries and surgeries; a greater share of NFL revenue, the right of the NFLPA to share contract information with all players (which is significant during contract negotiations); and the setting of a minimum wage scale - which is currently at $450,000 for a first-year player. It goes up for players in their 2nd through 10th years in the League.
If the players decide to strike, or they get locked out, as the owners did to them in 2011, the next big step will be to decertify the Union. That, in turn, will allow players to file lawsuits against the NFL.
Players never would have achieved free agency without taking the NFL to court over the issue of violating U.S. anti-trust laws. Freeman McNeal's lawsuit, along with the class action lawsuit filed by Reggie White on behalf of all NFL players, caused the parties to settle and agree on a formula that permitted free agency – and with it, the huge escalation of wages and benefits from 1993 to 2020 -the end of the current CBA.
During the last lockout, the NFLPA decertified and 10 players immediately filed an anti-trust lawsuit. Von Miller, who was just entering the draft out of Texas A&M, was a plaintiff in the case. At the time, NFLPA Executive Director DeMaurice Smith said "The torch has been passed to a young Aggie who has decided to put his name on the lawsuit."
The active players need to remember that the torch was lit by Freeman McNeil and Reggie White - guys that played in the NFL long before many of the current players were born. They still use Reggie's class action lawsuit as a legal "precedent" when the NFL and NFLPA bang heads in court over anti-trust law issues. The NFLPA wins every time on this legal argument and the owners know it. That's why they would be wise to reach an agreement before players go down that road again.
Of course, litigation against the NFL should always be the last resort, but there is no denying that it has been one of the most effective methods of gaining leverage and achieving our goals for the past 50 years.
The key to players being able to withstand a long strike, or a lengthy lockout, is to have money to live off when the checks stop rolling in from their teams.
The NFLPA has plan for that.
They have set up a strike / lockout fund that could raise as much as $90 million for players to tap into in the event of a work stoppage. The money would come from the NFLPA's group licensing agreement with the NFL starting in 2017. Under the current CBA, all players receive the exact same amount of money under a standard GLA agreement with the League. The agreement allows the NFL to market all NFL players. Right now, active players receive approximately $13,500 annually. Some players may not like the fact that their GLA money is scheduled to be stashed into a special account at the NFLPA, but in the end, they will thank the union if there is a prolonged strike or lockout.
It is important to know that the NFLPA, via Player's Inc. (the marketing arm of the union) also has a GLA agreement with players that is separate and apart from the GLA agreement they have with the League. You can see the specifics of that agreement here at the NFLPA website. The NFLPA could also set aside a portion of its share of revenue generated from these GLA's if it wanted to, but right now it is being used to pay players and support the administration of Players Inc.
Players like Ramon Foster, player rep for the Pittsburgh Steelers, have also recommended that individual players save a part of their income in anticipation of a work stoppage or strike.
Players should not expect the NFLPA to totally replace their game checks. That's not even close to being feasible, so they better start squirreling money away now and think about ways to make ends meet if there is a prolonged strike or lockout. They should plan for the worst - an entire season cancelled. It could easily happen. In 1982, we went on strike and the NFL had to cancel 7 games. The owners were very close to throwing in the towel on that season.
At this point, the NFLPA is doing everything they can to put themselves and the players in the best possible position to negotiate. The owners know that the NFLPA has set up a work stoppage fund and that may be all the leverage they need to get some of their demands met.
I just hope – like many former NFL players do – that when the NFLPA gets closer to negotiations, that some of the current players will remember how they got to where they are today. It didn't just happen overnight. In past player strikes, lots of guys got blackballed from the League for their union activities, but their sacrifices have led to a dramatic improvement in salaries, benefits and working conditions. That is the true "Legacy" of former players – making things better for future generations of players. The current players need to understand this more than anything else when they sit down at the table and start dividing up the billions of dollars that are - and will be - coming into the NFL.
Make no mistake about it……improving "active" player salaries and benefits will be at the very top of their demands - as it should be.
The current players have a decent pension plan and therefore it may not be one of their top priorities in the coming negotiations. In addition to the Bert Bell/Pete Rozelle Pension plan, they have two other retirement type benefits - the Second Career Savings Plan and the Annuity Plan - that will pay them billions long after their careers are over. You can read about those benefits here.
Per the CBA, the Bert Bell/Pete Rozelle Pension Plan is currently setting aside money for vested active players at a level of $660 a month - per credited season. It will pay them $760 a month per credited season in 2018. For a player with only 3 credited seasons (2018 to 2020), they will receive a pension of $71,655 at age 65 under the "Life Only" election provision of the plan.
Not bad for only 3 years!
A player with 10 years (2011 to 2020) will have an annual nest egg of $201,453, at age 65. That does not even include the Annuity Plan, or Second Career Savings Plan. Under those plans, qualified players can invest in a portfolio of stocks, bonds and mutual funds. If they let those investments mature and don't tap into them until much later in life, the Annuity and Second Career Savings Plan could eventually yield them much more than the Pension Plan.
In the 1993 CBA, Gene Upshaw and the NFLPA created the "Second Career Savings Plan." According to the NFLPA's annual 5500 Form that was filed for the period ending March 31, 2016 the plan had assets totaling 1.773 Billion. This is the best 2 for 1 deal in pro sports. For every dollar a player contributes to their own Second Career Savings Plan, the NFL Team must contribute 2 dollars - up to a maximum amount. From 2011-2014 the maximum Club contribution was $24,000, for 2015-2018 the maximum is $26,000 and for 2019-2020 the maximum will be $28,000.
Under the Annuity Plan, which came into existence in 1998, a 10 year player could have as much as 6 million dollars waiting for them at age 65, which they can take in a lump sum or in monthly payments! I wrote about this at the following link: The NFL Player Annuity Plan: How Sweet it is!
Since 1993, NFL players only need three credited seasons to be eligible for a pension. Meanwhile, players that played before 1993 and have no credited seasons after 1992, still need 4 credited seasons in the NFL to qualify for a pension. Additionally, players that retired before 1993 have no Second Career Savings Plan or Annuity Plan.
With that said, I think you can see why the number one concern of former players is Pension Plan improvements and parity – with health/medical benefits and disability coming in a close second.
I want to make one thing perfectly clear: Former players are not "begging" for pension increases as some in our retired ranks have stated. We never have….and never will. We don't say that active players are begging when they negotiate with the owners for better pensions, do we?
What we have been, is strong advocates - and when pushed to the wall - plaintiff's in a court of law. What better way to search for truth and justice. It is the American way......and both active and retired players should continue to use litigation as one of the many tools in our bag. It worked effectively in getting former players a $28.1 million settlement from the NFLPA over the Group Licensing issue (when Gene Upshaw ran the union) and it recently helped us obtain a 1 Billion dollar settlement with the NFL over the concussion issue. And, let's not forget the $42 million settlement with the NFL over the use of our images.
In closing, I want to say that most players are grateful for the increases that have been provided to pre-1993 player pensions, particularly under the Legacy Benefit. Nonetheless, we know that more can be done to help the older generation of players that were instrumental in building the Union and laying the foundation for active players.
The wives of former Hall of Fame players have also stepped into the fray and have appealed directly to NFL management for assistance. They have met with League administrators and lawyers to advocate for - "not beg" - for some improvements to the Legacy fund. Hall of Famer Tom Mack has also circulated a petition to former players asking for Pension Parity.
Even though former players are not "technically" members of the NFLPA, we have earned the right to be a part of the discussion when negotiations on a new CBA - or extension of the existing one begins.
The NFLPA's mission statement says, "We, The National Football League Players Association pay homage to our predecessors for their courage, sacrifice, and vision; Pledge to preserve and enhance the democratic involvement of our members; Confirm our willingness to do whatever is necessary for the betterment of our membership - To preserve our gains and achieve those goals not yet attained."
To his credit, the NFLPA Executive Director, DeMaurice Smith has enhanced the democratic involvement of former players and has given us a voice.
Now it's time for us to start raising it!