Where have all the centers gone?
I was thinking about the whole Showtime Lakers vs. Warriors argument, and the only reason I kept choosing the Lakers over the Warriors because I couldn't figure out this one thing: who could stop Kareem Abdul-Jabbar? Sure, the Lakers weren't invincible, as they went 5-3 in the 1980s, making the finals every year but '81 and '86. But the thing is, every team they lost to in the NBA Finals they also beat in the NBA finals, they went 2-1 against Philadelphia, 1-1 against Detroit, and 2-1 against Boston. These guys had quality big men, Moses Malone, Bill Laimbeer, and Robert Parrish, respectively, and Andrew Bogut, despite being the number 1 pick in 2005, is not at that level. At all. And don't even suggest 6-7 Draymond Green guarding Kareem, that would be over after Kareem would do 3 jump hooks in a row.
Then it hit me, I looked around the NBA and thought, who out there has any shot at stopping Kareem. So I went to look at the All-NBA first team, and saw DeAndre Jordan, DEANDRE JORDAN, made the team. Don't get me wrong, this guy gets rebounds, he protects the paint, he scores sometimes, but he's not the best center in the NBA. And if he is, I'm really curious where all the great centers went?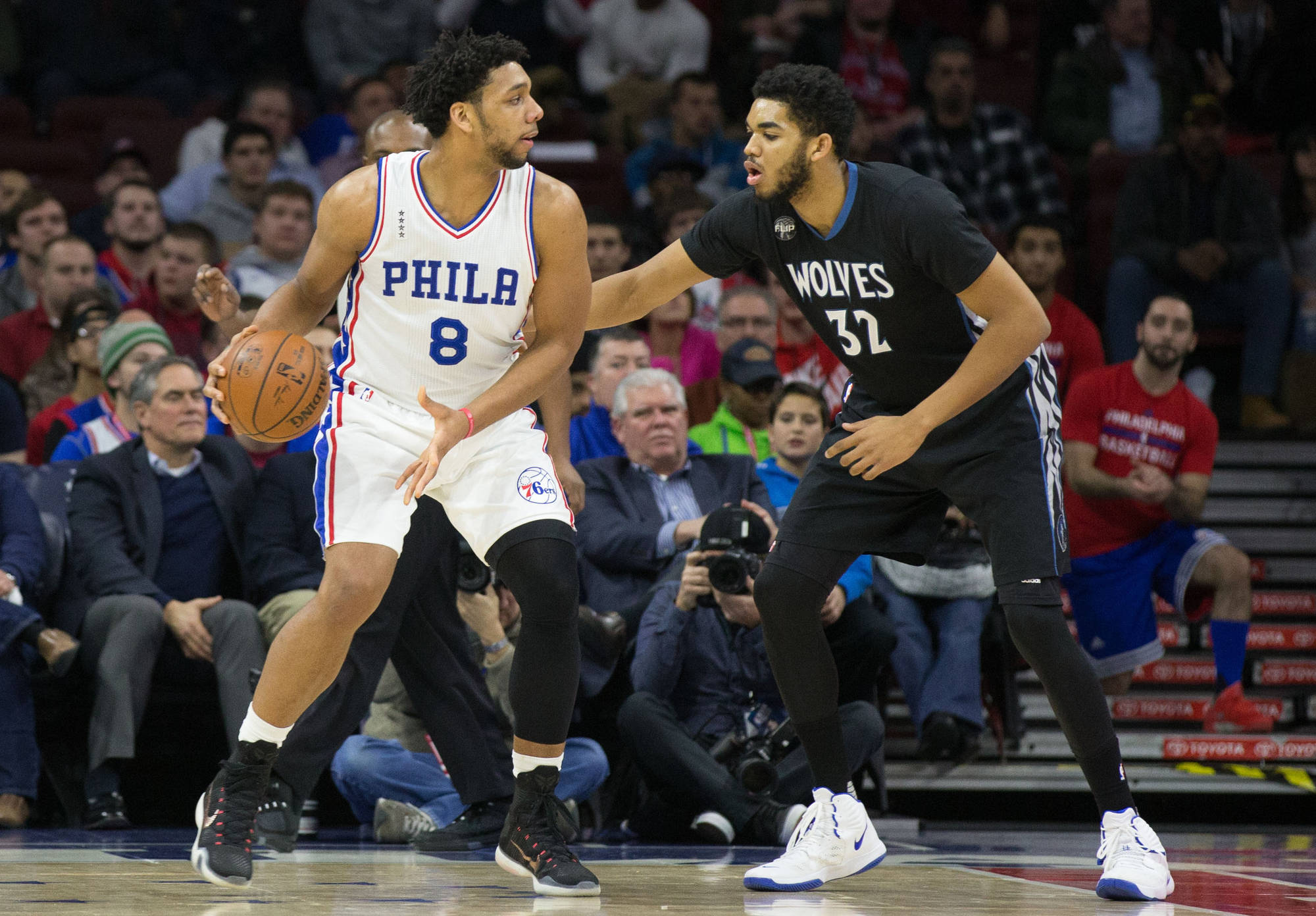 Jahlil Okafor and Karl-Anthony Towns are on their way to being the best big men in the NBA
Bill Streicher-USA TODAY Sports
It seems as though people are always waiting for the next Kareem, or Shaq, or Hakeem (we all thought it was Dwight Howard), and in the upcoming 2016 NBA draft class (and in the college ranks for that matter), no real, powerful big man is present waiting to take the NBA by storm. So, they won't be returning any time soon, if ever. You have a few young guys, including the herd of centers Philadelphia selected since they began tanking, and maybe Jahlil Okafor will be a dominant, traditional big in 3-5 years. Karl-Anthony Towns was the clear rookie of the year, and he is definitely on the way and will be there shortly.
Then you have some of the older centers who are past their prime like Dwight Howard and Pau Gasol, you have your DeAndre Jordan type defensive players such as Marc Gasol, Rudy Gobert and Hassan Whiteside (and Bogut too?). You have guys like Al Horford, Brook Lopez and Al Jefferson who, while they are good players, aren't elite by any means. You have an undersized rebound machine in Andre Drummond, who probably would be a Charles Oakley type if he played 25 years ago, or before the man was born. Doesn't one of these guys deserve it more than DeAndre Jordan? The guy who ran away from Mark Cuban, DeAndre Jordan? Marc Gasol spent half of the year hurt, and Andre Drummond barely made the playoffs, so from this group it has to be DeAndre Jordan by default, not by skill.
There's one more player, and I'm guessing some of you figured out who it is, but this guy doesn't really deserve it because he plays on the Kings. DeMarcus Cousins is probably the only active big man who could go head to head with some of the centers of the past, at this stage in his career. Am I saying he is as good as Shaq or Kareem? Or Moses Malone even? Obviously not. But his skill set is the closest thing that the current NBA has to a dominant big. And it's sad, since he is stuck in Sacramento.
I'm not saying that all of the big men are no longer in the NBA, but the ones that are left don't have a chance against some of the ones from the past. I guess the 3 point shot might have moved beyond being the great equalizer, and is starting to have a hostile-takeover effect on the NBA, especially on it's big men. Hell, even one of the great future bigs in Karl-Anthony Towns has a three point shot. I'm just saying, the past is the past, but if it were to have a reincarnation, nobody could stop it.
---