2017 New York Giants game-by-game Predictions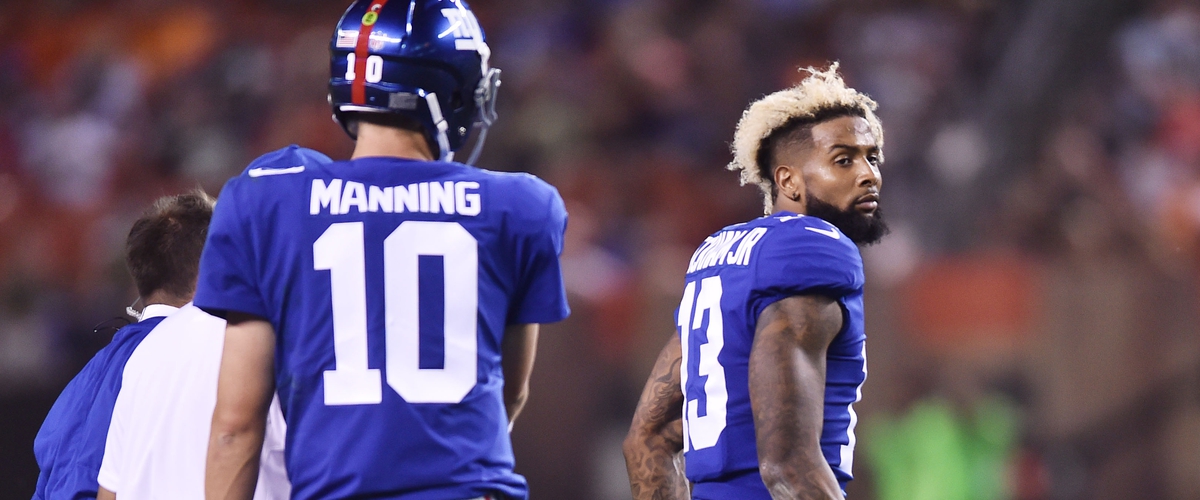 Here we go again. Another season of NFL football is upon us, which means that every no-name sportswriter out there feels the need to let their grand total of five readers (five may be ambitious) know exactly what they predict record-wise for their favorite team. I am no different and, for me, that team of course is the New York 'Football' Giants. Coming off an accurate 11-5 prediction for the 2016 campaign, this is my forecast for the 2017 squad.
Week 1 - At Dallas Cowboys
It is well referenced by now that the Giants were able to steal both games from the 'Boys last year, but don't expect the same thing to happen in 2017. Now that we know Ezekiel Elliot will suit up, the task of conquering Dallas once again in their home palace becomes much more daunting. Add to that the fact that Odell will be limited at best coming off an ankle injury sustained in the preseason, and the odds fall even further away from their favor. It'll be close - but not quite a cigar.
28-24, Cowboys
Week 2 - Vs. Detroit Lions
This game should closely resemble the one played last year at MetLife, with the Giants' suffocating defense frustrating the NFL's highest paid quarterback all afternoon. It also could be the first game where the Giants are at full strength on offense.
24-16, Giants
Week 3 - At Philadelphia Eagles
The Giants are a better team than Philly in almost every category, but there is something about playing in Philadelphia they just cannot seem to get over. I can't pick them to win in Rocky Balboa's hometown until, quite frankly, they do.
27-23, Eagles
Week 4 - At Tampa Bay Buccaneers
Tampa seems to be everyone's favorite surprise team this year, and, you know what, they should be. The front office gave Jameis Winston an absolute arsenal with the additions of Desean Jackson and O.J. Howard to go along with perennial stud Mike Evans. But even with that being said, the Giants are too good of a team to lose to an up-and-comer. Besides, they haven't lost to the Bucs' since 2003. Why would they start now?
31-20, Giants
Week 5 - Vs. Los Angeles Chargers
Eli Manning is finally poised to beat both the team he was drafted to and the quarterback he was swapped for. How good the Chargers will be in 2017 is up for discussion, but what is not up for discussion is how hard it is for west coast teams to play 1 P.M. games on the east coast.
28-17, Giants
Week 6 - At Denver Broncos
This will be the first true test for the Giants outside of the division in 2017. It will also be a matchup of top five defenses. Although they are likely to be considerable underdogs, the G-men have a lot more to offer on offense than do the Trevor Siemian-, Brock Osweiler-, Paxton Lynch-quarterbacked Broncos.
20-17, Giants
Week 7 - Vs. Seattle Seahawks
Wow. What a game this is going to be. Two of the top contenders in the NFC going at it in one of the primetime slots. One of the key factors to keep an eye on in this game is how the Giants' bodies hold up after playing what will most likely be a bruising game in Denver the week before. This is definitely one of the hardest games on the schedule to predict because you have two teams that are not only evenly-matched, but also mirror each other, in a way. My heart and mind are telling me different things, but I have to go with my mind on this one.
26-20, Seahawks
Week 8 - BYE
Week 9 - Vs. Los Angeles Rams
This will be a rough November afternoon for the Rams. Both teams are coming off a bye week, but that is irrelevant. The Giants are just a much more talented team. They will show that on this day against a second-year quarterback.
31-13, Giants
Week 10 - At San Francisco 49ers
This one's easy. The Niners are expected to be in contention for the first overall pick in the 2018 draft. They have nothing to offer, not even on their home field.
27-10, Giants
Week 11 - Vs. Kansas City Chiefs
It's always nice when two hard-nosed football teams go at it in late November. That is what will happen when the Chiefs meet the Giants on what is sure to be a cold afternoon in the meadowlands of North Jersey. Two stingy defenses, two veteran QB's, but only one Odell Beckham Jr. He takes a big one to the house in the fourth quarter to seal it.
20-13, Giants
Week 12 - At Washington Redskins (Thanksgiving Day)
Because of odd scheduling, the G-Men do not meet their pig-faced foes until Thanksgiving in 2017. This is an absolute treat for football fans, watching OBJ and Josh Norman go at it while sitting back and stuffing our faces with.....well.....stuffing.....and turkey and candy yams and.....well, you get the point. All puns aside, the 'Skins will be hungry for what the Giants took from them last year.
27-23, Redskins
Week 13 - At Oakland Raiders
On paper, this looks to be the toughest game on the Giants' schedule. The Raiders are looking to get payback for all the times teams have wiped the floors with them over the last decade and a half. The G-Men will be the next casualty. Oakland has too much on offense for even the Giants vaunted defense to deal with. On top of that, Khalil Mack is already in every Giants fan's nightmares for what he is about to do to Ereck Flowers on that fateful day.
28-17, Raiders
Week 14 - Vs. Dallas Cowboys
This will be revenge for a close game in week one. Anticipate the Giants to set the tone early at an icy MetLife Stadium. The defense will shut down the Cowboy's offense in a way that is reminiscent of the game played between the two teams last year on the Giants' home field. Zeke will be contained, and Prescott will turn the ball over multiple times.
24-13, Giants
Week 15 - Vs. Philadelphia Eagles
Again, the G-Men have a chance to erase an early season loss to a division rival. This game, like the one a week earlier against Dallas, will have a significant impact on the standings. It always seems to get a little bit sloppy when these teams face off, with both offenses turning the ball over more than once. With that said, the Giants should be able to capitalize off one more of those turnovers than the Eagles do.
27-21, Giants
Week 16 - At Arizona Cardinals
This game will mark the fourth and final trip the Giants will make out west in 2017. It does a nice job, however, breaking up the string of division games they will have played in the weeks prior. It is hard to pick this one because no one really has a feel for what Arizona will be this year. Since the Cards' have a deteriorating, 37-year-old signal-caller, though, the Giants should be able to flex some of their defensive muscle.
24-16, Giants
Week 17 - Vs. Washington Redskins
At this point, the Giants will be looking to lock up a first-round bye and, perhaps, home field advantage throughout. They won't let a mediocre Redskins team prevent them from that.
28-24, Giants
Final Record, 11-5
So there you have it, according to my biased but measured approach, New York (NFC) will do absolutely no better or worse than they did a season ago.
---