2017 NFC East Predictions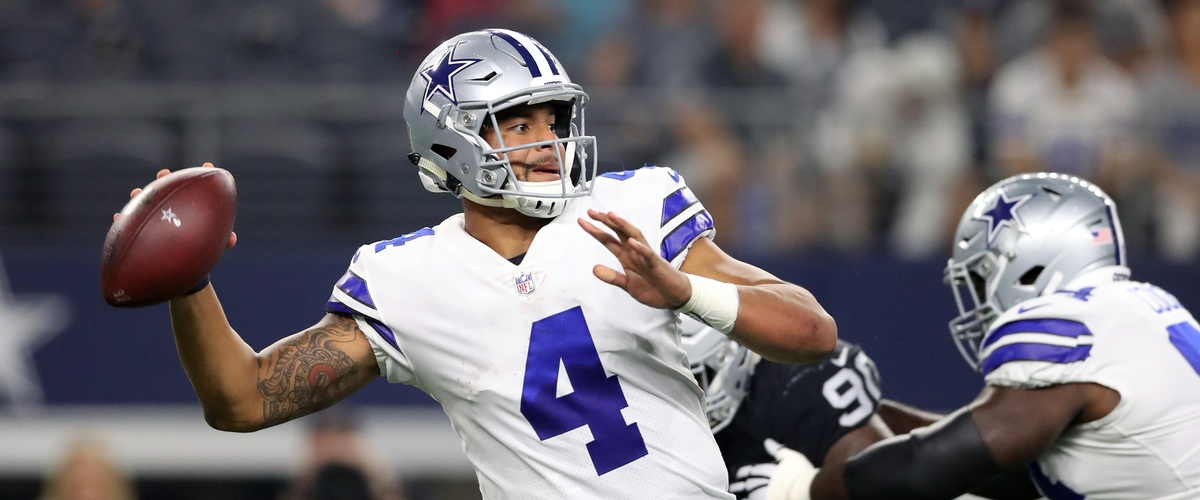 The NFC East is the epitome of inconsistency. Every year since 2004 there has been a different division champion. You heard correctly. Not one repeat winner in the NFL's all-net worth division in thirteen years. How could that be? Well, for one, unlike other divisions, the NFC East never seems to have a team that absolutely stinks it up. The record from the last place team each year usually hovers around 6-10, which means there are no bottom-feeders to consistently beat up on. More importantly, all four franchises simply have too much pride to be held down for long.
This year, the Dallas Cowboys have been the consensus pick to wear NFC East gold but, in staying true to the division's history, the other three teams will certainly have something to say about that. More than say; they will each have something legitimate to offer. Here are my predictions:
4. Washington Redskins
The 'Skins had the biggest makeover of any team in the division from a season ago. Perhaps the biggest losses they sustained were at the receiver position, where Desean Jackson and Pierre Garcon both signed elsewhere. That is not to say they don't have some nice replacements, however. Jamison Crowder, who was already on the verge of breaking out, will now get a much deserved starting role. And second-year pro Josh Doctson will have an opportunity to show the world why he was worth a first round pick. And of course, they brought in Terrelle Pryor Sr. to step in as the number one wideout for the time being. Washington's defense will also feature a couple of different players in the secondary. They brought in D.J. Swearinger to play free safety and promoted Deshazor Everett to play his opposite. The 'Skins success this year, though, rests solely on Kirk Cousins. If he can follow up his Pro Bowl 2016 campaign minus the killer turnover, they may just surprise some folks.....but I don't see it.
7-9
3. Philadelphia Eagles
The Eagles can range anywhere from last to first this year in the division, and I don't think it would surprise anyone. On one hand, Carson Wentz's development from year one to year two should really show itself. They helped him out immensely by adding veteran playmakers in Alshon Jeffery, Torrey Smith and LeGarrette Blount. They also boast one the NFL's more solid units at offensive line. Scoring points will not be their problem. On defense, they acquired some serious talent up front with the additions of Derek Barnett and Tim Jernigan, but the onus will fall once again on the secondary. Can Ronald Darby rebound from a rough 2016? Can the unit hold up against the division's strong receivers? These are questions that need to be answered. Unfortunately for Philadelphia, I don't think they have enough on the back end to prevent teams from throwing for huge sums of yardage. That will be their achilles heel all season.
9-7
2. Dallas Cowboys
Although the masses see Dallas as the absolute favorite to win the East, I simply do not think they have enough on the defensive side of the ball. Let's start with what they do have first, though. And that of course is that Great Wall of China up front. Yeah, they lost a couple pieces from last season but so what? Any halfway capable running back can find holes behind those guys, which is why I don't think potentially being without Elliott for six games matters much. They will still be able to move the sticks no matter what. They also have a young quarterback that showed tremendous poise in his rookie year who, in all likelihood, will be able to avoid the sophomore slump. Having Dez Bryant healthy to start the year is obviously huge for them as well. Now to what I was alluding to before -the Cowboys' lack of talent on defense. They literally lost four key contributors, including three starters, in the secondary from a year ago. Morris Claiborne, Brandon Carr, Barry Church and J.J. Wilcox have all found new homes. Their replacements are Nolan Carroll, Anthony Brown, Jeff Heath and a bunch of rookies. That doesn't formulate well when the likes of Odell Beckham, Alshon Jeffery and Terrelle Pryor sit within the same division. In addition to the thin secondary, after the suspension of David Irving, the best they have to offer on the defensive line is Demarcus Lawerence. Yeah, it is safe to say that getting after the QB will not be the 'Boys strong suit in 2017. Overall, they will win enough games to make the playoffs, but certainly not as the NFC East winner.
10-6
1. New York Giants
I have big expectations for the G-Men this year. Jerry Reese did a phenomenal job of going out and adding the missing pieces from a year ago. Brandon Marshall was brought in to take some of the pressure off of OBJ, and Evan Engram was selected in the first round to give Eli Manning a consistent option in the middle of the field. On defense, young players like B.J. Goodson, Jay Bromley and Darian Thompson are all ready to help make a destructive unit even better. The biggest question for the Giants is of course their offensive line. They failed to do almost anything but add meaningless depth to a unit that struggled severely in 2016. The O-line's play will directly affect Manning. If he has time with these weapons, they will put up points on anyone. If he doesn't, however, then the offense will be underwhelming and reminiscent of last season. Either way, the Giants will be right in every game because of their defense. When you couple being in close games late with the difference-makers they have on offense, the result is a lot of W's. Giants wear the NFC East crown for the first time since 2011.
11-5
---