Expectations for the New Look Celtics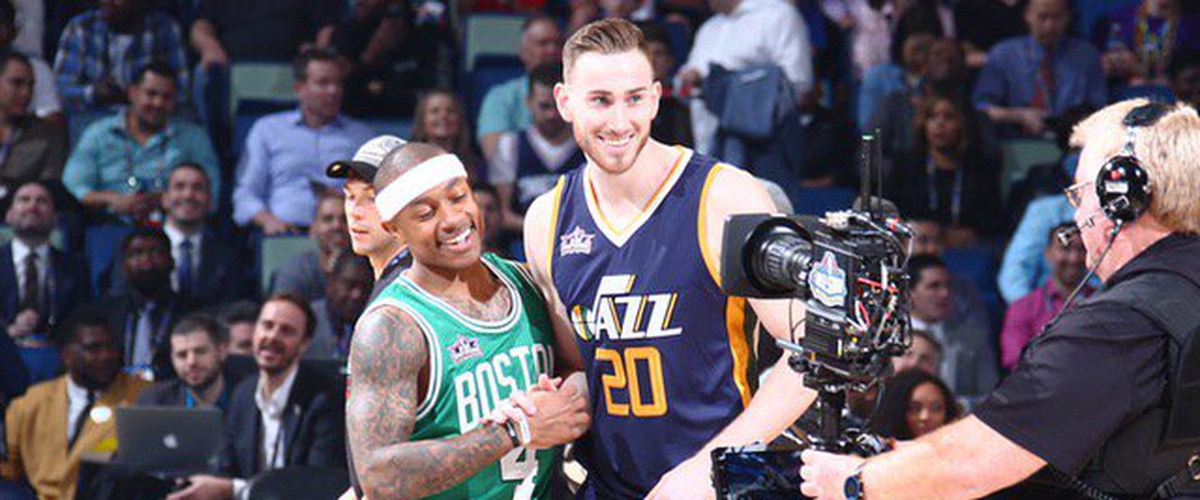 The 2017-2018 Celtics Starting Lineup (Projected):
Point Guard: Isaiah Thomas
Isaiah was the heart and soul of the 2016 Celtics and averaged 28.9 PPG on 46.3% shooting.
He also tallied 5.9 APG. IT was acquired via trade in 2014 and has been nothing short of spectacular during his time in Boston. He put up 53 points in a playoff game against the Wizards, just after the death of his sister. We may see IT's PPG drop with the addition of Gordon Hayward, but I believe he can still average 25 a game. The biggest concern with Isaiah is minimizing his liability defensively. At just 5'9, IT is not strong enough defensively to guard point guards like Kyrie Irving or John Wall. One final thing that must be considered is the hip injury that sidelined him for most of the ECFs against the Cavs. He will not need surgery, but it is still an injury to monitor heading into his seventh season in the NBA.
Shooting Guard: Marcus Smart
After the departure of defensive star Avery Bradley, Marcus is now the best defender on the Celtics. He plays with a ferocity and focus that cannot be taught and hustles his ass off each and every game.
Alongside a notorious defensive liability in Isaiah, Marcus will need to help him out, just like Avery did last season. He will be expected to guard those big stars like Kyrie, John Wall, and Kyle Lowry (shown). Offensively, Marcus has shown improvement with his jump shot, but is known to many Celtics fans for his poor shot selection on the offensive end. Hopefully he can help Isaiah defensively and be able to play better offensively this upcoming season.
Small Forward: Gordon Hayward
The most exciting free agent acquisition for the Celtics, Gordon Hayward will help tremendously on offense. He is a scoring machine, averaging a career high 21.9 PPG last season. His arrival will help to ease IT's load offensively for obvious reasons. Hayward can shoot and drive and put up numbers. Personally, I believe he is an underrated defender and can play above average defense for the Celtics. So rather than share an offensive highlight you've probably seen already, I'll share some of his potential defensive impact on the C's.
But, his true impact will be on the offensive end as a dynamic scorer from anywhere on the floor. Hayward's reunion with former college coach Brad Stevens should certainly prove to be must-see basketball. Celtics fans should definitely be excited to see number 20 run through that tunnel on opening night.
Power Forward: Jae Crowder
I am not the biggest Jae Crowder fan, as you will notice in future articles. I don't believe he is great on offense, but I will say he is a solid defender and has the heart that a great Celtic has. He brings the intensity every night.
Celtics fans may be disappointed that number three pick Jayson Tatum's name isn't above. I believe that Brad Stevens will start the season with Crowder playing smallball at the four spot. Crowder is on one of the best contracts in the NBA. Although, he has been a focus of trade talks in the Celtics due to his high value. Look for Crowder to potentially be traded or benched to help pave the way for the development of young prospects Tatum and Jaylen Brown. I hope that Danny Ainge deals Crowder and starts either the newly drafted Tatum or the newly acquired Marcus Morris. The situation at power forward will be the toughest for fans to agree on this season, at least to start.
Center: Al Horford
This is a lock. There were concerns in the NBA community throughout the season regarding whether Horford was worth the $113 million that the Celtics gave him to sign. Those concerns should have been put to rest in the playoffs due to how Al stepped up. He will be fine offensively and defensively, rather the biggest concern for him is rebounding. Many people blamed the Celtics' rebounding for their poor postseason play, which I agree contributed heavily to it. Horford's RPG was 6.6, not ideal for an NBA center. Hopefully he can contribute to the Celtics' improvement in rebounding, which will play a huge role in the 2017-2018 season for this young and talented Celtics team. Horford doesn't make many flashy plays, so rather than give you one from his days with the Atlanta Hawks, why don't I show you what he looked like after signing his $113 million dollar contract in 2016?
---