Eli Manning Being Benched in favor of Geno Smith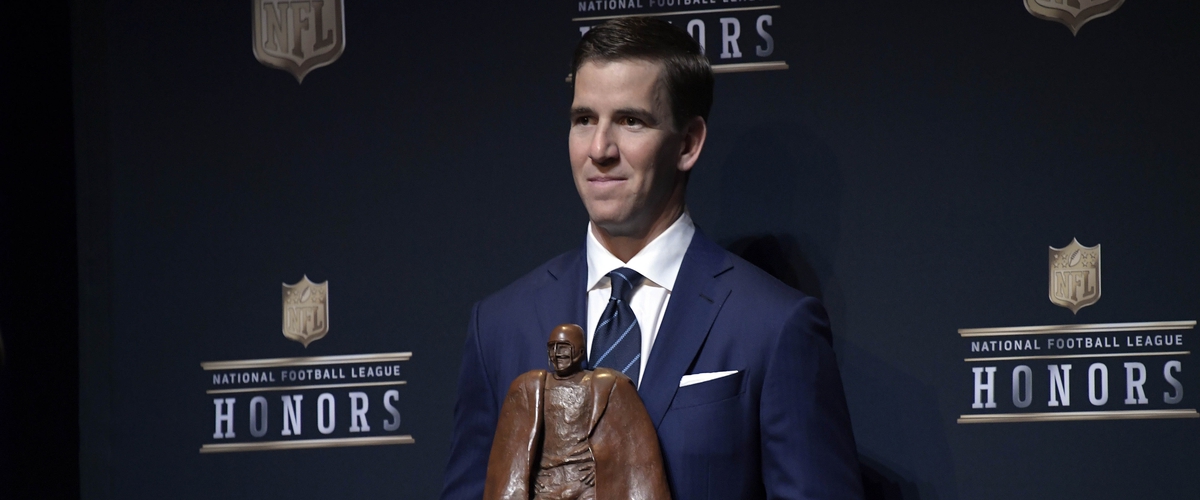 New York Giants quarterback Eli Manning has started in 210 consecutive games in his NFL career. He has been all class throughout his time with the Giants ever since the 2004 season. Manning was drafted number one overall that season.
Ben McAdoo sent shock waves throughout the entire world today as he has decided to start Geno Smith over him. Are you kidding me? What kind of joke is this? Benching Manning who is a two-time Super Bowl champion and two-time Super Bowl MVP is getting thrown under the bus for a 2-9 start to the season?
Look I don't think Manning is the greatest quarterback to ever play this game, but what he has done for this franchise is nothing but good. Manning has had more rough times than good, but he was always loyal and never threw anyone under the bus.
What McAdoo has done is utterly disrespectful. Why does he even have a job right now as coach and why does general manager Jerry Reese still have a job? I can't believe they would actually be ok with this and management continues to watch this crap shoot of a season and do nothing about it.
When Manning was talking to media, he had to hold back tears and this means a lot to him. The thing is that McAdoo approached Eli and claimed that Eli could continue to start games, but also play Geno Smith later on in games.
Manning felt like that was no good to him because he wanted to play from start to finish. Rookie quarterback Davis Webb will also be given a look as well.
Manning has 62.5% completion percentage in his career. He has thrown for 50,625 yards 334 touchdowns and 222 interceptions. In the postseason, he has completed 60.5% of his passes. Manning has thrown for 2,815 yards 18 touchdowns and nine interceptions.
This is a shame that Eli Manning is going to have to go out like this in New York. Geno Smith was a bust with the New York Jets and he isn't going to be worth watching. Smith will probably throw three interceptions in the first half on Sunday and if McAdoo wants to take him out, put in the rookie Davis Webb. If Manning asks to go back in, I hope Manning tells McAdoo to shove it.
I bet somewhere right now that Manning wants to be reunited with Tom Coughlin. It wouldn't surprise me if Manning gets traded to the Jacksonville Jaguars in the offseason. The Denver Broncos could be another possible destination for him or the Arizona Cardinals.
I can't believe McAdoo thinks that Smith gives the Giants a better chance to win on Sunday at the Oakland Raiders. I'm for giving guys looks, but there is a better way to do this. I am sure that Giants fans are disgusted and I bet they won't even show up for the final three home games against the Dallas Cowboys, Philadelphia Eagles, and the Washington Redskins.
That will look real good for Giants management. When Cowboys, Eagles, and Redskins fans take over the stadium, they are going to feel sick to there stomach and maybe that will be managements wake up call.
Manning shouldn't be the downfall guy for this season. Jerry Reese didn't get him any extra offensive line help. They have no running game and the Giants top receivers are out and what quarterback can do good with those receivers?
Geno Smith will look worse with no offensive line and no receivers. Davis Webb may not get a positive outcome as well because of this mess. This is utter disgrace for this franchise.
Also McAdoo is scared to bench Odell Beckham Jr. for his antics but is totally cool with benching Eli for his pure class? How does that make any sense at all? Eli should be the one finishing the 2017 season for the Giants and not McAdoo and Reese. This benching of Eli Manning might be one of the lowest moments if not the lowest moment in New York Giants history.
---