NBA Preview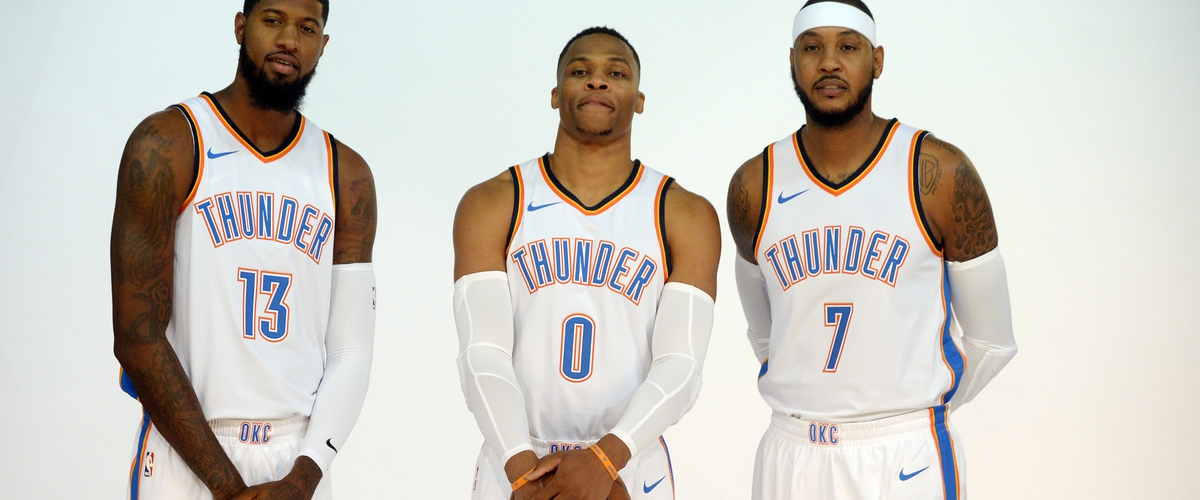 The NBA begins in three weeks from tonight. NBA Media Day happened yesterday. Will the Cleveland Cavaliers and the Golden State Warriors meet in the NBA Finals for the fourth consecutive season or will teams like the Boston Celtics, Washington Wizards, Oklahoma City Thunder, Minnesota Timberwolves, or the San Antonio Spurs say something about that?
I feel like for some strange reason despite all the superstar movement in the offseason, the NBA will have its competitive nature back this season. Rookies like Markelle Fultz, Lonzo Ball, De'Aaron Fox, and others will also be fun to watch this season. The eastern conference won't be that strong this season and the western conference will be wild.
Eastern Conference: Atlantic Division: 1. Boston Celtics: They traded for Kyrie Irving in the offseason. He is an elite scorer and a proven player to come through in the clutch. Gordon Heyward reunites with coach Brad Stevens. They were at Butler when they went to back-to-back championship games in 2010 and 2011. Boston got better on offense, but they lost Avery Bradley and Jae Crowder who were proven defenders.
2. Toronto Raptors: Demar Derozan and Kyle Lowry is usually the primary focus when they are playing against other teams. The problem with the Raptors this season is that they might have reached their ceiling. Jonas Valanciunas is a very good player when he is healthy.
3. Philadelphia 76ers: "Trust the Process" is ready to blossom if it is healthy. They have the talent to make the playoffs this season. Ben Simmons, Markelle Fultz, Joel Embiid, and Dario Saric are the key young players on this team. Brett Brown has been patient with this process and it is time to see what he does with a very good team.
4. New York Knicks: With Carmelo Anthony gone now, Kristaps Porzingis is now the face of the franchise. He will see the ball a lot more. Rookie point guard Frank Ntilikina will look to prove doubters wrong. They will be a bubble team to make the playoffs in the east.
5. Brooklyn Nets: They have D'Angelo Russell and that's about it. The Nets will be a bottom 5 team in the NBA once again this season. Another franchise changing player will go to a different team because of the Paul Pierce trade a few years ago.
Central Division: 1. Cleveland Cavaliers: Lebron James will be on a mission this season to regain his title of king in the NBA. Kevin Durant snatched the crown away from him last season. Kevin Love needs to be the super star he once was in Minnesota. Derrick Rose will be good as the starting point guard. Isaiah Thomas won't be available until January with a hip injury that occurred in the conference finals last year as a member of the Boston Celtics. Dwayne Wade is expected to sign with the Cavs after reaching a buyout agreement with the Chicago Bulls.
2. Milwaukee Bucks: They are probably the tallest team in the NBA, but they are also very talented as well. Milwaukee could be a top 4 team in the east this season. Jabari Parker, Khris Middleton, Giannis Antetokounmpo, and Malcolm Brogdon are the four key players on this Bucks team. The Bucks are scrappy, but they need to find a way to score more.
3. Detroit Pistons: Andre Drummond and Reggie Jackson are the main catalysts on this Pistons team. They made it to the playoffs two years ago but I was surprised they missed it last season.
4. Indiana Pacers: With the absence of Paul Goerge, it will be hard for them to make the playoffs. Despite that, they will have some young and talented players like Myles Turner and Glenn Robinson III.
5. Chicago Bulls: Rajon Rondo, Dwyane Wade, and Jimmy Butler were moved in the offseason. They are basically in rebuild mode at this point. Nikola Mirotic is the face of the franchise for now in Chicago. Rookie Lauri Markanen will look to make a name for himself. Expect Bobby Portis and Denzel Valentine to grow as second year players.
Southeast Division: 1. Washington Wizards: John Wall and Bradley Beal might be the most explosive back court in the NBA. They will be good enough to win the division, but the problem is they don't have enough to beat either Boston or Cleveland.
2. Charlotte Hornets: The Hornets missed the playoffs last year, and I think they will have a bounce back season. Kemba Walker will have a new partner in crime in the back court with rookie Malik Monk. Monk is going to be a dynamic scorer in the NBA. Frank Kaminsky will be solid and the bench won't be that bad.
3. Miami Heat: They won 41 games last season without Dwyane Wade. Goran Dragic, Hassan Whiteside, and a bunch of misfits developed good chemistry as the season went on. They really didn't lose anyone in the offseason and should compete for a playoff spot.
4. Orlando Magic: They are very young, but the Magic will be a fun team to watch this season. Nikola Vucevic, Aaron Gordon, and Elfrid Payton are the main players to key an eye on. Rookie Jonathan Isaac could be a star in the making for the Magic.
5. Atlanta Hawks: Atlanta always seems to find a way to make the playoffs. Mike Budenholzer is an outstanding coach, but he will basically have nothing to work with this season. The starting lineup from the 2015-2016 season is all gone now. He has a bunch of scrubs and his best player is Dennis Schroder.
Western Conference: Pacific Division: 1. Golden State Warriors: The Warriors will win this division by a landslide. The conference is a lot tougher this season and they might get dethroned before the finals. Kevin Durant finally won a championship and he is looking for more. Golden State could break their own 73-9 record if they wanted to.
2. Los Angeles Clippers: Despite losing Chris Paul, they might have gotten deeper. The Clippers acquired eight players in that trade and it will keep them competitive in the western conference. Blake Griffin meant more to this franchise anyways.
3. Los Angeles Lakers: Lonzo Ball will be the main reason why people want to go see them play this season. He is a terrific passer and a decent shooter. Ball will make his teammates better. Julius Randle, Jordan Clarkson, and Brandon Ingram will benefit from it big time. Ivica Zubac might be the most underrated center in the NBA.
4. Phoenix Suns: Devin Booker is a superstar at age 20. He gives the Suns instant offense. Eric Bledsoe and Brandon Knight can never seem to stay healthy. Josh Jackson can develop into a star as the season goes on.
5. Sacramento Kings: De'Aaron Fox will control the tempo for the Kings at point and it could be very fast. The problem is the western conference is tough and they aren't ready yet despite missing the playoffs for the past decade.
Southwest Division: 1. San Antonio Spurs: Kawhi Leonard will most likely be an MVP candidate once again this season. Keep an eye on point guard Dejounte Murray as the season moves on. He is very fast and a good player. Murray has more upside than Patty Mills does. LaMarcus Aldridge hasn't stepped up in big moments for the Spurs.
2. Houston Rockets: The Rockets might be in worse shape in the west compared to last season. Well adding Chris Paul might be a plus but the conference got tougher and Houston got rid of some role players. James Harden is one of the best players in the NBA. Trevor Ariza is a solid defender. It's all up to the bench whether or not the Rockets go deep. It can't just be Eric Gordon every game.
3. New Orleans Pelicans: Anthony Davis, DeMarcus Cousins, Jrue Holiday, and Rajon Rondo will all be teammates together for a full season. I think it will be interesting. They will be compete for a playoff spot, but whether they make it is another story. It is important for the Pelicans to have a good record by the trade deadline because if they don't, either Cousins or Davis might be gone. It will most likely be Cousins because his contract expires at the end of the season.
4. Dallas Mavericks: Dennis Smith Jr. is going to be a fun player to watch this season. He is going to be the face of the franchise once Dirk Nowitzki decides to retire. Smith Jr. has been raved about all offseason. They don't have much otherwise.
5. Memphis Grizzles: Mike Conley might be the most underrated point guard in the NBA. He always shows up game in and game out. Marc Gason will have another all star caliber season, but they didn't make any improvements to the roster.
Northwest Division: 1. Oklahoma City Thunder: Russell Westbrook basically led the Thunder to the playoffs by himself last season. He recorded 42 triple-doubles and I don't think he'll need to do it as often this season. They just formed the newest big three in Paul George, Carmelo Anthony, and Russell Westbrook. This team has the best shot in the west to knock off Golden State.
2. Minnesota Timberwolves: They moved young players in the offseason like Zach LaVine, Kris Dunn, etc. for more proven players like Jimmy Butler, Jeff Teague, Jamal Crawford, and Taj Gibson. Karl-Anthony Towns and Andrew Wiggins will learn from these veteran players in a hurry. Minnesota hasn't made the playoffs since the 2003-2004 season. They will taste postseason season ball this season.
3. Denver Nuggets: Denver is another team that has drafted well, but the success didn't happen overnight. They were in contention to be in the eight spot last season, but Portland edged them for it. The Nuggets will be better this season. Paul Millsap will help the front court. Nikola Jokic broke out last season and will do damage this season. Gary Harris and Jamal Murray could turn into an interesting back court and they will have a decent bench.
4. Portland Trail Blazers: C.J. McCollum and Damian Lillard will by themselves carry Portland to another postseason appearance. Every game though, it seems to be different players stepping up and scoring as well. The problem is they aren't an elite basketball team.
5. Utah Jazz: Losing Gordon Hayward will mean a lot to this Jazz team. Rudy Gobert is the best player on this team. Coach Quin Snyder will try and find a way not to have this team in the cellar.
Playoffs: Eastern Conference: First Round: (1) Cleveland over (8) Miami, (2) Boston over (7) Philadelphia, (3) Washington over (6) Charlotte, and (4) Milwaukee over (5) Toronto.
Second Round: (1) Cleveland over (4) Milwaukee and (2) Boston over (3) Washington.
Third Round: (1) Cleveland over (2) Boston.
Western Conference: First Round: (1) Golden State over (8) Portland, (2) Oklahoma City over (7) Denver, (3) Minnesota over (6) Los Angeles Clippers, and (4) San Antonio over (5) Houston.
Second Round: (1) Golden State over (4) San Antonio and (2) Oklahoma City over (3) Minnesota.
Third Round: (2) Oklahoma City over (1) Golden State.
NBA Finals: (2) Oklahoma City over (1) Cleveland.
---