Prescott Leads Cowboys to Win Against Cardinals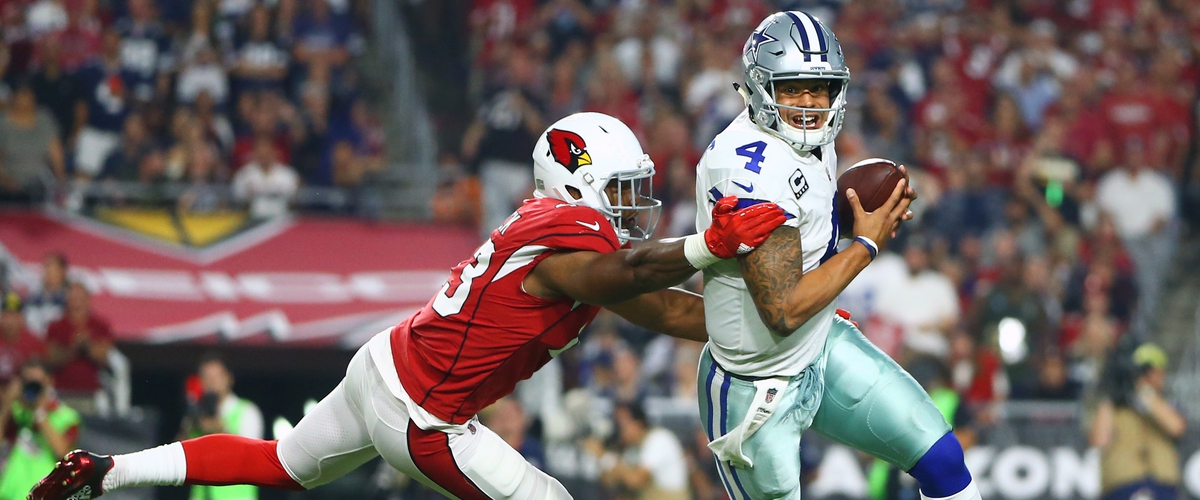 After being overwhelmed last week against the Denver Broncos, Dak Prescott returned to being a calm and collective quarterback against the Arizona Cardinals. He completed 13-of-18 passes for 183 yard and 2 touchdowns, along with 16 yard rushing on 3 carries and a touchdown in a Cowboys 28-17 win.
In the first quarter, Jaron Brown caught a 25-yard touchdown pass from Carson Palmer. Brown finished with 2 catches for 27 yards receiving and a touchdown. Brown would have had another touchdown in the second-quarter, but it was taken back because of a penalty. The Cardinals missed a field goal on that drive and momentum switched in a hurry.
Dak Prescott scored on a 10-yard touchdown run in the second for the Cowboys. In the third quarter, Dak threw a slant to Dez Bryant and he carried defenders with him and scored a touchdown that totaled 15 yards. Bryant only had 2 receptions for 12 yards and a touchdown tough.
Later in the third, Palmer threw a 15-yard touchdown pass to Larry Fitzgerald. Fitzgerald balled all game long and he finished with 13 catches for 149 yards receiving and a touchdown. Palmer completed 29-of-48 passes for 325 yards and 2 touchdowns.
In the fourth quarter, Brice Butler caught the game-winning 37-yard touchdown catch early in the fourth. Butler finished with 2 receptions for 90 yards receiving and a touchdown. With the Cowboys leading 21-17 later in the fourth, Ezekiel Elliott put the icing on the cake with an 8-yard touchdown run. Elliott finished with 80 rushing yards on 22 carries and a score. Elliott also caught 3 passes for 14 yards receiving.
The Dallas Cowboys will head home to face the Los Angeles Rams (2-1) on Sunday and the Arizona Cardinals will host the San Francisco 49ers (0-3) on Sunday.
---