Raiders Win as Time Expires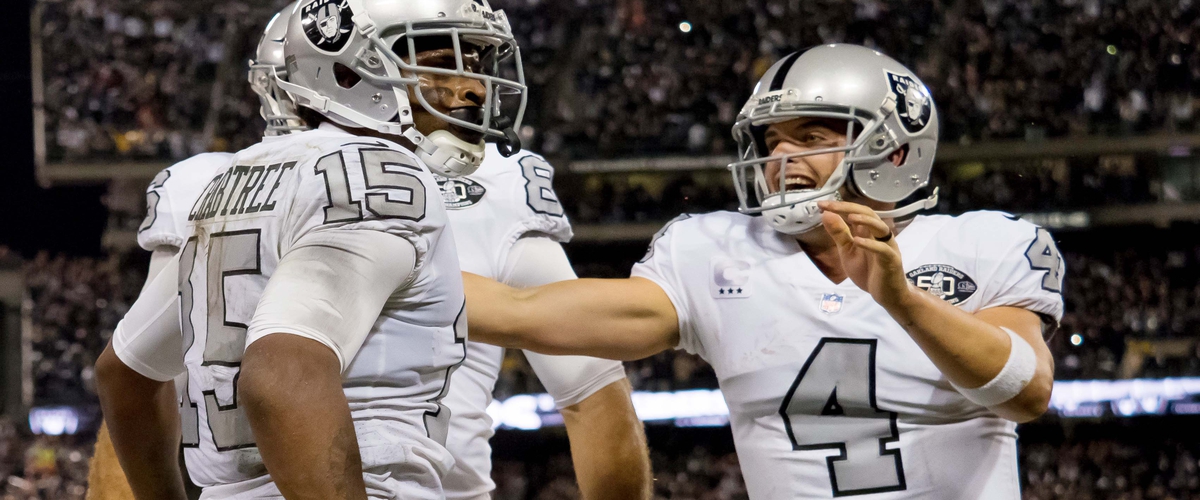 If you never thought there couldn't be more than one more play after times expires, well think again. The Kansas City Chiefs committed two holding penalties on two consecutive plays with no time left. That meant the Oakland Raiders got another crack and Derek Carr rolled out and threw a 2-yard touchdown pass to Michael Crabtree as time expired. Giorgio Tavecchhio kicked the game-winning point as the Raiders defeated the Chiefs 31-30.
Before those Chiefs fouls, Michael Crabtree committed an offensive pass interference in the end zone and Jared Cook originally had a touchdown with :16 seconds remaining, but he was ruled down at the 1-yard line. Jared Cook also caught a huge fourth down pass on that drive. Cook finished with 6 catches for 107 yards receiving.
As for Crabtree, he finished with 3 receptions for 24 yards receiving and a touchdown. Carr was amazing as he completed 29-of-52 passes for 417 yards and 3 touchdowns.
With the Chiefs leading 3-0 in the first, Carr threw a 38-yard touchdown pass to Amari Cooper. Kansas City responded with a 10-yard touchdown pass by Alex Smith to Travis Kelce. Kelce had 4 receptions for 33 yards receiving and a touchdown.
Oakland responded again with a Cooper 45-yard touchdown reception. Cooper finished with 11 receptions for 210 yards receiving and 2 touchdowns.
In the second quarter, Alex Smith threw a 64-yard touchdown strike to Tyreek Hill. Hill finished with 6 receptions for 125 yards receiving and a touchdown. Later in the second quarter, Raiders running back Marshawn Lynch ran onto the field and he would eventually get ejected for shoving an official. When Lynch was ejected, Jalen Richard took over and he had 31 rushing yards on 9 carries and 4 receptions for 45 yards receiving.
With Kansas City leading 20-14 in the third, DeAndre Washington scored on a 4-yard touchdown run. Washington finished with 33 yards rushing on 9 carries and a touchdown. Kansas City responded once again with a batted ball in the air and Albert Wilson caught it for a 63-yard touchdown. Smith completed 25-of-36 of his passes for 342 yards and 3 touchdowns. Kareem Hunt rushed for 87 yards on 19 carries for the Chiefs.
Harrison Butker made three field goals for Kansas City (53, 39, and 37 yards). The rest of the game was history. Kansas City will host the Denver Broncos (3-2) next Monday Night and the Oakland Raiders will travel to face the Buffalo Bills (3-2) next Sunday.
---