Ten Things I Think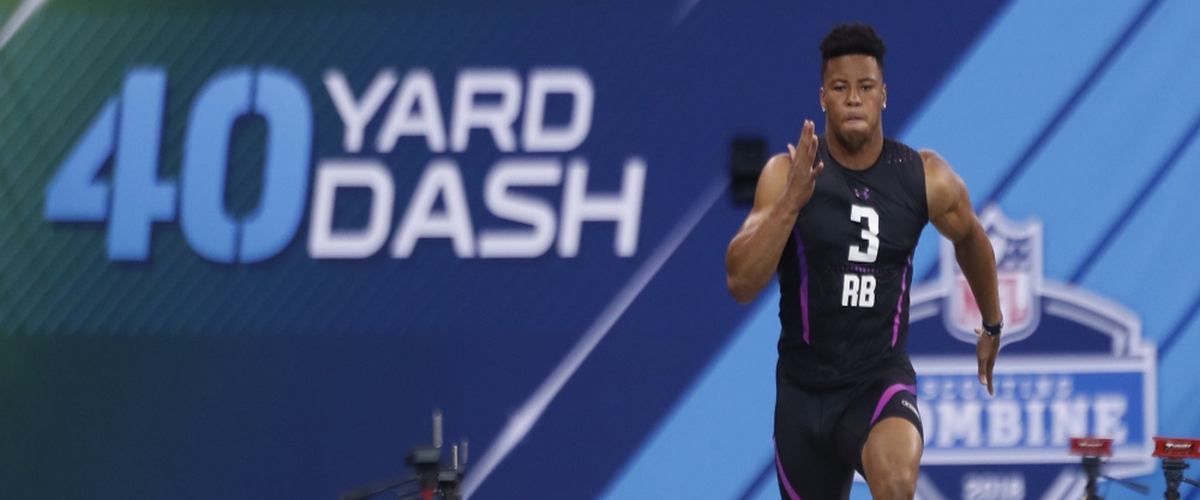 1. I think Saquon Barkley will be the NFL's most dynamic running back since a young Adrian Peterson. The Penn State product recorded a blazing 4.41 in the 40-yard dash at the NFL Combine. Being that fast at 235 pounds should be illegal. Barkley's ability to make defenders miss in space while also being able to catch the football out of the backfield puts him on a level above the Ezekiel Elliott's and the Leonard Fournette's of the world. I think a suitable comparison might be Le'Veon Bell, but given Barkley's physical nature and playing style, perhaps a prime Adrian Peterson is a more apt comparison.
2. I think the rumors surrounding LeBron and the 76ers this summer just don't make sense. Yes, LeBron will be a free-agent this summer and yes, the 76ers are loaded with young talent, but this is not a marriage that I can see taking place. LeBron has never been one to gamble. He has always taken the sure bet. By jumping to Philly, LeBron would be going all in on the health of Joel Embiid. I just don't think that is a decision that LeBron James can make and sleep comfortably with. Over Joel's four-year NBA career, he has missed 226 games. LeBron, in his fifteen-year career, has missed a grand total of 57 games. Keep dreaming Philly.
3. I think the Celtics are beginning to regret not targeting a scorer, such as Tyreke Evans, coming off of the bench at the trade deadline. Boston's offense has stagnated as of late and they are 9-9 over the course of their last 18 games. Jayson Tatum has hit the rookie wall and while Kyrie Irving is phenomenal, even he cannot put an entire team on his back. I thought at the time that Danny Ainge should have pursued another scoring threat to ease Kyrie's load and feel even more strongly now after having watched the C's struggles of late.
4. I think Tom Thibodeau has single handedly shortened Jimmy Butler's career. In an era when rest and recovery have become so important, the Wolves head coach has essentially run his star forward into the ground. Before tearing his meniscus last week, Butler was leading the league in minutes per game with over 37 a contest. I would be willing to bet that the heavy workload significantly contributed to Butler's knee-injury.
5. I think 40-yard dashes for offensive lineman are a complete waste of time. I do not recall, ever, an offensive lineman running this distance in an actual game. Perhaps, while chasing an opponent running in for a pick-sick, but even that is exceedingly rare. Yet, year after year we see these 320-pound behemoths in spandex and a tank top waddling forty yards at the NFL Combine. It makes no sense to put each position group through all of the same drills. Why not with offensive lineman have more drills spanning shorter distances or drills that test hand placement/strength?
6. I think Anthony Davis' apex could be historical. At just 24 years of age, Davis is averaging over 28 points and 11 rebounds per game. He is single handedly keeping the Pelicans afloat in the log-jammed Western Conference. Davis' production has been transformational, specifically over the past month where he has averaged over 35 points and 13 rebounds each night that he takes the floor. Tim Duncan was uber-consistent, Shaq was an overpowering physical force, in his prime Dirk had a finesse to his game that was unmatched. Anthony Davis possesses facets of each of their games and because of that I can see a scenario in 5-6 years where AD is widely considered the premier basketball player on the planet.
7. I think J.D. Martinez might be the most underrated player in baseball. Last week, the Red Sox inked the slugger to a 5 year/$110 million contract, likely to try and keep pace with the Yankees powerful bats. Martinez, last season, in just 119 games slugged 45 home runs. Think about that. He missed a quarter of the season and still finished third in the majors in long balls.
8. I think James Harden has the MVP on ice. Damian Lillard, Anthony Davis, and LeBron belong in the discussion, but The Beard has been downright nasty this season in leading the Rockets to the best record in the NBA. He is leading the NBA in scoring by over three points.
9. I think Dwane Casey is the NBA's Coach of the Year. The strides that the Raptors made this season cannot be overstated. They radicalized their style of play this offseason as they decided to dramatically ramp up their pace of play while also hoisting a bevy of three-balls. Currently in first place in the Eastern Conference, Dwane Casey deserves ample credit for Toronto's success.
10. I think Dwyane Wade will retire as the third best shooting guard of all-time. MJ is obviously first, then Kobe, and then I believe Wade is next in line. From 2005-2012, Flash was one of the most potent offensive threats the NBA has ever seen. Considering he really never had a three-point shot in his arsenal, what he was able to accomplish is all the more impressive. He is quietly riding off into the sunset in Miami, but he should be having a celebration in each city he visits similarly to how Kobe did in his final season.
---