My Final 2019 NFL Predictions (Part One)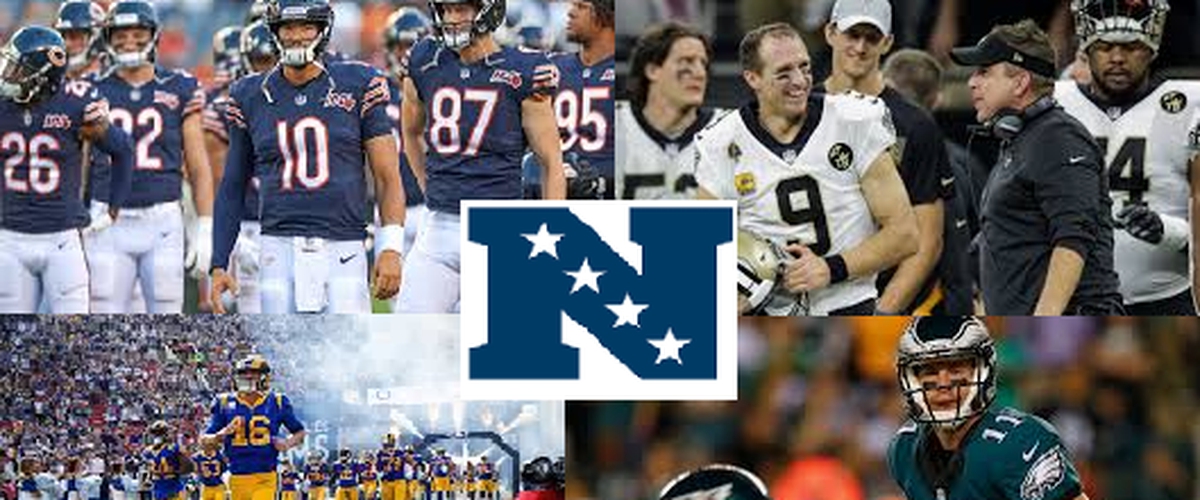 Part one of my 2019 NFL predictions beginning with the National Football Conference (NFC):
Starting with the NFC East, I have the Eagles regaining the division crown. The Eagles have too many weapons on offense, the defensive line is loaded again with the addition of Malik Jackson and safety Malcolm Jenkins is poised for another big year. As long as Carson Wentz stays healthy; the Eagles will not only win this division, they will clinch a first round bye and have home-field advantage in the playoffs. I have the Cowboys finishing second place. Now don't get me wrong, the Cowboys are loaded everywhere but they don't have an elite coach. In the end, it all comes down to coaching and Jason Garrett is not elite. The Giants think they are playoff team but in reality, I think they will fall just short. The Giants offensive line is much improved and Saquon Barkley will continue to flourish. The Redskins vastly improved their defense by adding Landon Collins but don't think they are good enough to make the playoffs. Expect the Redskins to start all three of their quarterbacks.
1. Eagles 12-4 first–round bye
2. Cowboys 9-7
3. Giants 8-8
4. Redskins 5-11
On to the NFC North, it is going to be tiebreaker between the Bears and Vikings but I have the Bears repeating despite their tough schedule. There are too many questions about Mitch Trubisky, how good he can be to expect the Bears to match or go past their 12 wins from last year. With full year of offensive coordinator Kevin Stefanski, I expect Kirk Cousins to be better than last year. If Dalvin Cook stays healthy, this offense can be very dangerous. The Packers beginning a new era, Aaron Rodgers trying to return to MVP form with a new supporting cast but there are still a lot of concerns about their defense so I have them falling just short.
1. Bears 10-6
2. Vikings 10-6 Wild Card
3. Packers 9-7
4. Lions 5-11
On to the NFC South, I have the Saints winning this division for the third straight year. The Saints were one missed passed interference call away from reaching Super Bowl LIII and are desperate to make the Super Bowl before Drew Brees retires. Falcons head coach Dan Quinn brought in Dirk Koetter as offensive coordinator to help Matt Ryan and Mike Mularkey to coach tight ends. Matt Ryan should be better protected after the Falcons spent their two first-round draft picks on offensive linemen.
1. Saints 12-4 first–round bye
2. Falcons 9-7
3. Panthers 8-8
4. Buccaneers 5-11
On to the NFC West, the Rams are trying get over their Super Bowl loss. The reigning NFC champions didn't go heavy during the offseason but they did add Clay Matthews and Eric Weddle to an already outstanding defense. There are concerns about Todd Gurley on how healthy he will be this year after suffering from an arthritis. Cooper Kupp is returning from an ACL injury which is good news for Jared Goff. The Seahawks just got better by acquiring Ja'Deveon Clowney from the Houston Texans. Clowney will add to a Seahawks defensive line that just acquired Ziggy Ansah last May. 49ers quarterback Jimmy Garappolo is back after tearing his ACL and will be the key to his team's hopes.
1. Rams 11-5
2. Seahawks 10-6 Wild Card
3. 49ers 7-9
4. Cardinals 4-12
NFC Offensive Player Of The Year: RB Saquon Barkley
NFC Defensive Player Of The Year: EDGE Khalil Mack
NFC Rookie Of The Year: QB Kyler Murray
NFC DROY: LB Devin Smith
NFC Coach Of The Year: Doug Pederson
Playoff Predictions
WILD CARD Round:
(3) Rams over (6) Seahawks
(5) Vikings over (4) Bears
DIVISIONAL Round:
(1) Eagles over (6) Vikings
(2) Saints over (4) Rams
NFC Championship Game: (2) Saints over (1) Eagles
I will post Part Two of my predictions discussing the AFC tomorrow. Stay tuned! Enjoy tonight's NFL 100 Kickoff!!
---