Let's Talk Dinosaurs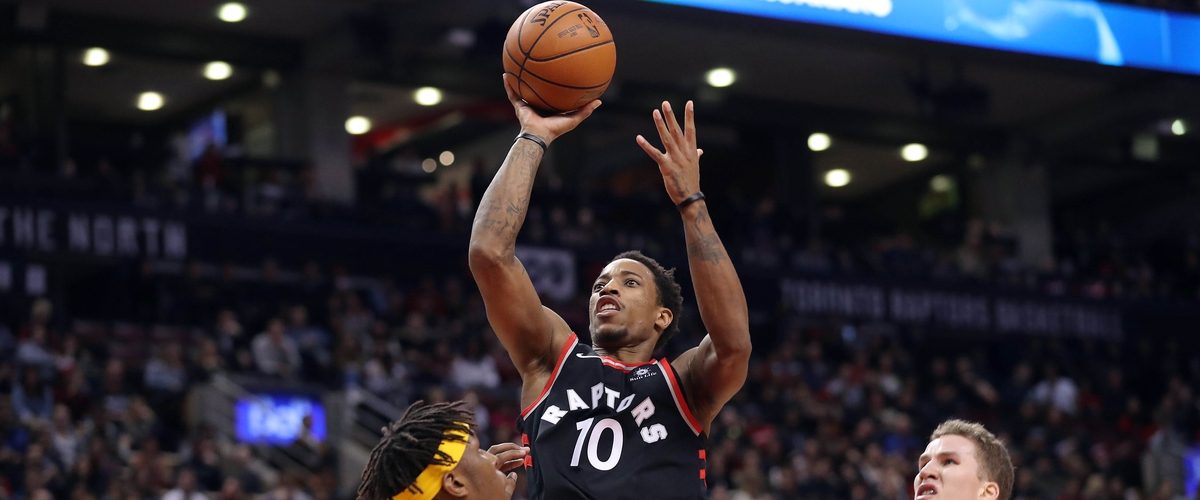 At 14-7 the Toronto Raptors sit 3rd in the East only behind the Cleveland Cavaliers and the Boston Celtics. Per usual the Raptors are in the heat of things but never leading. Over the past few years, fans have learned to temper expectations with the Raptors. Time and time again they've been let down. Losing to the Cavs in consecutive years, getting swept by the Wizards and having their all-stars Kyle Lowry and Demar Derozan disappear repeatedly throughout the playoffs While all this may be true, this year feels different. There are a number of things that are allowing the Raptors to flourish. Showing real signs of improvement from previous years.
Starting with DeMar DeRozan. Far removed from the draft when the young USC guard was taken ninth overall. Over the years DeRozan has become the "go to player" for the Raptors. He quickly accepted the role, leading him to rarely sharing the ball in the last few minutes of close games. "ISO DeMar" was fun to watch on occasion but became a major roadblock in the way of the Raptors success. His ball dominant style mimicked his idol Kobe Bryant, which left much to be desired. However, it seems that this year DeRozan has opted for change, he's averaging a career high in assists at 4.7 per game.
Not only has DeRozan managed to become a far superior passer, he has started to develop a large range. He's been one of the elite shooting guards from inside the 3-point line. It was as if he could hit anything but a 3 point shot. This year, hes taken a big step forward, shooting a career high in 3 pointers attempted at 2.7 and a career high in 3 pointers made at 0.8. Don't get me wrong these numbers are nowhere near the top of the league and that's not what we are expecting from DeRozan, but it is nice to see the initiative and effort to better himself, for the sake of the team.
Furthermore, there has been a surge of the rookies. Having lost players likes DeMarre Carroll, Cory Joseph, Patrick Patterson and P.J Tucker the Raptors were faced with many holes in their rosters needing to be filled.. That's where the young players have stepped up. In his first year, OG Anunoby has made a significant difference. After Norman Powell got injured, OG was tasked with stepping up into the starting line up. He has made an immediate impact, helping the team go 7-2 in the nine games he's played as a starter. Raptors fans rejoiced when they were given the chance to get OG with the 20th pick in last years draft. He was highly regarded on many boards and wasn't expected to fall so low.
Not forgetting about fan favorite Fred VanVleet who's become a completely different player since the shoulder injury to Delon Wright. Freddy has been putting up career numbers and has looked comfortable manning the second unit. He's even been able to play side by side with Lowry, giving Lowry the ability to roam the floor looking for his shot. Freddy has been nothing short of amazing putting in circus scoop after circus scoop when it matters most.
This brings us to the big three of Jakob Poeltl, Norman Powell and Pascal Siakam. They've each been putting up career best numbers across the board. But, what is most impressive is how smooth their transition has been with more minutes and responsibility for all three. Though, Norm was injured for a little bit to start the season, when he's played, his shooting has made a difference making him an asset when it comes to spacing the floor with his 3 point shooting while also participating with ball moving upping his Assist Per Game to 2.
The same can be said for Siakam. He's been scoring more thanks to the bigger role, but also thanks to the fact that he's shooting 2.15 3's Per Attempt compared to the 0.13 he attempted last year.
Poeltl has come in like the bison he is and thrown his weight around on the floor. Though the stats may not entirely reflect it Poeltl has been a force. He's been solid defensively doing a solid job protecting the paint. Although, he still needs to work on boxing out and ensuring to get the rebound. It appears to me that it's only a certain amount of time until he bullies Jonas Valanciunas into giving up his starting role. Poeltl has looked good playing with the vets and all of Toronto hopes it can stay that way.
Ultimately,it seems like Dwayne Casey has finally been able to implement a ball moving system by upgrading their league poor assist percentage from 47% to 57% of field goals coming off an assist. The ball movement with the addition of CJ Miles has lead to the improving their 3PA 31.7 as opposed to last years 24.3.
Things look as if they're finally coming together for the Raptors. They were close in previous years, but this year they're aiming for a lot more than close. Will LeBron and the Cavs still be too much for the new and improved Raptors?
---