Who's Fault Is It Anyways?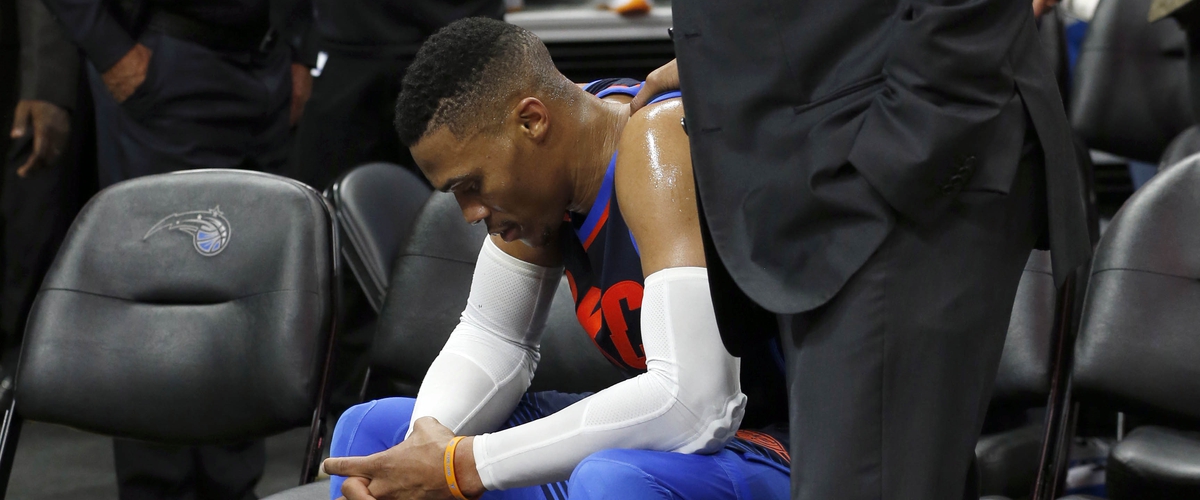 "After adding Carmelo Anthony and Paul George, Oklahoma City has a chance to get back to the conference finals — something that was unthinkable as recently as six months ago — and should win the deepest division in basketball." - Tim Bontemps Washington Post
How quickly a little time can change opinions, coming into this year the Thunder were one of the most talked about teams many people putting them at 2 or 3 in the West with the possibility of challenging Golden State to represent in the finals. But now 20 games into the season with an 8-12 record losing 3 straight and losing back to back games to the Mavericks and Magic the Thunder look far removed from that possibility. They now have a great many numbers of issues starting with the head of the snake.
Russell Westbrook. After averaging a triple-double and winning the MVP last year everyone had extremely high hopes seeing as Presti had schemed his way into adding 2 more stars for chump change. We all heard the argument "There's only one ball" and they aren't wrong but we talked ourselves into believing that they would simply figure it out when the time came. Well, that time has come and even though Westbrook is averaging close to a triple-double (21.6/9.1/9.7) for the second straight year the team continues to struggle. Both Paul George and Carmelo Anthony have regressed about 3 PPG since last year, now, of course, they're playing with 2 other stars who demand the ball but with Westbrook quarterbacking the offense it is clear to see that they've taken a tiny step back.
Adding on to the triple-doubles, it seems that there have been multiple times this year where Westbrook has gotten visibly upset with a teammate over not shooting the ball, Westbrook will be well on his way to a triple-double and drop the ball off for someone like Andre Roberson or Steven Adams and they will choose to pass it out. This has quickly lead to the stipulation that Westbrook is hunting for the triple-double and not doing what's best for the team which in turn has made them worse. Speaking of making them worse, too many of their offensive sets have ended with 3 or fewer seconds on the clock and Westbrook pulling up from 3. Yes, Westbrook is capable of hitting the 3-ball but when you're only shooting around .310 it might be time to start considering other looks.
Next in line is; well everyone else. While Westbrook is partially to blame for the Thunders current struggles we should not be turning a blind eye to the rest of the team. The bench has clearly been under-performing which has helped amplify the pressure being put in the starting line-up. If the starters can't manage to get it done then in just about every case the Thunder are going to lose. They brought in vets like Patterson and Felton with the hope that they would be able to provide a little bit of relief for the starters while they take a break but, its already clear that the signings haven't worked as well as they've hoped.
Allow me to put emphasis on the Patterson signing; time and time again he's put up duds he's been averaging career-low numbers in just about every stat having multiple 0 point games. They brought him along as a possible solution to the Andre Roberson situation in which "Pat Pat" would be able to take minutes away from Roberson to provide an offensive spark but, unfortunately, Roberson's 4.3 PPG have been more effective than Patterson's 2.7 PPG. Throughout the build-up to this NBA season maybe experts were talking about how excited they are to see Patterson play for Oklahoma and how the contract was a great deal but, any Toronto Raptors fan would have been able to tell you how well this plan was going to go. The idea alone of Patterson signing to my team gives me shivers. While Patterson isn't the only issue on the bench there are others like Alex Abrines and Josh Huestis who have left much to be desired.
Last but not least, let's not forget about coach Billy Donovan. While Donovan has shown he can lead a team to winning (2016 playoffs) he's also shown that he's lost control of his locker room. He's attempting to instill a program within the team but he just simply doesn't have the power to force it upon them and that's where he is going wrong. He's shown signs of life when he gets the opportunity after a timeout to draw up a play but not quick after the Thunder will return to playing ISO ball. Donovan was dominant back in college when he had control over his players so if he wants to be able to steer this ship right he needs to take a stance and get a hold of his players starting with Westbrook.
All this being said the season's only about a quarter way through and I haven't given up my Thunder stock but if the Thunder want to not only make the playoffs but make a hard push they need to start pulling it together and Billy Donovan needs to get control of his locker room. It all starts where we began, with Russell Westbrook.
---