Packers Squander Opportunities in Loss to Saints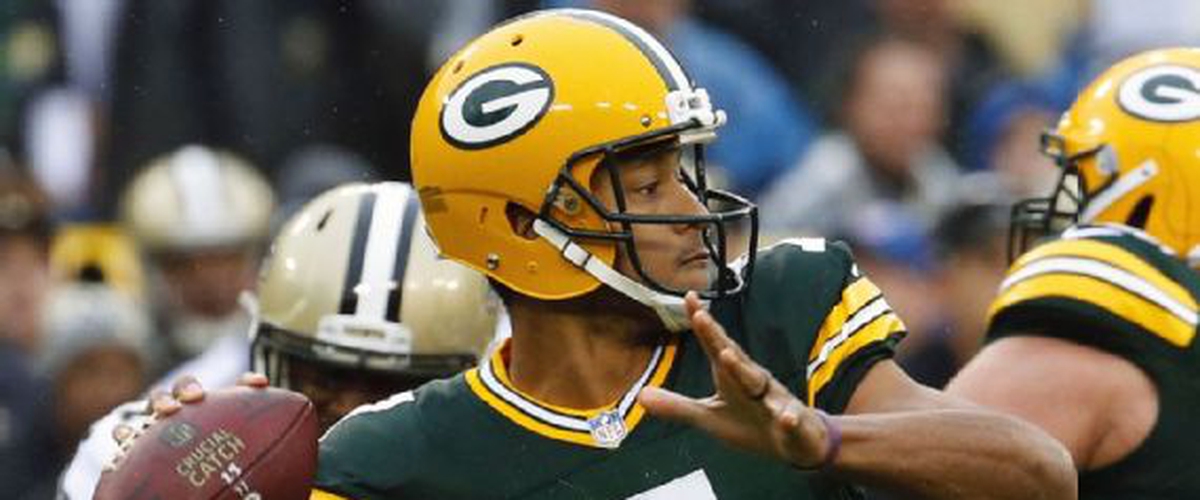 Milaukee, WI --- In a game where you start your backup quarterback behind a mangled offensive line, and with a rookie tailback next to him, and your defense forces not one but two first quarter turnovers after you take a 7-0 lead is almost a sign that everything is going to be fine. It turned out to be a dangerously fallacious approach as the Packers squandered several opportunities as the Saints outscored the Packers 19-3 in the second half to win 26-17 at Lambeau Field.
If you were to start your first NFL game at quarterback, wouldn't you like it to be against a defense that has finished 27th, 31st, 31st and 32nd in total defense in four of their last five seasons, and are coming into your house with just the 27th ranked pass defense and the worst 3rd down defense in the league (allowing opponents to convert 48.5%)?
That being said, quarterback Brett Hundley's first career start went up in flames as he was held to only 87 yards passing on 12 of 25 passes with one interception for a passer rating of 39.9. While he showed promise with his legs, he held onto the ball too long and couldn't find a rhythm in the passing game. He seemed too indecisive in his decision making, failing to complete a pass on their first three possessions, and not completing a pass longer than 15 yards. He was 0-for-4 on such throws and was just 1-of-6 when throwing outside the pocket. The only positives from this experience was the potential of dusting the cobwebs off, and his ability to run when the play breaks down.
When asked about his quarterback's play in the pocket, head coach Mike McCarthy confirmed that he was not comfortable, "I have to do a much better job with him in the drop back passing game," said a frustrated McCarthy. "He tried doing a little too much."
Future Hall-of-Fame quarterback Drew Brees, who became the only quarterback to throw for over 300-yards seven straight times against an opponent (Packers), was able to shake off two early interceptions to scorch the Green Bay defense with a multitude of throws to both receivers and running backs out of the backfield. He finished 27/38 for 331 yards with one touchdown and those two interceptions.
"I'm particularly disgusted with the second half," said McCarthy. "I thought we had our best week of preparation, and it's a crime and shame that it didn't show up today for four quarters."
It will be difficult film too watch. In the second half, the Saints scored on all four of their possessions, two touchdowns and two field goals, and did not punt once. The Packers simply could not keep up, scoring only a field goal. The two early turnovers were the only reason the Saints failed to put up 40.
McCarthy may have preached about his confidence in the young signal caller, but his play calling spoke otherwise. He never gave Hundley a chance to either win or lose the game. Instead, he placed the game on the shoulders of his rookie running back, Aaron Jones, who was almost capable of the Herculean task,. He ran for 131 yards on 17 carries, including a 46-yard touchdown run on their first possession.
"The big emphasis was on the running game this week," said Hundley, who has now thrown only one touchdown pass to four interceptions this season."I think [McCarthy] called a great game and the name of the game is we've got to execute. I didn't play well enough, and we didn't score enough points to win the game, and that's all that matters. At the end of the day, every play is designed to score a touchdown, so no matter what you call it should technically score. I have to play better and we just have to execute."
Toward the end of the game, the Saints started putting nine men in the box, daring Hundley to beat them with his arm, but McCarthy continued with a balanced attack.
No Packer finished with more than 17 receiving yards, with Jordy Nelson failing to catch a single ball until the third quarter. On one play, Jordy ran a perfect post route, but Hundley unnecessarily held onto the ball too long, allowing the safeties to enter the play and force the pass break up.
With Rodgers under center the Packers have averaged 22.8 first downs per game, but these last two games have fielded only 14 and 16 respectfully. If the offense continues to falter on gaining first downs, the team will have to rely on their inconsistent defense to make key stops or generate turnovers.
The Saints' historic offensive machine took into high gear in the second half, as receivers Ted Ginn Jr., seven catches for 141 yards and a touchdown, and Michael Thomas, seven catches for 82 yards, time and time again found holes in coverage, and running back Mark Ingram wore down the defensive line by racking up 105 yards on 22 carries.
The Packers' defense may have played well enough to win with Aaron Rodgers behind center (even that's a stretch), but not with Hundley. They allowed a season worst 485 yards of total offense, 25 first downs and failed to get consistent stops on third down (8/15).
On a positive note, linebacker Blake Martinez continues to amaze, racking up a career best 16 tackles and his coverage abilities have improved tremendously. He is slowly emerging as the heart and soul of the defense.
The Packers needed just four plays to find the end zone to start the game. Aaron Jones rumbled 46-yards, leaving everyone in his wake, to take a 7-0 lead. It was the longest run of the season.
Cornerback Demarius Randall managed to snap an interception for the third game in a row, this time in the end zone as he was playing man against receiver Brandon Coleman on a skinny post. On the next defensive series, Davon House played bump-and-run to the text book, as he grabbed the ball down the side lines on a fade route meant for receiver Michael Thomas, but the offense responded with quick three-and-outs after both turnovers.
After Randall's interception, the Packers went three-and-out, and Saints' returner Ted Ginn Jr. muffed the punt and it was recovered by safety Josh Jones. At that moment it almost seemed destined that everything was lining itself up for a Packers victory. The Saints had gone its first four games without a turnover and now the Packers had two in the first quarter alone, but it was indeed too good to be true. Jones immediately grabbed Ginn and did not allow him the opportunity to recover the ball after it was dropped, drawing the first of four penalties on Jones on the night.
After House's interception, the Packers ran the ball unsuccessfully with Ty Montgomery three straight times for a measily six yards. It seems crystal clear that Jones is their running back and Ty is best left to the sidelines or in the passing game.
After the Saints tied the game at seven, the Packers took over with 12:31 remaining in the first half, and immediately went to work on a textbook eight-play 75-yard touchdown drive. Hundley completed three of his four passes for 39 yards, but it was his legs that drew the headlines. On 3rd-and-four at the New Orleans 14-yardline, Hundley took the snap and rolled to his left and took off toward end zone, narrowly sneaking in between cornerback Ken Crawley and safety Kenny Vaccaro near the left pylon for the 14-yard touchdown.
The only problem was the drive took just 3:54 off the clock, and with a Drew Brees led offense just starting to click, you need them on the sidelines as long as possible.
The last time these teams met there was not a single punt, but after this touchdown drive, the Saints punted on their next two possessions, and the Packers' continued to squander these opportunities, this time with kicker Mason Crosby missing a 59-yard field goal in the final seconds of the half.
The Saints offense under the command of head coach Sean Payton, and executed under Drew Brees, is too resilient and persistent to be kept down for long. They came alive in the second half, generating 260 total yards and 19 points.
They scored on their opening drive, with kick returner Tommylee Lewis returning it 39 yards. Seven plays later, Brees hit Brandon Coleman for a 22-yard touchdown catch. Cornerback Kevin King, who returned after missing last week's game with a concussion, bit on a pump-fake by Brees, allowing Coleman to get outside and into the end zone for the touchdown. However, defensive tackle Kenny Clark was able to block the extra point, preserving the Packers' lead until the Saints' next possession.
Ted Ginn Jr. was nothing short of awesome Sunday evening, catching deep passes of 40, 17, and 18 yards, but the biggest was a catch off a curl route on which he burned House and took it 47-yards before finally being pushed out of bounds. The drive concluded with a field goal, giving New Orleans their first lead of the night.
The Packers took over at their own 19, and quickly went down the field and Crosby nailed a 46-yard field goal.
With 8:25 remaining, leading 19-17, and having the ball at the Packer 45, the Saints iced the cake, taking 3:30 off the clock, with Brees taking it in at the one-yardline to give the game its final score, 26-17.
On their final drive, Hundley threw a rare bomb meant for Bennett on a go-route, only for it to be badly overthrown and into the arms of Vaccaro.
The Saints ran out the clock to win their fourth game in a row after starting 0-2.
The question now is whether this will be a repeat of 2013, when the team went winless in the month of November.
"I'm sure me and Mike will sit down and go over the game, like we always do, and we'll talk and we'll figure out what we can do more of and what we don't want to do going forward," Hundley said. "So that's something that we'll figure out down the road."
---