5 trade targets for Oklahoma City after the Andre Roberson injury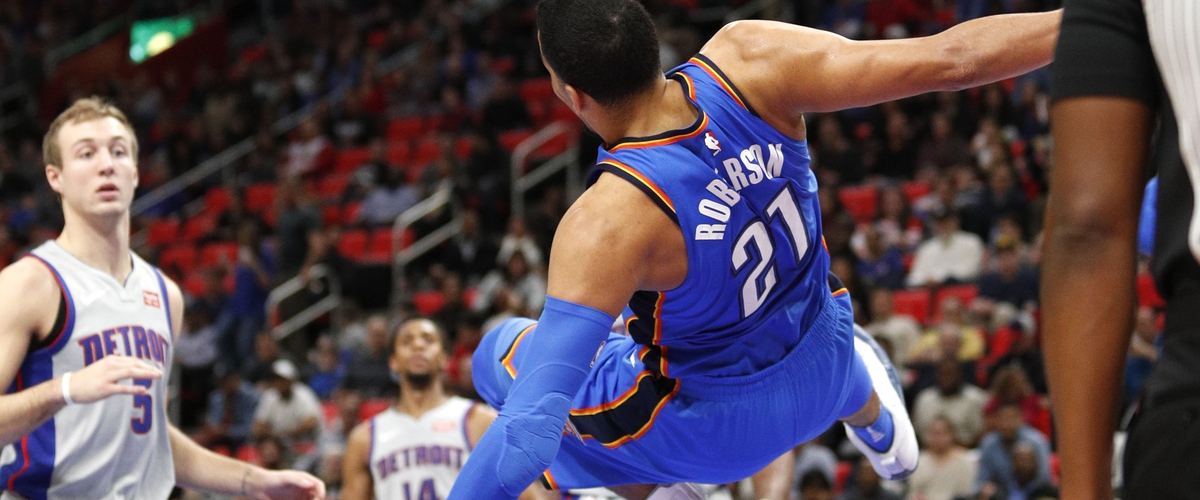 In Saturday's tilt with the Pistons, the Oklahoma City Thunder lost the NBA's best defender in Andre Roberson. Even after a 121-108 victory, the mood afterward was somber. The Thunder are put in a difficult position. Oklahoma City lacks assets, but they still need to replace their starting shooting guard. So, who should the Thunder trade for? Or, should they wait out the buy-out market? Is the team, as it currently stands right now good enough?
Oklahoma City, starting a 19-year-old scrawny kid that weighs just 184-pounds to fill out a 6'7 frame, is not good enough to compete for a title.
With no first round pick to give out until the year 2024, the Thunder are in a terrible spot in terms of giving up anything to get a valuable piece in return.
Nevertheless, who should Oklahoma City target as the February 8th trade deadline quickly approaches?
Here are 5-options for the Thunder. These trades are all via the ESPN trade machine, and I am not a General Manager, despite playing one in this article:
5) Garrett Temple: The Sacramento Kings shooting guard is on a two year deal. Temple, stands 6'6 weighing 195-pounds. The 7-year-old veteran is averaging 8-points a game for the Kings, and plays some solid defense. Temple however, is dealing with an ankle injury.
Porposed trade: Kings get Alex Abrines, and Kyle Singler; Thunder get Garrett Temple.
A pipe dream for Thunder fans: Getting rid of Kyle Singler. However, maybe Sam Presti can sell the Kings on Abrines' high upside.
4) Jeremy Lamb: The 25-year-old is having a career year, on both ends of the floor. So a reunion with the shooting guard is not out of the picture. Lamb is averaging 13-points for the Hornets, and is under a team friendly deal. Again, the problem becomes what OKC can give up.
Porposed trade: OKC ships Jerami Grant and Kyle Singler to Charlotte for Jeremy Lamb.
Jerami Grant is an impending free agent, and him alongside veteran big man Patrick Patterson seems a little redundant. Though I personally am extremely high on Grant, and would hate to see him go, it would be the only thing worth the Hornets time.
3) Courtney Lee: The Knicks departing with Courtney Lee is pretty likely this trade deadline, and the Thunder could use a 32-year-old veteran to be apart of their playoff run. Lee, provides solid defense with above average offense.
Porposed trade:
Alex Abrines and Kyle Singler to New York for Courtney Lee
Much like the rest of these proposed trade, Sam Presti would have to sell teams on Abrines' high upside. Abrine and Grant are really OKC's only tradeable pieces, as most see Josh Huestis untouchable, as he provides more to OKC than the other two.
2) Lou Williams: The Clippers just departed with Blake Griffin, and the fire sell is on. However, Williams will be a top comonity. Oklahoma City likely will not have the ability to swing a trade for sweet Lou, but can you doubt Sam Presti at this point?
Trade Proposal: Jerami Grant and Alex Abrines for Lou Williams.
Will the Clippers do this? No, probably not, but ESPN trade machine says it is a go!
1) Jonathon Simmons: This, is the apple of my eye for the Thunder to target. Simmons has spent time with the Spurs and is currently on the Magic. Simmons fits the Thunder model. A very good defender, who provides spacing and screens offensively, while being able to shoot at a .45%-clip.
Porposed trade 1: Jerami Grant, and Kyle Singler for Jonathon Simmons.
Porposed trade 2: Jerami Grant and Alex Abrines for Jonathon Simmons.
Despite being high on both Abrines, and Grant, I would be willing to part ways with both for Simmons. However, it is not up to me. I still reserve that Abrines will be a solid shooter one day, and Grant's athleticism and effort is hard to match.
The buyout market is yet to be seen. But with an extra roster spot available, the Thunder could be in play for free agent Andrew Bogut, when the veteran big-man makes his decision on where to sign after the deadline. Bogut, obviously will not fill a shooting guard role, but provides much needed depth in the Thunder frontcourt.
---