Playoff P shows why OKC is a legit title threat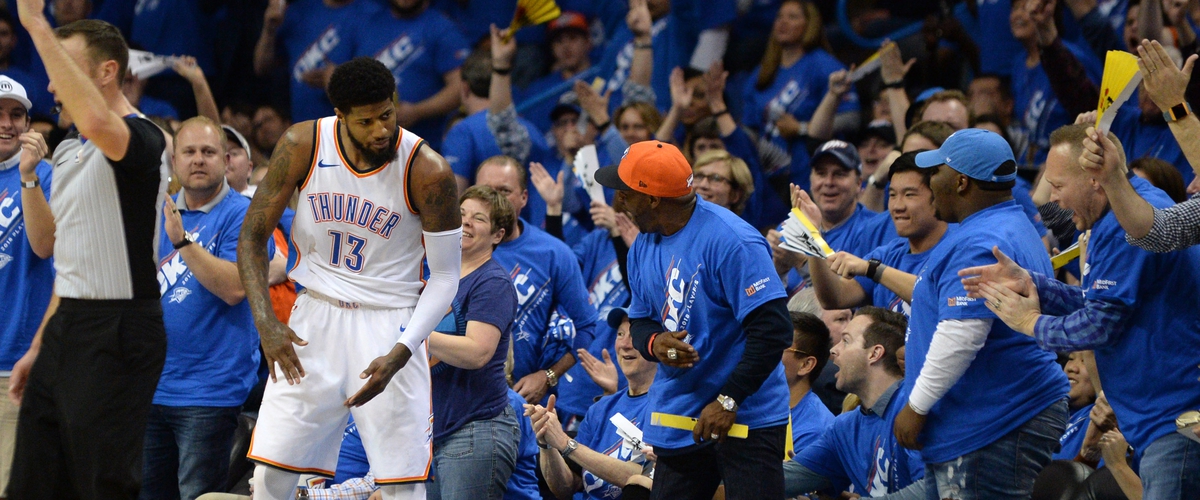 The NBA Playoffs got underway this weekend, with your Oklahoma City Thunder taking the floor Sunday night as the 4-seed clashing with the 5th-seed Jazz. Oklahoma City took full advantage of their home court advantage downing the Jazz, behind their loud and proud fans 116-108.
Saturday, Paul George was asked about the different levels of intensity that ramp up during the postseason, and he replied with a sly smile saying "Oh, Yall aint met playoff P yet, huh?" and he was right. George was traded for during the offseason and this was his first playoff game as a member of the Thunder, he introduced playoff P to every Thunder fan, real quick.
Paul George set two franchise records last night and collected 20-points before the break. He finished with 36-points on 65% shooting. His damage was truly done behind the arc where he nailed 8 three's, making them at a 72% clip. That mark was good enough to break both Most-threes-made-in-a-single-game, and playoff game, franchise records. George missed the latter half of the fourth quarter due to muscle tightness. That was diagnosed as a hip contusion after the game. Thunder head man Billy Donovan struggled to even call it an injury to his starting small forward and that sentiment was echoed by George who reassured the media he has never missed a playoff game.
Jazz rookie Donovan Mitchell has a foot contusion, and although he himself seems confident he will play in game 2 after posting 27-points in just 34-minutes of his first ever playoff game, the team said his status for the game Wednesday will be determined Tuesday afternoon.
Paul George has spent this season being questioned about his competitive nature by some. While always being praised for his stellar play, and very good season, some questioned whether he truly wanted to be the man. He was passive on the floor, and reserved with the media. That was total flipped when the ball was tipped in game one. He had a different confidence, a different look about him. That showed why this Thunder team is a truly threat to not over get to an NBA finals, but raise the Larry O'Brien trophy when it is all said and done.
While you can not expect Paul George to light the nets on fire, and hold his opponent to just 13-points throughout the entirety of the playoffs, however the "drop off" from Sunday's performance will not be that drastic. Even if he does fall off for a game, Oklahoma City has three more guys there to pick him up. The reigning MVP, Russell Westbrook, shot at just a 40% clip Sunday, with a -1 plus/minus, and a 29-13-8 statline. He was pressing, and trying to settle in. One could expect him to be even better come Wednesday night, and beyond. Steven Adams only turned in 12-points and 7-rebounds, while Carmelo Anthony was active defensively with 3-steals and 2-blocks, if things fall right he can absolutely spark this team with more than just the 15-points he gave out yesterday.
Wednesday night the Thunder and Jazz meet again in bricktown with OKC looking to approve upon their 1-0 series lead.
For more Thunder news, notes, content, and opinions follow: @Rylan_Stiles and @LoudCityPod on twitter.
---