2017 Los Angeles Rams Preview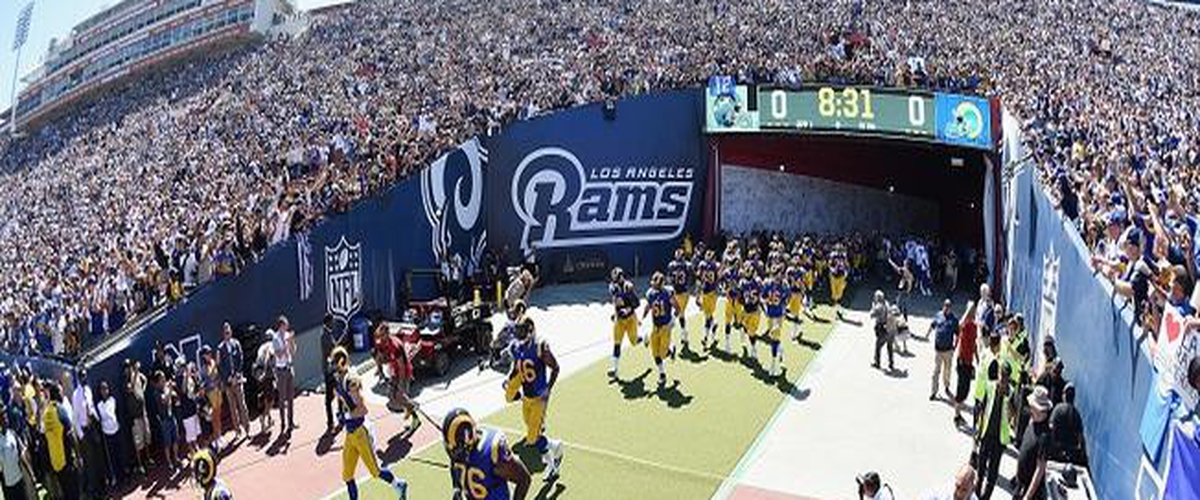 With the first team in the NFC West, I will be analyzing the Los Angeles Rams. The first year back in Los Angeles was a disaster for the Rams, as they struggled to score points and had one of the worst defensive seasons in recent memory. Not only that, but former number one overall pick QB Jared Goff struggled as well, and the season was a bust. This year, the Rams are trying to slowly build back up towards a brighter future, but it will probably take some time.
DRAFT RECAP
After giving up a fortune to select Goff last year, the Rams had no first round pick. That made their second round selection their first, and they took TE Gerald Everett after selecting Tyler Higbee last season. They also took two receivers early: Cooper Kupp in round three and Josh Reynolds in round four to try and bolster an awful group of receivers. S John Johnson was taken in the late third round to help at the safety position after losing TJ McDonald.
FREE AGENCY
The big signing was Robert Woods on a five year deal worth more than $30 million, despite not being great in Buffalo. They also brought in a 35 year old tackle in Andrew Whitworth, for about the same contract as Woods, just for three years. They brought in backup CB Kayvon Webster from Denver, and OLB Connor Barwin from Philadelphia, and they should help reboot the defense. The other notable signings were CB Nickell Robey-Coleman from Buffalo and DT Tyrunn Walker from Detroit.
PLAYERS LOST
DE Eugene Sims is still a free agent, and he might be the biggest loss. Then again, when you go 4-12, the losses aren't huge. S TJ McDonald went to Miami, and TE Lance Kendricks was the second tight end in two years to go from LA to Green Bay. They also gave up on two receivers, Kenny Britt and Brian Quick, but it's not like they made a huge difference. Last year's opening day QB Case Keenum also left, opening the door for Goff to start this season.
STRONGEST POSITION
The Rams have a good player here, and a good player there, but no group really stands out as a strength. I might go with corner, as Trumaine Johnson is the most underrated CB in the NFL, and there are three solid options after him as well. Aaron Donald makes the defensive tackles a strength by himself, and if they really are going with Robert Quinn at OLB instead of DE, then the linebacking group is pretty talented as well.
WEAKEST POSITION
It's a lot easier to find this one, and that's wide receiver. The Rams signed a guy in Woods who had 613 yards and one touchdown to about $7 million per year, showing how desperate they are. Tavon Austin is a good end-around player and kick returner, but he can't be a number one guy. After that, it's rookie Cooper Kupp, second year pro Pharoh Cooper and rookie Josh Reynolds. None of them stand out as elite receiving options for a young QB in Goff. At least they can grow together.
FIVE MOST IMPORTANT PLAYERS TO THE RAMS' SUCCESS
QB Jared Goff, RB Todd Gurley, DT Aaron Donald, OLB Robert Quinn, CB Trumaine Johnson
Obviously, the Rams are going to rely a lot on Goff if they want to jump start this rebuilding process, but as of now the offense relies on Todd Gurley if they even want to move the ball at all. Gurley still had a solid season numbers-wise, but he needs to play more like he did as a rookie. Aaron Donald is the best DT in the NFC, and Trumaine Johnson is an underrated corner. Quinn is the best outside pass rusher, and needs to stay healthy to have an effect on the defense.
PREDICTIONS
The defense does not look as fearsome anymore, and the offense just looks atrocious once again. They have a lot of youth there, Tavon Austin is the veteran now, but man, they might pray for 14 points per game. I think this offense will put them in the running with the Bears and 49ers for the worst team in the NFC.
---