2017 San Francisco 49ers Preview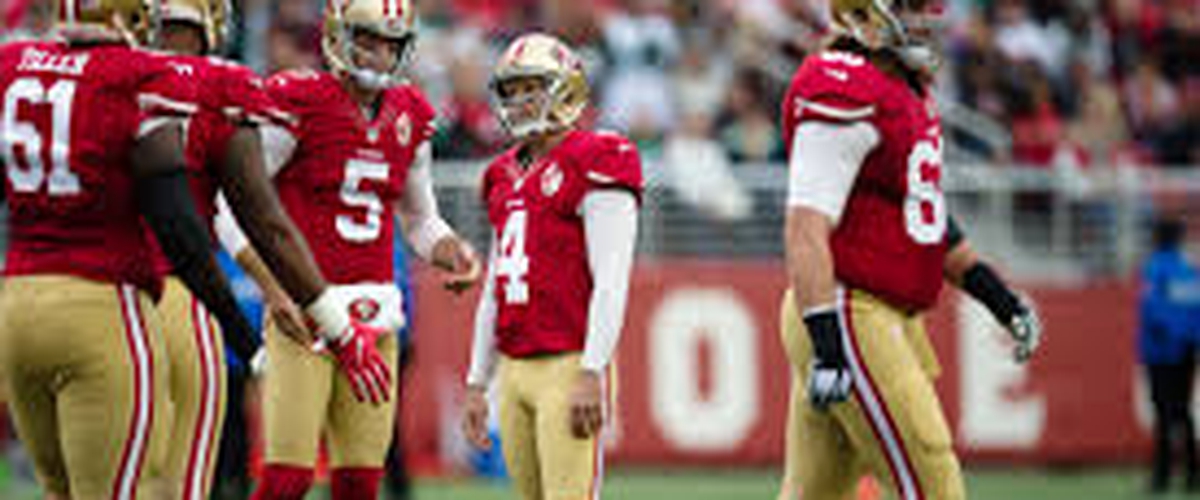 With the third team in the NFC West, I will be discussing the one with the most turnover of them all, the San Francisco 49ers. After bringing in both a new coach and general manager this off-season, the 49ers have work to do to get back to where they were under five years ago. So far, they are heading in the right direction, but don't expect a drastic improvement of last year's win total.
DRAFT RECAP
The 49ers traded down with the Bears one spot, and still got the player they wanted in DE Solomon Thomas. Later, they traded up with Seattle to get ILB Reuben Foster in the first round, and that duo could become special. They took CB Ahkello Witherspoon in the third round to help boost a pretty poor unit, and added RB Joe Williams from Utah in round four.
FREE AGENCY
The 49ers, as with all new GM's, did a lot in free agency. They added help to the receiving spot with both Pierre Garcon, Aldrick Robinson and Marquise Goodwin, along with TE Logan Paulsen. The biggest signing was ILB Malcolm Smith from Oakland, and they also spent a weirdly large amount of money on FB Kyle Juszczyk from Baltimore. They brought in DT Earl Mitchell from Miami, OLB Dekoda Watson from Denver, RB Tim Hightower from Baltimore and K Robbie Gould from New York. They also brought in two new QB's, both from Chicago, in Brian Hoyer and Matt Barkley.
PLAYERS LOST
When players are gained, players are lost, although it's not quite as bad. WR Torrey Smith went to Philadelphia, while S Antoine Bethea and K Phil Dawson both went to Arizona. ILB Michael Wilhoite went to Seattle, while Shaun Draughn and Quinton Patton both went to the Jets. The entire QB group is gone, in Colin Kaepernick, Blaine Gabbert and Christian Ponder. Defensive linemen Glenn Dorsey and Tony Jerod-Eddie are still free agents, and so is Trumaine Brock.
STRONGEST POSITION
This belongs on the defensive side, and should they all be healthy and stay healthy, I'm going to say the front seven as a group. Nothing really stands out as extra strong, but they have depth at all three linemen spots, and a good group of starters at linebacker. It's highlighted by the two first round draft picks (DE Thomas and ILB Foster), but also has DE DeForest Buckner, ILB NaVorro Bowman, LB Malcolm Smith, OLB Ahmad Brooks, among others.
WEAKEST POSITION
I'm not going with QB because that is too easy, but I'm not a big fan of the corners in San Francisco. There is not a lot of experience there, only one NFL interception last season among the current group, and nobody recorded more than 30 tackles either. They may turn out to be good players, but for now the lack of experience is there.
FIVE MOST IMPORTANT PLAYERS TO THE 49ERS' SUCCESS
RB Carlos Hyde, WR Pierre Garcon, DE Solomon Thomas, ILB NaVorro Bowman, LB Malcolm Smith
I'm not putting QB here because it doesn't really matter who it is, because Carlos Hyde is what will make this offense have any semblance of respectability. Pierre Garcon might be able to help them find a semblance of a passing game, but it's unlikely. All top five picks are expected to perform well right away, and it's no different for Thomas. Bowman has been around for a long time, and is the leader of this defense. Malcolm Smith was brought in to live up to the expectations he created for himself in Oakland.
PREDICTIONS
I'm not sure if this team is better than the Rams or not, I think they have better offensive talent, but the defense might not be as strong. Both of these teams aren't making the playoffs, and don't be shocked to see the 49ers on the clock for the draft at the end of the season.
---