Brewers Player-By-Player Preview
33#52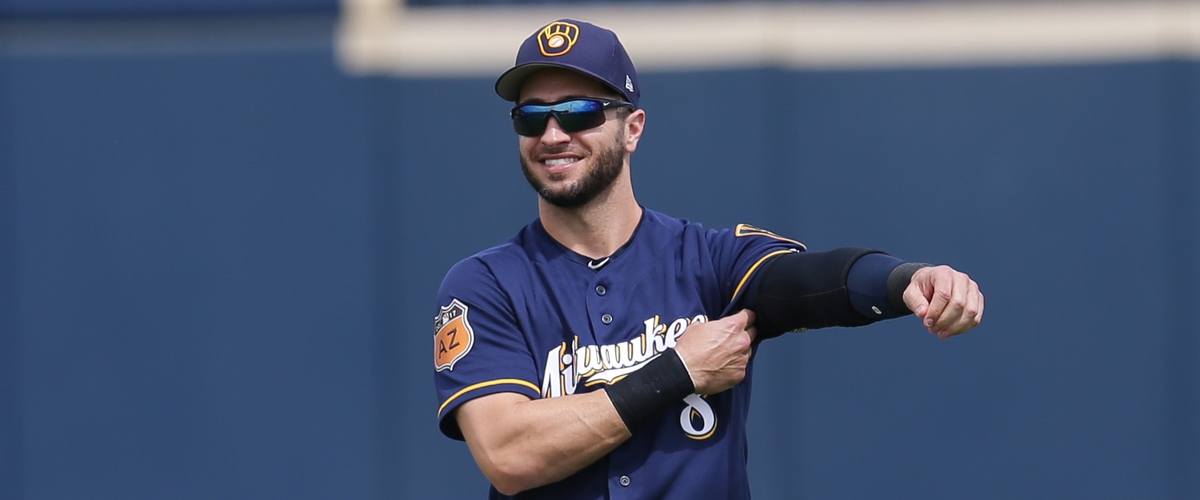 Yes, the Brewers still have one too many players on the active roster at the moment, all vying for the remaining bullpen spots, but as baseball usually works, all of these guys are going to be up at some point anyways. Bullpens never stay 100% in tact throughout a single season, that's just how the game is. And getting through Spring Training with only suffering the loss of C Andrew Susac (which made choosing two catchers easier) and SP Matt Garza (who I believe is more "benched" than hurt) is a great start. Here is my player-by-player preview of the 25 man roster.
CATCHERS
#9-Manny Pina: Pina had the best spring of basically any Brewer not named Jesus Aguilar, and thus he won the wide-open catching derby in Spring Training. If Pina continues to play like he did in Spring, expect him to become the guy with the majority of games started.
#47-Jett Bandy: Bandy had a good debut with the Angels last year, and he probably has the most upside of the trio (including Pina & Susac). Expect Bandy to start out as the primary backup and if Pina struggles, he might get more playing time first.
INFIELDERS
#3-SS Orlando Arcia: Arcia is the rookie that many fans are hoping will become a phenom sooner than later. I'm not quite as optimistic, as I believe Arcia is just the first of many with future prospects. I wouldn't expect him to be as bad as he was at the end of last season, and if he plays well he might move up in the batting order.
#5-2B Jonathan Villar: I'm being very cautious on my expected productivity of Villar, mainly because he came out of nowhere with that breakout season. He was traded for Cy Sneed, and while that is highway robbery, it also may hint at a bit of a step-back season into his real form.
#7-1B Eric Thames: Don't expect a 40 HR 100 RBI season from Thames like he put up in Korea the past three seasons, but a 25 HR 80 RBI line is well within reason. He is the biggest wild card in the starting lineup, and possibly on the entire team.
#14-UTIL Hernan Perez: This is basically the ninth position player on the roster, as he can play all seven of the diamond positions and is now listed as the emergency catcher. Think of Javier Baez of the Chicago Cubs, and that, to a lesser degree, is what to expect from Perez.
#21-3B Travis Shaw: Traded from the Boston Red Sox in the offseason, Shaw had a nice spring for the Brewers. At the very least, he has shown that he can at least withstand the pressure from some of the young infielders in the minors putting pressure on his future. Expect him to compete for the second-best run producer behind Ryan Braun.
#24-1B/DH/? Jesus Aguilar: He is the second biggest wild card, and is probably the most likely guy to be the first pinch-hitter in a lot of ball games. I'd expect him to get one or two starts a week, and at this point he has earned it after that monster spring.
OUTFIELDERS
#8-LF Ryan Braun: The (by far) longest tenured Brewer is still out in left field, and while many don't know how much longer he will be there, expect him to continue to produce at a high level. In other words, we know what Braun can do.
#10-OF Kirk Nieuwenhuis: Nieuwenhuis is still around, and he is the main backup in center behind Keon Broxton. Braun will play virtually everyday, and when he doesn't Perez will likely get the start, so don't expect a ton of Nieuwenhuis. He's a nice fourth outfielder for a rebuilding club.
#16-RF Domingo Santana: Santana started to come on a bit at the end of last season, and if he continues to produce expect him to hold off some of the prospects for the entire season. If he struggles again, expect whispers to be heard in Miller Park about Lewis Brinson.
#23-CF Keon Broxton: I hope we get post-All Star break Broxton instead of the one from April-July, because that one just couldn't stay in the majors. Now, he is one of the most exciting players on the team, and is kind of Carlos Gomez-esque in many ways.
STARTING ROTATION
#41-Junior Guerra: Guerra is officially the ace of this rotation, and after that dominant rookie season he is going to look to keep it up in year two. Don't take spring stats into too much consideration here as pitchers tend to work on stuff, and expect him to at least play like a mid-rotation starter if not an ace.
#27-Zach Davies: Davies was the other guy guaranteed a spot in the rotation besides Guerra, and he has solidified the number two role. He's a back-end of the rotation guy, but expect quality pitches, good control and outs.
#38-Wily Peralta: Last year's Opening Day starter is now the third guy in the rotation, and he really struggled before being sent down last season. Expect him to at least be serviceable, if he doesn't have a full bounce-back season.
#57-Chase Anderson: I'm not sure if Anderson is actually the fourth starter over Jimmy Nelson or not, but he is the guy getting the ball on day four. Anderson is an innings-eater until the prospects come up.
#52-Jimmy Nelson: There were a lot of expectations for Nelson when he first came up from the minors, and I must say he hasn't lived up to those expectations. He was pretty good for the first half of last season, but struggled down the stretch. The Brewers need him to play like they hope he can.
BULLPEN
#37-Neftali Feliz (CL): Feliz is the closer for now, although he did struggle somewhat in Spring Training. He is the only guy with significant experience closing, and the Brewers are probably hoping to get more prospects for him at the deadline.
#59-Carlos Torres: Torres was the best reliever from last year's team that did not get traded, but that shouldn't be seen as negative. He was superb for most of the season, leading the team in ERA and appearances among non-closers. He's a go-to guy out there.
#46-Corey Knebel: Some people believed Knebel could eventually be a closer for this team, I'm starting to believe that time has passed. He is one of those guys who is more potential than substance at the moment.
#53-Jhan Marinez: Marinez came to the bullpen out of nowhere in the middle of last season and did a pretty good job, and should be one of the main late-inning guys that Craig Counsell goes to.
#50-Jacob Barnes: Barnes struggled in spring, but his youth and potential are what is keeping him on the active roster. If he pitches very good in the first half and Feliz gets traded, expect him to be a front-runner to be Feliz' successor.
#33-Tommy Milone (LHP): Milone is the only lefty in the bullpen, and that might be why he made the team. He's a reliever who can throw multiple innings as well, but his spring showed us that he is not reliable at this time.
Taylor Jungmann, Tyler Cravy and non-roster invitee Rob Scahill are battling for the final two bullpen spots, and expect them to go to Jungmann and Cravy.
---