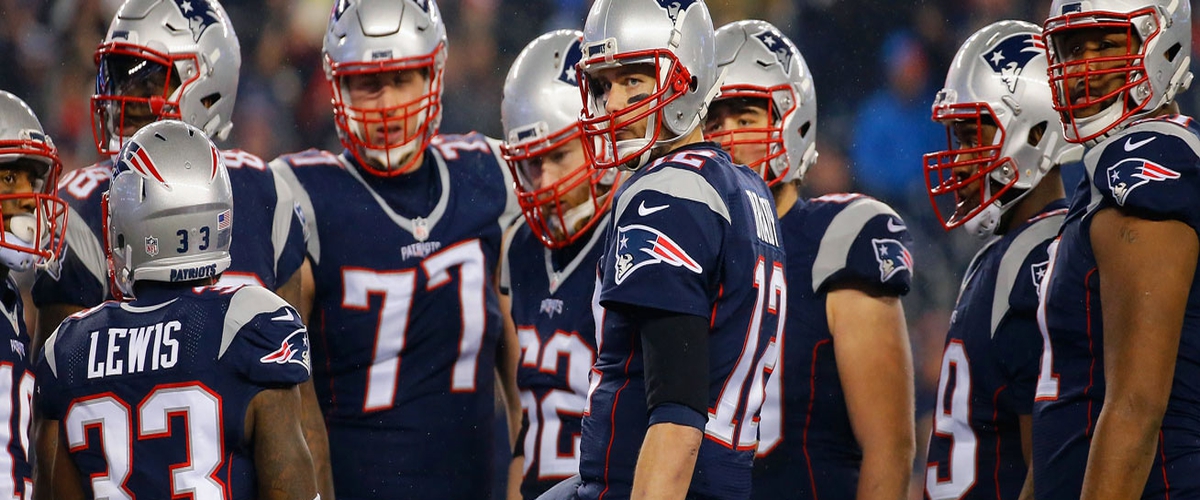 To start off my NFL team previews this season, I will begin with the defending Super Bowl Champions, the New England Patriots. Once again, they are clear favorites in the AFC East, especially after poaching some of the better players from their division rivals (see Buffalo Bills) and just adding talent everywhere. The draft wasn't that impactful, but they traded those picks for players who can help Brady potentially win a 6th and maybe 7th Super Bowl. Here is my preview for the Patriots.
DRAFT RECAP
The Patriots only had four selections in this year's draft, and they used them on offensive linemen and defensive ends. Third rounders DE Derek Rivers and OT Antonio Garcia aren't going to see a ton of playing time, but Rivers could get in on third downs. Defensive end was among the thinner positions on the team, but they covered that pretty clear. Offensive tackle wasn't a weakness necessarily, but now they are deep their.
FREE AGENCY
The Patriots went to the trade market first this off-season, trading for DE Kony Ealy from Carolina, TE Dwayne Allen from Indianapolis and WR Brandin Cooks from New Orleans. Both of those trades cost them some draft picks, but I think it's safe to say that Cooks will have more impact than whoever they would've taken with #32 in the first round. Ditto for Ealy. In free agency, they brought in CB Stephon Gilmore from Buffalo, and he upgrades that position tremendously. They also brought in backup RB Mike Gillislee from Buffalo, and that adds depth as well. DE Lawrence Guy and RB Rex Burkhead were brought in as well.
PLAYERS LOST
Obviously, the Patriots will lose some players to free agency after winning a Super Bowl. TE Martellus Bennett went to the Packers, but that was off-set by Allen and the return of Rob Gronkowski. DE Jabaal Sheard went to Indianapolis, but they added a lot of help on the edge this off-season. CB Logan Ryan went to Tennessee, but Gilmore is an upgrade too. The only other loss was veteran DE Chris Long. RB LeGarrette Blount leads their current free agents, but they don't need him at all. The Patriots improved.
STRONGEST POSITION
Obviously it's quarterback, but I'm going with the people he passes too as a hole. The offensive line looks pretty set, but Tom Brady has so many weapons now. Five more than reliable wide receivers, multiple backs out of the backfield who can make plays, and two tight ends, including the best in the game. There is no shortage of playmakers.
WEAKEST POSITION
This is really tough, but the fourth corner position is unclear. I know it's petty, but what if Gilmore or Malcolm Butler got hurt? Look what happened to Green Bay after they lost Sam Shields. I'm not too crazy on the defensive tackle depth either, but knowing Bill Belichick, it won't matter too much because they are better than I think.
FIVE MOST IMPORTANT PLAYERS TO THE PATRIOTS' SUCCESS
TE Rob Gronkowski, WR Julian Edelman, ILB Dont'a Hightower, CB Stephon Gilmore, S Devin McCourty
This is not including Tom Brady because it's so obvious, but honestly any one of these guys can go down and the Patriots will be fine. I think Gronkowski and Edelman are still the keys to the passing game, however. CB Stephon Gilmore is a big addition, and him playing well is probably the most important of them. Devin McCourty is a dynamic safety, and Dont'a Hightower is the leader of the front seven. I could have easily had five other players here, however.
PREDICTIONS
New England has the NFC South and the AFC West this season, and back to back games in Denver and Oakland will probably define this season for the Patriots. Oakland is one of the biggest competitors to dethrone the Patriots as AFC Champions, and Denver is always a tough place for New England. That starts off a five out of six game stretch on the road, with a three gamer with Buffalo, Miami and Pittsburgh and a home game with the Dolphins. I think New England can easily go 4-2 in those six, and shouldn't be worse than 13-3 on the season. I'm going to have fun and pick against the Patriots in the AFC title game, but they win the division.
---