The Bearded-One has been feasting all November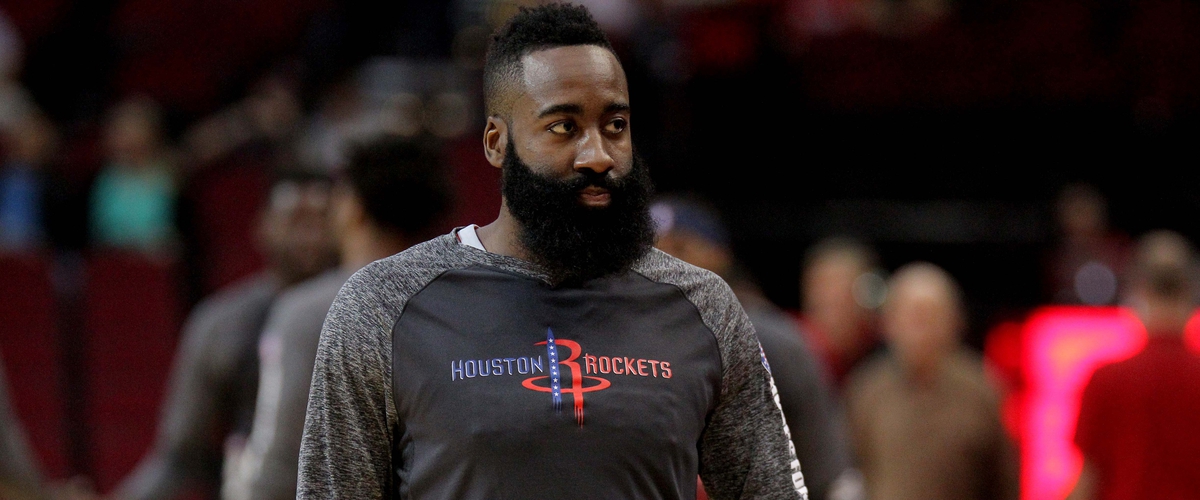 The month of November is a time for gatherings and big plates for most Americans.
The Turkey is in the oven for a while, as the aroma of the bird fills your home each year on a late Thursday in November.
For Houston Rockets guard James Harden however, it has been an eventful month on the court to say the least. The bearded one has been on a tear of late, spearheading a 6 game win streak for his team to start the month. Despite being overshadowed by the Greek Freak in Milwaukee and Kristaps Porzinigis in the MVP race, Harden is letting his play do the talking.
The offseason acquisition of Chris Paul was a great way to help Harden in the backcourt. But the All-Star guard has been sidelined with a knee injury and has not played since October 17th. This left Harden to shoulder the load, a task that is not foreign to him. Entering his eighth year as a pro, his second year as point guard in Mike D'antoni's offense, Harden is once again playing MVP caliber basketball.
Harden leads the league in points per game averaging 30.7 and in assists with 10.3. He also has improved his shot making beyond the arc, dialing in 64 three pointers made thus far which is also 1st in the NBA. He is averaging a career best 4.3 three point makes a game.
His signature game of the month came versus the Utah Jazz on November 5th as he posted 56 points along with 13 assists in just 35 minutes of playing time. His efficiency which is often questioned was off this charts this outing. Harden made 19 of his 25 Field Goals and 7 of his 8 three pointers. He also finished the night shooting 91 percent from the free throw line.
Harden was one point away from breaking the franchise record of 57 for most points scored ever by a Rocket. In this performance of 50+ points and 10+ assists while shooting 75 percent from the field, he joined Wilt Chamberlain as the only players to ever do so.
Four days later he recorded a triple double against the best player in the world, leading his Rockets to a 117-113 victory over the Cleveland Cavaliers on November 9th. Harden finished with a stat line of 35 points, 11 assists, 13 rebounds, and 5 steals. He joined Michael Jordan as the only players in NBA history to record a triple double with at least 35 points and 5 steals.
On November 12th on the second night of a back-to-back, Harden dropped a season-high 15 assists along with 26 points leading the Rockets to a 118-95 road victory over the Indiana Pacers. The night before on November 11th, he scored 38 points on 25 shot attempts en route to a 15 point win over a stingy Memphis Grizzlies team at home. He most certainly has Western Conference Player of the Month for November in the bag with averages of 36.1 points, 11.4 assists, and 5.1 rebounds 7 games into the month.
It isn't all just about the numbers with Harden, it's the victories he is helping his team accumulate. The Rockets are currently the second seed in a competitive Western Conference. They hold a record of 11-4, one game back of the reigning NBA champion Golden State Warriors. Not to mention Harden led the Rockets to an opening night win over those Warriors.
In the last two seasons alone, Harden has finished second in MVP voting behind Stephen Curry and Russell Westbrook respectively. With all the talk centered around Kevin Durant and the defending champ Warriors as well as Oklahoma City's new big 3, Harden certainly has a chip on his shoulder.
With six contests remaining in November and a long 82 game season yet to reach a mid-way point, will Harden continue his dominance? If joining the likes of Jordan and Chamberlain 15 games into the season is not enough to secure the MVP award, Harden undeniably has his sights on leading his team to the NBA Finals.
---