Victor Oladipo has taken his game to a whole new level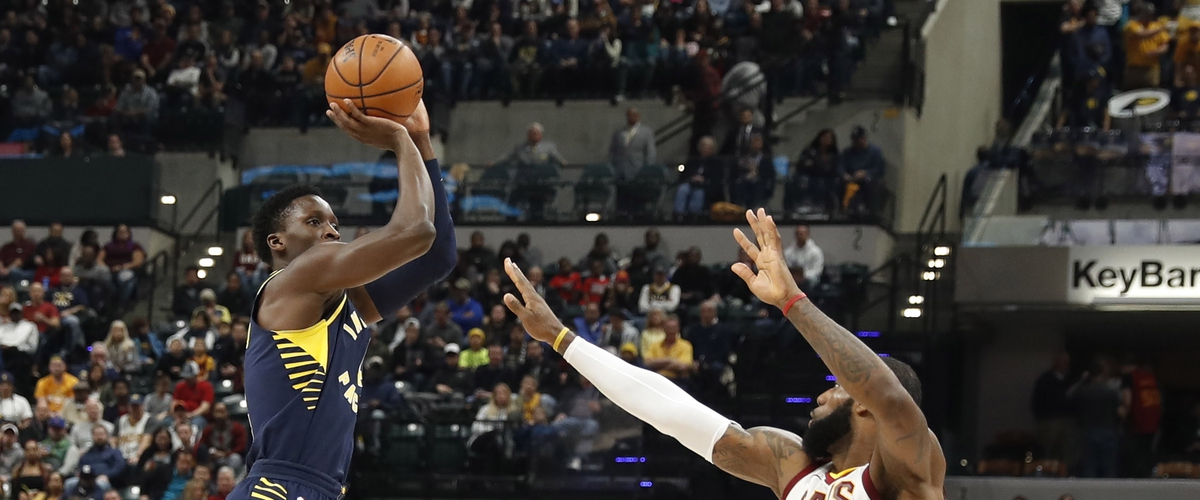 One of the major trades during the NBA's whirlwind of an offseason was when the Oklahoma City Thunder acquired star forward Paul George from the Indiana Pacers. In exchange the Pacers received Domantas Sobanis and Victor Oladipo, which left many in disbelief.
The deal clearly looked one sided and OKC looked like they committed highway robbery. "Most of the NBA execs I have talked to since Paul George trade feel that Kevin Pritchard was just too hell-bent on keeping George out of Eastern Conference; made it emotional instead of taking the best offer," reported Jeff Goodman of ESPN.
After having a down year in Oklahoma City, many doubted Oladipo would have a huge impact in Indiana and thought less of the Pacers entering the 2017-18 campaign.
Entering the offseason he dedicated to working on his body and coming back a better player. "I have high expectations for myself, so I don't feel like I've played well. I feel like I could have played a lot better," Oladipo said after the season.
"I'm going to work and work, and I'm going to work some more," Oladipo said. "After that, I'm going to work some more after that."
27 games into this season and Mr. Oladipo is demonstrating to everyone he is a man of his word. The Pacers are the fifth seed in the Eastern Conference and are off to a surprising 16-11 start. Oladipo has been the catalyst and is averaging career numbers (23.6 PPG, 5.3 RPG). In the last three contests, his fourth quarter heroics has single handedly led his team to victory.
It started with this dagger of a three on Dec. 6th against the Chicago Bulls, he finished with 27 points and 8 rebounds in that contest.
Two nights later, Oladipo recorded 33 points, 8 rebounds, and 5 assists while making 6 threes to help the Pacers defeat the Cavs 106-102 on Dec. 8th. This win ended Cleveland's 13 game win-streak.
"He's definitely an All-Star," said Cavs Head coach Tyronn Lue prior to the game.
On Sunday he scored a career-best 47 points, while grabbing 7 rebounds, and dishing out 6 assists versus the Denver Nuggets. In this game, he led his team back from a 19-point deficit to come from behind and win in overtime 126-116. Arguably the best game of his career, Oladipo looked like a player who was poised and as comfortable as ever.
Watch this play as Oladipo raised the roof of Banker's Life Fieldhouse with a two-hand jam:
This stretch of games for Oladipo earned him Eastern Conference Player of the Week for the second time this season. For a guy who underperformed last season in Oklahoma City and had big shoes to fill in Paul George, he is becoming to the go to guy for Indiana down the stretch. He has made all the clutch plays when needed.
One of the underlying stories is that Oladipo returned to the city of Indiana where he attended college for three years. He is on pace to be named an All-star for the first time in his career this February and a lead candidate for Most Improved Player of the year.
Whether he is doing push-ups in post-game interviews for missing free throws or slicing through the lane for lay-ups, Oladipo is indeed living his best life. Did I mention he is also dating Instagram model Bria Myles? Sky's the limit Victor, continue to prosper on and off the court.
---