1-3 Playoff Run Starts Now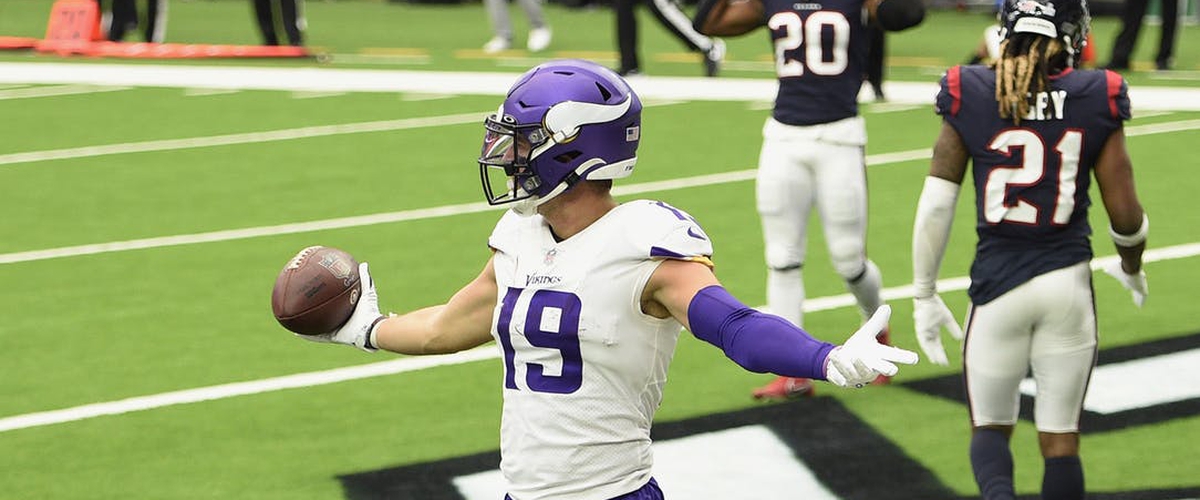 Week 4 Summary
It happened! The Minnesota Vikings are finally in the win column, and even more importantly no longer in dead last in the North! It may not have been the prettiest win, but during this time for us any win is a good win and it happened on the back of our workhorse Dalvin. The Chef ended with his 2nd 100+ yard game of the season and his 2nd multiple scoring game of the season. He has quickly moved to the top of the NFL rushing leaders. Besides Dalvin, our two headed monster in Thielen and Jefferson also found themselves over the century mark. Another takeaway is that we allowed the fewest points they have all season with 23. Yes, last year we averaged the 6th fewest with 18.9 points per game, but this is a step in the right direction. Our special teams even got in on the action and forced a fumble which led to a Dan Bailey field goal. Before we start looking at next week, let's talk about week 4.
Dalvin Cook is slowly making a case as to why he is the best back in the NFL. It's shown that when he is fed the ball, good things happen. From the two past weeks and getting him the touches he needs, it's showing that he is the catalyst to this team. Right now, Dalvin is 1st in rushing yards (424) and touchdowns (6), 3rd in yards after contact (202), broken tackles (10), 4th in total attempts (75), and 5th in yards per attempt (5.7). The dude is an absolute beast so far this season. If he keeps this up, be ready for a ton of Dalvin- Adrian comparisons throughout the year.
It wouldn't be a correct article if I didn't mention the huge steps forward that Garrett Bradbury has taken this year. Bradbury is ranked as the Vikings best O-lineman so far this season and his tape proves it. Making strides in the pass and run game so far this year. Best of all? He's only allowed 2 pressures so far this year (PFF Vikings). Yes our line is still in need of help, but doesn't it feel good that at least one person making strides?
After being placed into a starting role, I think Jeff Gladney had one of his best performances. Takeaway one play and the dude allowed like 20 yards all day. A critical step we needed him to take, especially with us going against a matchup we haven't seen anything like this year. This week it looks like we are going to have him and Dantzler on the outside with Hughes in the Nickel. SO with that being said, why don't we look at our next opponent.
Week 5
This week we face the Seahawks in Seattle at primetime, stop me if you've heard that one before. I swear these guys should be considered a divisional opponent with how many times we play them. Obviously this will be a tough week for us. MVP frontrunner Russell Wilson and his two stud receivers will not make this an easy game for us. Our struggling defense is going to be in for a handful, but let's look at the facts. The Seahawks rank dead last in yards allowed per game and give up 27 points on average. The one outlier is that their rush defense allows the 3rd fewest rushing yards per game with 75. This is no way going to be a defensive battle, although I think the two biggest players will be Ant and Hitman. With their big play receivers and our young corners, we are going to need help over the top. If we want a chance, our offense has to compete with theirs; it's going to have to be a shootout. A plus is that the Vikings rank 1st in explosive play rate (1st in pass and 3rd in run; Nick Olson twitter). Our defense is going to give up plays and more than likely not going to have many turnovers. The key for this week is going to be getting stops at the right time. Defenses on average are allowing more points and yards this year. In order to win, Kirk needs to have the best game of the season, our defense needs to limit mistakes, force THEM to make mistakes and then capitalize on them. If we can find a way to do that, we just may be able to sneak out of there with a 2-3 record.
---