Forced Turnovers Late, Six Sacks By Chicago Defense Doom Seahawks On Monday Night
The Chicago Bears came out on Monday Night Football looking to avenge their Week 1 loss to the Green Bay Packers, a game in which they led by 20 points in the second half before the defense imploded and allowed a one-legged Aaron Rodgers to lead a comeback. This week, it looked like another late collapse was setting up for the Bears and their defense who had dominated Russell Wilson and the Seattle Seahawks offense for three quarters.
It was a mostly quiet start to this one after a 10-play, 96-yard opening drive by Mitchell Trubisky and the Chicago offense that ended in a three-yard touchdown pass to tight end Trey Burton put the Bears up 7-0 early on. After that Trubisky struggled for most of the second half, but the Seahawks were unable to capitalize on the opportunities the Bears gave them. On back-to-back drives in the second quarter, the Bears' quarterback threw an interception to cornerback Shaquill Griffin and both times Seattle's offense went three-and-out, failing to produce any points off the turnover.
Following the interceptions, Trubisky recovered on his last drive of the half which ended in a 25-yard field goal by kicker Cody Parkey to give the Bears a 10-0 lead in the final minute of the half. But then Russell Wilson came alive as the half winded down and led a quick drive that lasted just over a minute to get the Seahawks on the board with a 56-yard field goal by veteran kicker Sebastian Janikowski. They would trail 10-3 going at halftime, despite numerous opportunities the Bears had gifted them to pull even or go ahead.
All was quiet for a majority of the third quarter as both teams traded punts before Trubisky began leading a long drive that continued into the fourth quarter. Just 45 seconds into the fourth, Trubisky hit receiver Anthony Miller for his first career touchdown grab to give the Bears a 14-point advantage. However, Russell Wilson was determined to keep Seattle in this game and responded with a 19-yard touchdown pass to Tyler Lockett, capping off a 10-play, 75-yard drive to pull Seattle back within seven and over half a quarter still to play.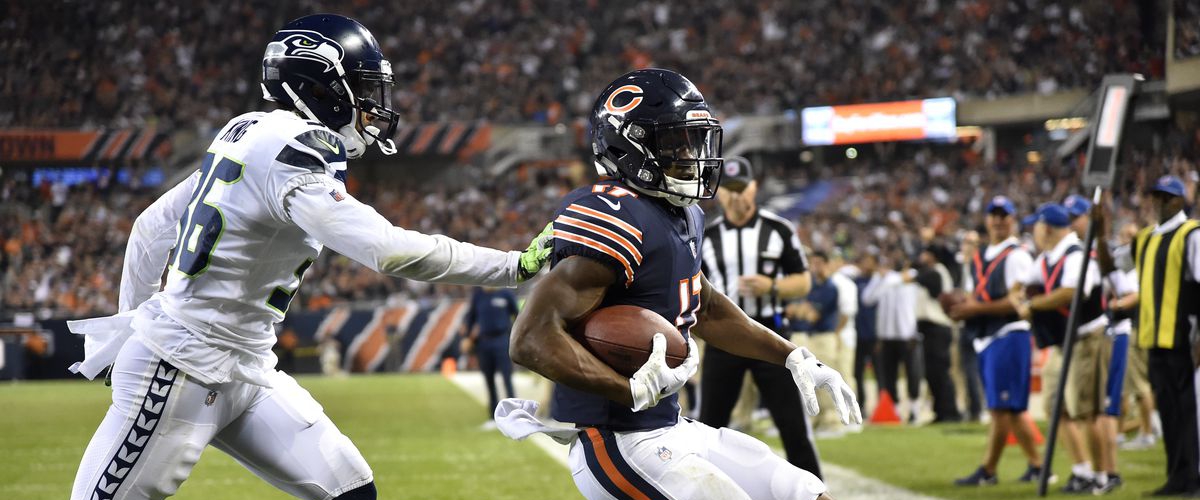 It seemed like momentum was shifting as a quick three-and-out by Chicago gave the Seahawks a chance to tie the game. But on 2nd and 9 from their own 46-yard line, cornerback Prince Amukamara cut off a pass from Wilson and took it 49 yards to the house for a touchdown, giving the Bears a 24-10 advantage. Wilson followed up that pick-six with a fumble which happened as he was being sacked for the sixth time on the night. Linebacker Danny Trevathan stripped the ball loose from Wilson and it was picked up by linebacker Leonard Floyd for Wilson's second turnover in the fourth and second of the game. That would prove to end Seattle's comeback hopes even though they would get another touchdown on a two-yard pass to tight end Will Dissly in the closing seconds of the game.
When it was all set and done, Wilson finished the game 22-for-36 with 226 passing yards, two touchdown passes, an interception, and a fumble. He was sacked six times on the evening for a total net loss of 24 yards. Additionally, Seattle's run game continued to lack much existence like it did last week and last year, totaling up just 74 rushing yards on the evening. On the Bears side Mitchell Trubisky was mediocre at best but got the job done. He finished 25-for-34 with 200 passing yards, two touchdown passes, and two interceptions. It was Chicago's defense which is continuing to get even better than it already is, that stepped up in this one. Danny Trevathan finished with two sacks and a crucial forced fumble that all but ended Seattle's chances of a comeback. As the two teams head into Week 3, Seattle will head home to face the Dallas Cowboys next Sunday at 0-2 and the Bears will take on the Arizona Cardinals on the road, feeling good at 1-1 on the year.
Chicago Bears 24, Seattle Seahawks 17
Questions or comments? Email [email protected] and follow @mtvhottakes on Instagram and Facebook to know when new stories are posted.
---