Goff Throws 5 Touchdown Passes in Offensive Shootout, Leads Rams to Victory
With the Minnesota Vikings coming into Los Angeles to take on the Rams following an embarrassing loss to the Bills last, redemption was likely on the mind of both the offense and defense coming into the Thursday night matchup. There would be some of that with the offense, but none of that on defense as the Rams hung up 38 points on the Minnesota defense en route to a 38-31 victory. It was an impressive showing from both Kirk Cousins and Jared Goff as both quarterbacks led drive after drive down the field, producing points for their respective squads.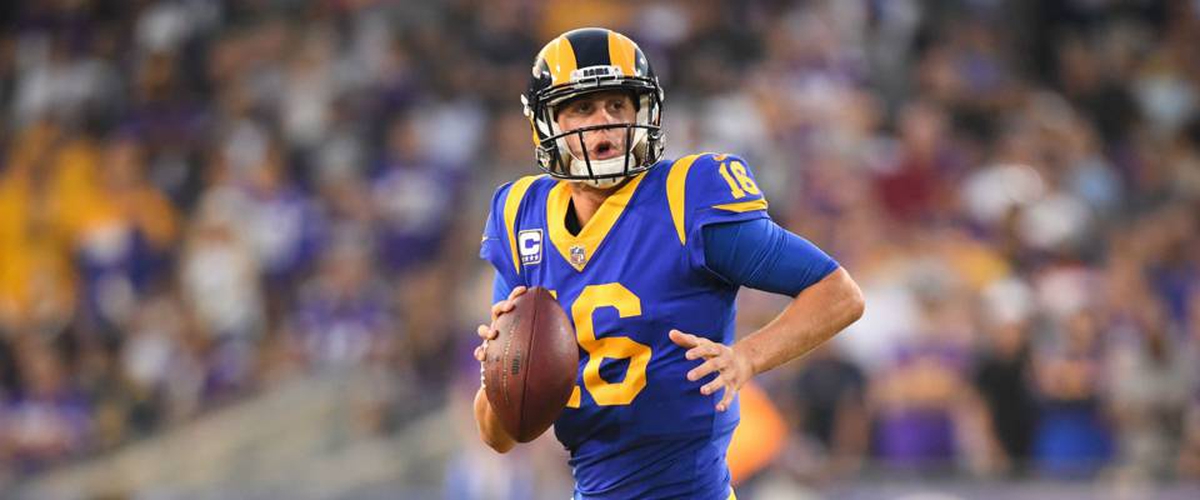 Following a terrible performance last weekend, Kirk Cousins came out on the opening drive to march the Vikings down the field with a 14-play drive that lasted just over seven minutes and resulted in a 16-yard touchdown to Aldrick Robinson to give Minnesota an early 7-0 lead. It was a solid half of scoring for both teams, though, and Jared Goff responded with a long drive of his own to tie the game at seven on an eight-yard pass to Todd Gurley. Following the long opening drive, Los Angeles produced points on three of their next four drives of the half in four plays or less. These were all touchdown passes from Goff as he hit Cooper Kupp for a 70-yard score, Kupp again for a 19-yard touchdown, and then Brandin Cooks with the 47-yard pass to tally up 28 first half points for the Rams.
With a half like that, it would seem like the Rams would have a large lead heading into halftime. However, Kirk Cousins was doing his best to match the first half effort by Goff, producing points for the Vikings on three of their next five drives following the opening drive score. The only difference was their points were coming off the foot of kicker Dan Bailey instead of in the end zone for six. Bailey knocked a 37-yard try in the middle of the second to give the Vikings a 10-7 lead before Cousins would put together a brief touchdown drive that put them in front again, 17-14 after hitting Aldrick Robinson for his second touchdown of the evening. Following two touchdowns by the Rams to go up 28-17, Bailey booted a 39-yard field goal to get Minnesota within eight heading into the locker room.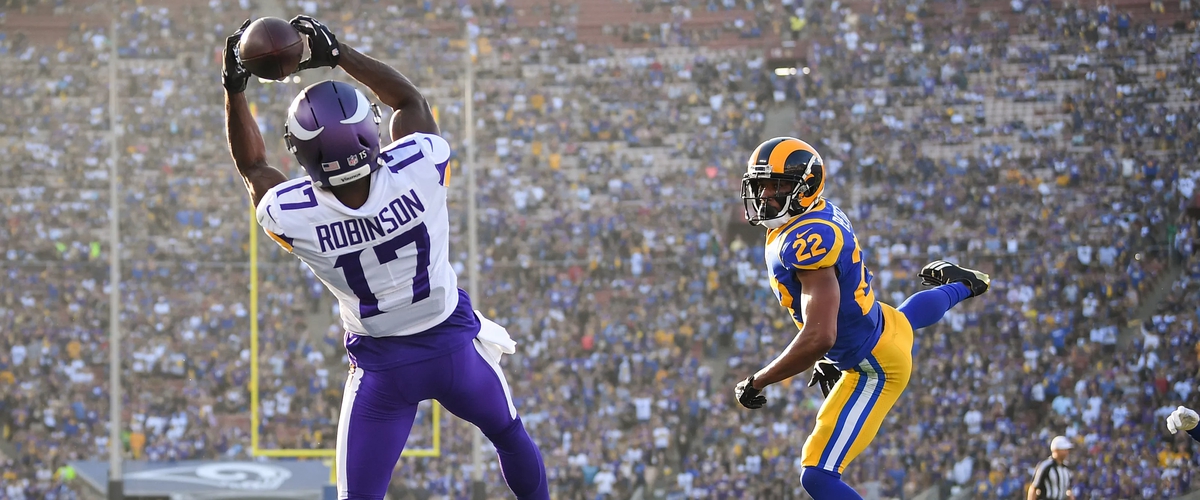 The offenses toned it down for the second half when compared to the performance they put up in the first half. Following a punt by Minnesota, Goff led the Rams offense into the red zone of the Vikings before stalling out and settling for a 34-yard field by kicker Sam Ficken to go up 31-20. Like most of the night, Minnesota responded and Kirk Cousins hit Adam Thielen with a 45-yard touchdown pass and Latavius Murray for the two-point conversion to cut the deficit down to three, 31-28. Like they had done all night long though, Los Angeles responded and Goff hit Robert Woods for a 31-yard touchdown and his 5th passing touchdown of the night to stretch the lead back up to 10. For a moment, it seemed like momentum had shifted in favor of the Vikings when Ficken missed a short 28-yard field goal to the right, giving Minnesota the ball back and a chance to score trailing by just 10 still.
The Vikings took advantage of the miss, and Cousins got the offense down to the 14-yard line of the Rams for 2nd and 6 before stalling out, leading to a 40-yard make by Bailey to pull them within seven. A short while later, Minnesota's defense forced a quick three-and-out after a four-yard run followed by an incompletion to Gurley put them in a third and long situation in which Woods only gained six yards on the the play. Facing fourth and inches, the Rams attempted to draw the Vikings offsides and failed to do so, resulting in a punt to give Cousins a chance to tie things up. After taking a sack on first down, Cousins was able to get a fresh set of downs at the 48-yard line of the Vikings with a 13-yard pass to Laquon Treadwell. But John Franklin-Myers came around the edge and knocked the ball loose from the hands of Cousins on first down to force a fumble, off-season acquisition Ndamukong Suh was able to recover it. Although the Vikings had a slight chance to get the ball back, a 10-yard run by Gurley with just over a minute left in the game ended those hopes as the Rams took this one, 38-31.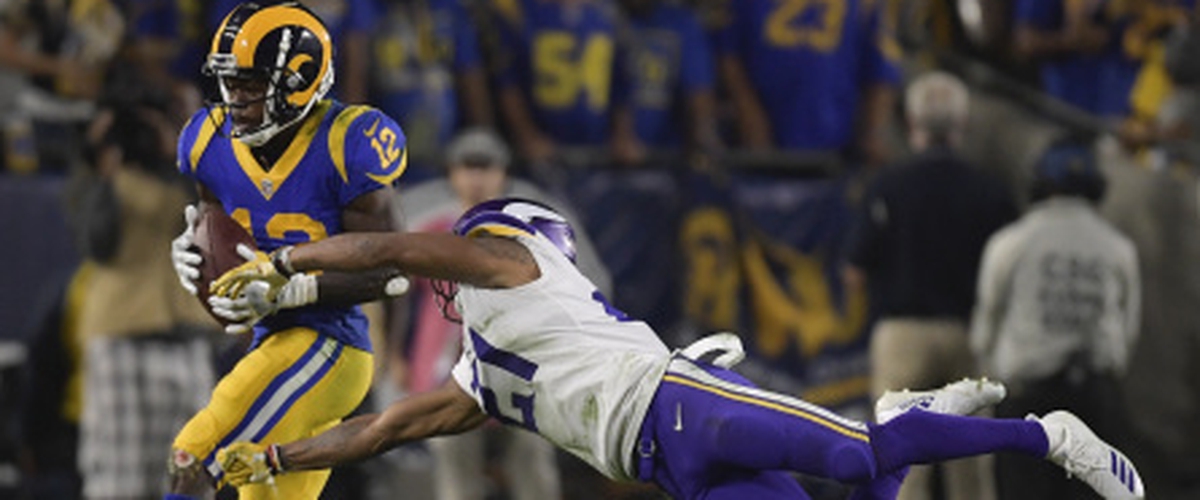 This was a game to remember for Jared Goff. The third-year quarterback, finished the game 26-for-33 with 465 passing yards and five touchdown passes. Three of his receivers topped 100 yards as Cooper Kupp hauled in nine catches for 162 yards and two touchdowns, Brandin Cooks recorded seven catches for 116 yards and a score, and Robert Woods snagged five passes for 101 yards and a touchdown. As a whole, the Los Angeles offense put up 565 total yards of offense in this one. They will take their 4-0 record to Seattle for a division matchup with the Seahawks next Sunday. Let us not forget Kirk Cousins as he also had a solid game, Cousins finished 36-for-50 with 422 passing yards and three touchdowns. But it was the crucial turnover at the end of this one that ended up being a difference maker. Minnesota's receiving core saw two players top 100 receiving yards as Adam Thielen recorded 135 yards on eight catches and found the end zone once. Stefon Diggs was the other receiver with 123 yards on 11 catches. Minnesota falls to 1-2-1 on the year and faces an NFC Championship rematch with the Philadelphia Eagles in Philly next Sunday.
Rams 38, Vikings 31
Questions or comments? Email [email protected] and follow @mtvhottakes on Instagram and Facebook to know when new stories are posted.
---