NFL Week 5: Two Undefeated Teams Left and Conference Races Still Tight
We are officially through the quarter point of the NFL season and only two undefeated teams remain. The Kansas City Chiefs and Los Angeles Rams have both started 4-0 this season and possess prolific offenses that continue to generate points against their opponents. So will they both move to 5-0 this weekend as we head into the month of October? We are about to find out, but first, an updated look at the prediction record of MTV's Hot Takes going into October:
Last Week: 9-6
Season Record: 36-25-2
Another week of predictions over .500, that makes it four out of five weeks with a percentage of games correct over the even mark. So without further ado, let us try and make it five weeks!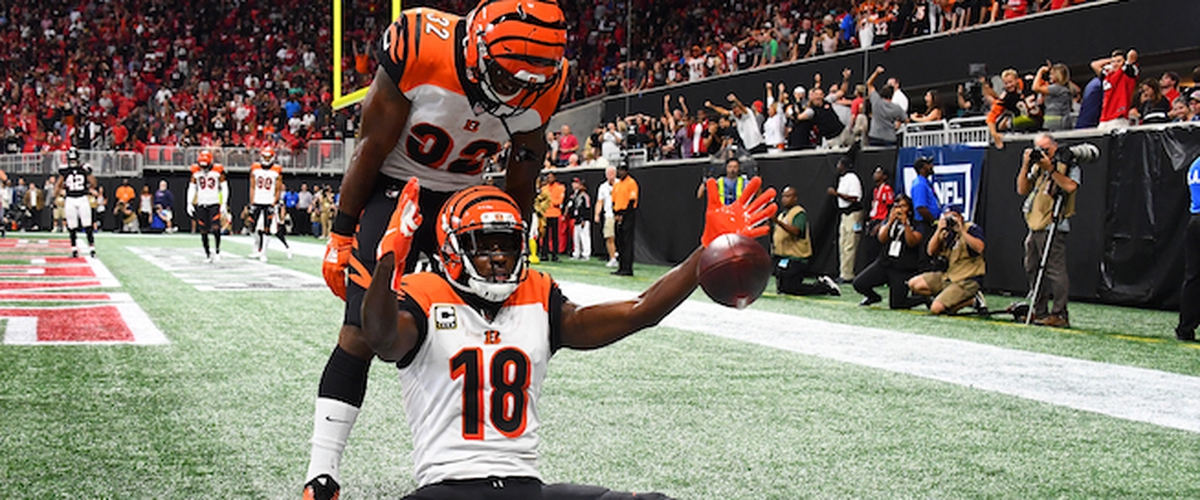 Week 5 Predictions:
Thursday Night Football
Indianapolis Colts (1-3) @ New England Patriots (2-2) 8:20 PM EST
Tom Brady absolutely torched Miami at home last Sunday and now he gets a chance to keep his momentum going just four days later as the Patriots get a Thursday Night Football matchup at home versus the Colts. Indianapolis has struggled against New England with Andrew Luck as their quarterback. Luck is 0-5 as the starter which included two playoff losses, except for an October matchup in 2015, the other four meetings have been blowouts. However, since then the Colts have changed their offense a lot and they have gone toe-to-toe with the Eagles and Texans the last two weeks before falling just short of a victory. Regardless, this is New England's game, and the result could very well be similar to the previous matchups.
Patriots 35, Colts 20
Sunday Football
Tennessee Titans (3-1) @ Buffalo Bills (1-3) 1:00 PM EST
One week after the offense exploded against the Vikings, the Buffalo Bills reverted back to their old way and rookie Josh Allen threw two picks in a shutout loss to the Packers, 22-0. On the other hand, Tennessee is starting to heat up after winning their third straight game, this time against the defending champion Eagles in overtime to move to 3-1 on the year and stay tied with the Jaguars in the division. Playing the Bills on the road is never an easy task, but there really is not much of an offense to speak of and the defense can only bend so much before they break against Marcus Mariota and the Tennessee offense. Watch the Bills prove me wrong...
Titans 24, Bills 6
Miami Dolphins (3-1) @ Cincinnati Bengals (3-1) 1:00 PM EST
Just like we all expected from these two teams, 3-1 starts and on top of their respective divisions. This game could be crucial for tiebreakers at the end of the season when it comes to who makes it to the playoffs. The Dolphins need to get going early after being blown out versus New England or else it will be a long day in Cincinnati. The Bengals have momentum after beating the Falcons on the road with a last second touchdown from Andy Dalton to A.J. Green, expect the fans to be fired up for this one. Ryan Tannehill needs to find tight windows to throw into and the running game of Miami has to get going if they want a chance in this one. It is one of those games where Adam Gase's team needs a strong rebound performance in what could be a make or break game later on this season. Unlike the past, I believe his team delivers, and Miami gets a crucial road win to maintain their AFC East lead.
Dolphins 23, Bengals 16
Baltimore Ravens (3-1) @ Cleveland Browns (1-2-1) 1:00 PM EST
Division games are never sure wins and coming into this one, the Browns look like a different team. Baker Mayfield is a stud who helped lead the Browns to 42 points of offense in a heartbreaking overtime loss to the Raiders. We saw the way they matched up with the Steelers in Week 1 and while the Ravens are certainly no slouch with their balanced attack on offense, they are not a team that Cleveland cannot beat. Joe Flacco is having a hot start to his season with 1,252 passing yards and eight touchdown passes to lead Baltimore to 3-1. His ability to hit a variety of receivers makes the offense of the Ravens even more dangerous. Cleveland is going to play tough in this one, but I think they will struggle to get Carlos Hyde going in the run game against a Baltimore defense that is fourth versus the run. That will be a huge difference maker even if Mayfield can get it done with his arm since he is still developing as a rookie.
Ravens 28, Browns 21
Green Bay Packers (2-1-1) @ Detroit Lions (1-3) 1:00 PM EST
The Lions had a poor follow-up performance to their game against the Patriots in a close loss to the Cowboys last week. Now they will have to take on a tough division opponent in the Packers. Yes, Detroit swept the season series last year, but there was no Aaron Rodgers which is obviously a huge factor when anybody plays Green Bay. Now with a semi-healthy Rodgers, Green Bay will look to get back into the win column against their division rival and deal a potentially deadly blow to their division title hopes. If the Lions are able to rekindle the Sunday Night magic they had against the Patriots when they controlled the time of possession and dominated on defense, then they have a chance to win it. However, Aaron Rodgers is Aaron Rodgers and has only lost to the Lions three times in his career, do not expect a fourth loss on Sunday.
Packers 27, Lions 14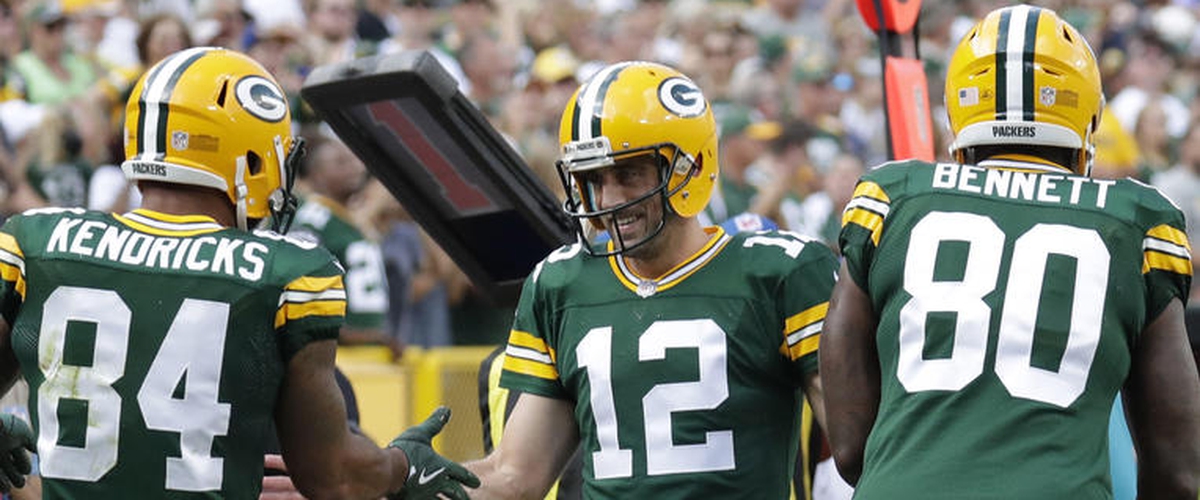 Jacksonville Jaguars (3-1) @ Kansas City Chiefs (4-0) 1:00 PM EST
This is an intriguing matchup that could sway either way. Kansas City's defense did a good job stopping the passing game of Denver, something their secondary had struggled with in weeks past. It took a comeback, but Patrick Mahomes continued his stellar start to the season to keep the Chiefs undefeated. Blake Bortles has a chance of having another big game like he did against the Jets if Kansas City reverts to its old ways on defense. Coupling this will a strong Jacksonville defense and it could spell loss number one for the Chiefs on Sunday. Mahomes is putting up great numbers to start the year, throwing for 1,200 passing yards and 14 touchdowns through four games. But this will be probably be the toughest defense he has faced so far this year and while I do not think he will fall flat on his face, I do not expect him to fully thrive either which will not be enough for the Chiefs to win.
Jaguars 20, Chiefs 10
Denver Broncos (2-2) @ New York Jets (1-3) 1:00 PM EST
Sam Darnold has been a shell of what we saw in his debut versus the Lions. Similar to college, turnovers have been an issue for him and he has thrown five interceptions to just four touchdown passes. Not to say Case Keenum has been any better though as he has thrown three touchdown passes and six interceptions on the season. Given the way both quarterbacks have played to this point, we could see quite a defensive game with both quarterbacks turning the ball over numerous times. On the flip side, this could also potentially be a run-heavy game with Isaiah Crowell leading the charge for the Jets and Phillip Lindsay pounding the rock for the Broncos. It could very well depend on how effective each quarterback is for their respective team. But I like Denver's odds of getting back in the win column for the first time in two weeks because of their stout run defense that could end up forcing Sam Darnold to throw the ball more and make a mistake.
Broncos 17, Jets 10
Atlanta Falcons (1-3) @ Pittsburgh Steelers (1-2-1) 1:00 PM EST
The Steelers will play their second straight game at home after a prime-time loss to the Baltimore Ravens on Sunday Night Football. When Ben Roethlisberger gets something going on offense, Pittsburgh sustains that momentum and it results in a strong showing. But when he struggles to find that rhythm, the offense is lifeless as they have played with Le'veon Bell this year. Matt Ryan has been money through his first four games, throwing for 1,316 passing yards and 10 touchdown passes for the 1-3 Falcons. He has been manufacturing plenty of offense for Atlanta since the opening night loss to the Eagles, but the injury-riddled defense has failed to hold on in the last two games. This could be a perfect opportunity for Roethlisberger to lift the Pittsburgh offense and move them to 2-2-1 this season. Atlanta is desperate for a win, and this has the potential of another offensive shootout, one I think the Falcons will outmatch the Steelers in.
Falcons 42, Steelers 35
New York Giants (1-3) @ Carolina Panthers (2-1) 1:00 PM EST
The Giants had numerous opportunities to take control against the Saints last week, but failed to do so, and New Orleans made them pay in the second half. Now they have to face a Carolina team fresh off the bye week to avoid starting 1-4 this year. This seems like a recipe for disaster for New York and unless Eli Manning can capitalize on the opportunities the Giants get on offense, they will not have a chance in this one. A fresh Cam Newton and Panther offense should yield positive results for Carolina coming out of the bye and into their next 13 games of the season.
Panthers 28, Giants 13
Oakland Raiders (1-3) @ Los Angeles Chargers (2-2) 4:05 PM EST
The Oakland Raiders finally won a game thanks to a big fourth-quarter performance against the Browns that led to them stealing the game in overtime. Now they have a division game against the Chargers on the road after Philip Rivers helped rally the team past the 49ers with 20 unanswered points to reclaim the lead once before Caleb Sturgis put them up for good with a fourth-quarter field goal. As long as Rivers is manning the offense, the Chargers are always a threat in the passing game which makes their offense versatile considering they have Melvin Gordon in the backfield. Oakland had their chance to celebrate Jon Gruden's first victory since returning to coaching, but will not have the pleasure of enjoying a second one in LA.
Chargers 23, Raiders 16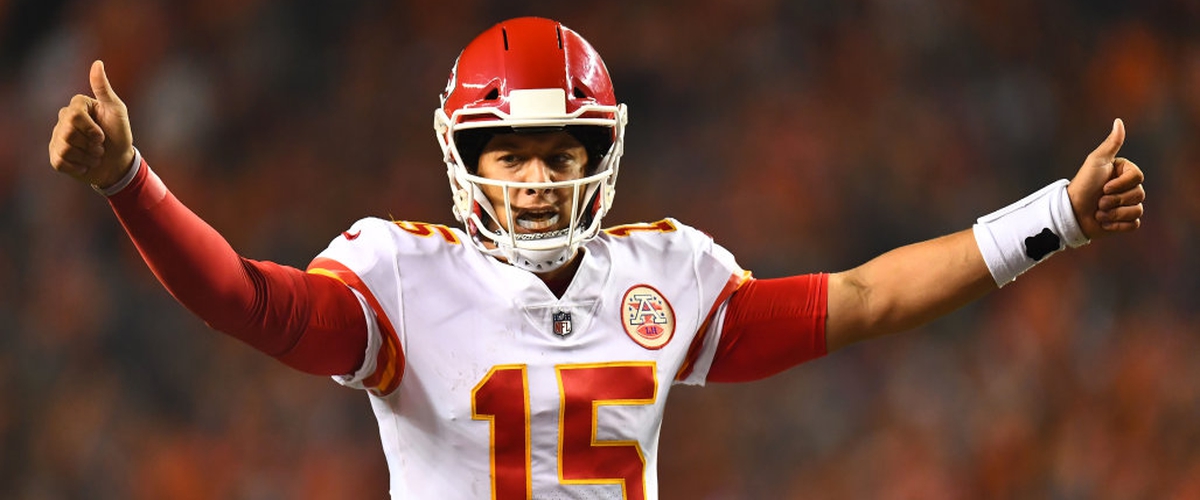 Minnesota Vikings (1-2-1) @ Philadelphia Eagles (2-2) 4:25 PM EST
A rematch of the NFC Championship Game from last year in which the Eagles obliterated the Vikings by a final score of 38-7. With the way Minnesota has played on defense the last two weeks, allowing 27 points to the Bills and 38 points to the Rams, could we see another blowout like that game? The Vikings need this game in order to keep pace in the NFC North, but so do the Eagles if they want to gain momentum and start pulling away from the rest of the pack. Carson Wentz has been solid in his first two games back and this week could be the week we see him have a big game. Unless Minnesota can figure out how to patch up their defensive issues, the Eagles will have a filed day on the offensive side of things. For the Vikings, Kirk Cousins has the ability to keep them in the game but if they are behind by a lot in the early going and shy away from the rushing attack, it will be all over.
Eagles 35, Vikings 24
Arizona Cardinals (0-4) @ San Francisco 49ers (1-3) 4:25 PM EST
C.J. Beathard was pretty solid in his first start since Jimmy Garoppolo's season-ending injury but it was not enough to take down the Chargers last week. Equally solid was Josh Rosen in his first NFL start, throwing for 180 passing yards and a touchdown pass in a 20-17 loss versus the Seahawks. It is a division game which means we are likely in for another close game. However with Rosen's first start under his belt he can shake out the jitters and improve from here on out. Dropped passes doomed the Cardinals on offense last week and cannot be a recurring theme if they want to win a game this year. The rookie quarterback gives them the best chance to win and C.J. Beathard's track record speaks for itself and Arizona will win this game if they can capitalize off his turnover problems.
Cardinals 21, 49ers 17
Los Angeles Rams (4-0) @ Seattle Seahawks (2-2) 4:25 PM EST
Los Angeles continued to showcase their high-powered offense last Thursday against the Vikings when they put up 38 points to move to 4-0 this year. Now they face a division matchup with a Seahawk team that just lost their best defensive player in Earl Thomas for the season. The Rams are simply too good right now with Jared Goff, Todd Gurley, Cooper Kupp, Brandin Cooks, Robert Wood, etc. to be stopped by anybody. Russell Wilson is a great quarterback who like I have said before, can carry his team to victory. But it will be borderline impossible for him to single-handedly keep up with the potent offensive attack the Rams produced week in and week out. This is another game with the making of a blowout written all over it.
Rams 35, Seahawks 14
Dallas Cowboys (2-2) @ Houston Texans (1-3) 8:25 PM EST
Both of these teams made me eat my words last week. I did not think Dak Prescott was performing well enough to lead the Cowboys to a win over Dallas and felt the way DeShaun Watson performed in the first three quarters of each of his last two games would spell 0-4 for the Texans. Now these two teams face each other and I am stuck with picking a winner. Personally, I still do not believe Dak Prescott is the quarterback he was in his rookie year and last week was a fluke of a game for the Dallas offense. What DeShaun Watson showed last week against Indianapolis was that he can fully command the offense and be effective in the clutch to lead his team to victory. For a third week this season, I am going with the Texans and fully expect them to do the opposite of what I believed they would.
Texans 27, Cowboys 20
Monday Night Football
Washington Redskins (2-1) @ New Orleans Saints (3-1) 8:15 PM EST
Saints. Monday Night Football. Superdome. Need I say more? The Redskins are coming off a bye and walking right into a hostile environment that is sure to give Drew Brees and the New Orleans Saints plenty of energy for a prime-time game. You never know what type of Alex Smith you will get when he is behind center, one week he looks unstoppable, the next week he produces a dud. It is crucial that Smith takes charge for Washington and opens the run game for Adrian Peterson to gash the Saints for big yardage on the ground. That will be the key to winning on the road for the Redskins. For New Orleans, feed off the crowd noise and have Drew Brees work his magic on offense with the weapons he has been supplied. This is a tough game for Washington to walk into after getting a week off and I do not see them winning it.
Saints 30, Redskins 20
Questions or comments? Email [email protected] and follow @mtvhottakes on Instagram and Facebook to know when new stories are posted.
---