NFL Week 6: Half-Season Mark Fast Approaching as Teams Look to Separate
With the MLB Playoffs getting underway, football has sort of taken a backseat in the daily blogs. But rest assure you can expect predictions each and every week from MTV's Hot Takes. Last week was full of close games, overtime, and even an NFL milestone by Drew Brees for most passing yards in NFL history. But with all that occurring, how did we fair last weekend? Time to check where we stand after five weeks...
Last Week: 7-8
Season Record: 43-33-2
A bit ugly to say the least. But we are still over .500 for the season and there is still plenty of time to improve so let us get right into this week's picks!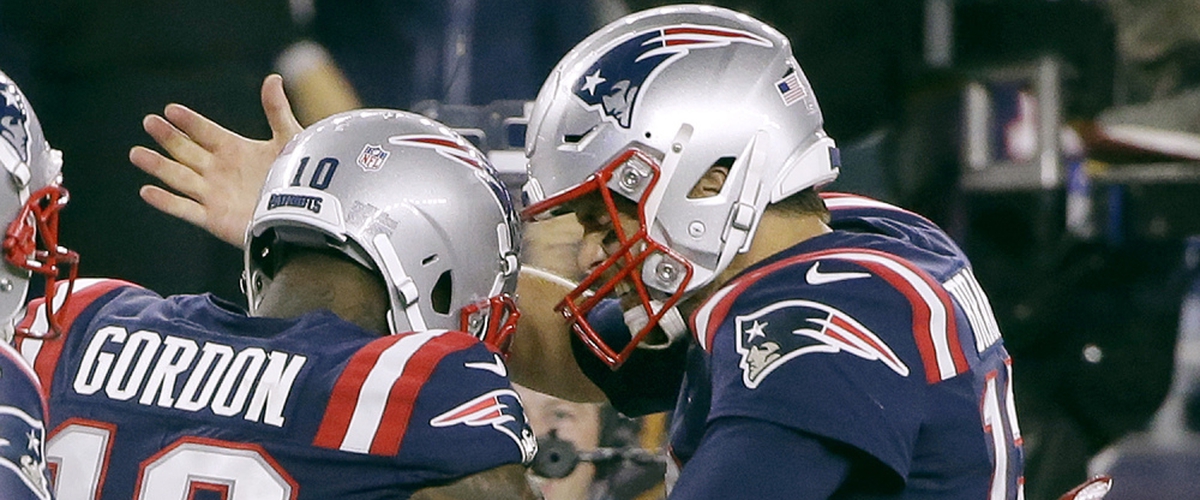 Week 6 Predictions:
Thursday Night Football
Philadelphia Eagles (2-3) @ New York Giants (1-4) 8:20 PM EST
This should be ugly. The Eagles have struggled to find much of a rhythm in their offense even with the return of Carson Wentz behind center. They have lost two in a row to the Titans and Vikings, now they have this division matchup. Philly also lost Jay Ajayi for the season with a torn ACL which will impact their run game as it looks like Wendell Smallwood will take the lead role at runningback. Smallwood is a duel threat in the pass game and now the run game, expect him to have a big day against the Giants. Speaking of New York, Eli Manning has been lackluster and the Giant offense has relied heavily on Saquon Barkley to keep them in games. Odell Beckham Jr. finally got going with one touchdown catch and a passing TD as well last week in a last-second loss to Carolina. Perhaps if the defense could make some plays, the Giants could get in the win column. But the Eagles need to make a statement, which I believe they will and New York is about to be on the receiving end of it.
Eagles 28, Giants 17
Sunday Football
Chicago Bears (3-1) @ Miami Dolphins (3-2) 1:00 PM EST
Fresh off their bye week, the Chicago Bears are feeling good after Mitchell Trubisky dominated the Tampa Bay defense and threw six touchdown passes en route to a blowout victory at home. Now they look to take their three-game win streak and dominant defense down to Miami to face the Dolphins. The Dolphins are on a two-game losing streak after starting the season 3-0 and blew a 17-point second half lead to the Bengals courtesy of poor offensive play-calling. Their defense stifled Cincinnati for a majority of the game, but mistakes by Ryan Tannehill and a leaky offensive line doomed them. That injury-ridden offensive line is going to have to hold up against Khalil Mack if they want a shot at winning. Miami's defense can only hold on for so long and Adam Gase's inability to make effective play-calls for the offense will be the downfall for this team.
Bears 24, Dolphins 10
Tampa Bay Buccaneers (2-2) @ Atlanta Falcons (2-2) 1:00 PM EST
Both of these teams got absolutely destroyed in the last game they played. The difference being Tampa Bay had an entire week to think about it and Atlanta did not. However, the benefactor of this week's game will be Matt Ryan and the Falcons' offense. They are back home after being embarrassed by the Steelers and while they may not have the benefits of a bye week coming into this game, their offense is still strong. If Tampa Bay cannot stop Mitchell Trubisky from having a career day for the Bears, how can we expect them to stop a veteran like Matt Ryan on the road? Sure, Atlanta's defense has been less than stellar as well due to numerous injuries, but they are facing a Jameis Winston who has just a half a game under his belt for the season. The Falcons need to prove they can still compete and should come out flying in this one.
Falcons 24, Buccaneers 14
Pittsburgh Steelers (2-2-1) @ Cincinnati Bengals (4-1) 1:00 PM EST
Pittsburgh heads to Cincinnati coming off a huge win against the Atlanta Falcons at home that may just be their saving grace for the season. However, we saw them explode against Tampa Bay and then drop an egg the next week versus Baltimore. So which version shows up in this matchup? Who knows. What we do know is Cincinnati's offense struggled last week against the Dolphins. Despite coming away with a 10-point victory, Miami's defense held the Bengals to 13 points and a 1-for-4 conversion rate in the red zone. Mistakes by Tannehill on offense fueled two defensive scores for Cincy which ended up being the difference maker. Andy Dalton has to lead the offense early and make sure they do not fall behind against the Steelers. But I like the way Pittsburgh looked versus the Falcons and think they keep the momentum going on the road.
Steelers 28, Bengals 24
San Diego Chargers (3-2) @ Cleveland Browns (2-2-1) 1:00 PM EST
In their previous six matchups, the Chargers and Browns have played down to the wire with all six games being decided by nine points or less. We all remember Christmas Eve 2016 when the Browns got their only win of the season versus the Chargers. But these Browns are different, these Browns have stability at quarterback and a defense that is starting to piece things together. They halted a hot Ravens team last week and took the overtime victory to pull to 2-2-1 on the year. Now they will have to take down a hot Chargers team which has seen both of its losses this season come at the hands of the only two undefeated teams left, the Chiefs and the Rams. However, the list of teams they beat is far less impressive in the Bills, 49ers (post-Garoppolo injury), and the Raiders. Nothing that truly cements them as high-level in the AFC Conference. Going into the Dawg Pound is not going to be an easy task considering the way the Browns have performed so far this year. Cleveland proved me wrong last week, but they proved themselves against Baltimore and now I am riding with them this week.
Browns 21, Chargers 17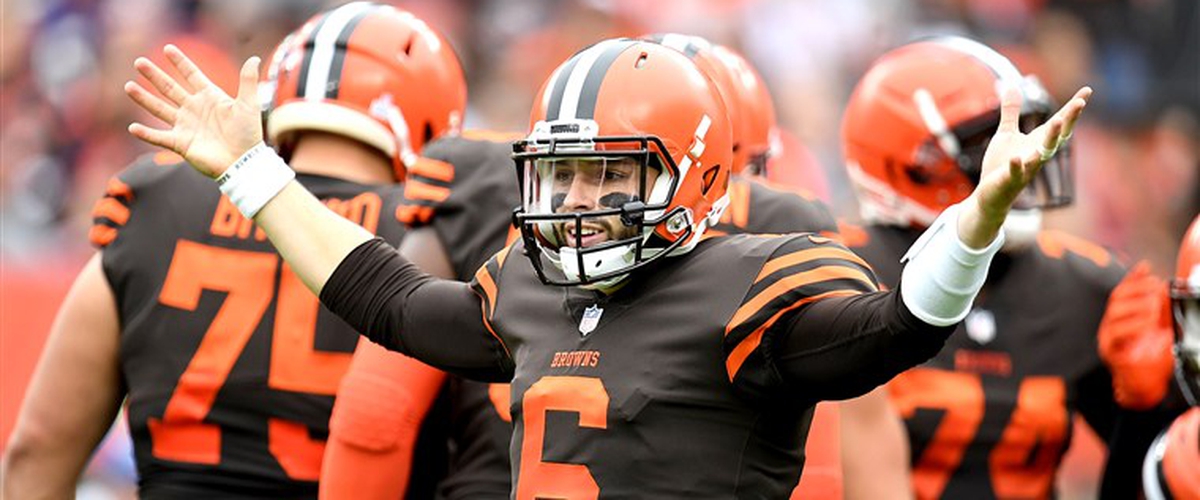 Seattle Seahawks (2-3) @ Oakland Raiders (1-4) 1:00 PM EST
The Seahawks proved they can still keep up with some of the best teams in the league after coming up just short of beating the Rams last week at home. They simply had no answer for Todd Gurley and it ended up costing them that game, now they face a far less formidable opponent in Oakland. The Raiders look lost behind coach Jon Gruden and the offense has only scored more than 20 points once this season, their only win which was a 45-42 overtime shootout with the Browns. Oakland's offensive line is full of injuries right now which will not help Derek Carr at all to air out the passing game. Carr has been a turnover machine to start the season, throwing eight interceptions through five weeks of the season which does not bode well as he goes up against a Seattle defense that has forced 11 turnovers this season, tied for second-most in the league. Nothing is going right for the Raiders at the moment and Seattle has momentum on offense after last week's performance against Los Angeles.
Seahawks 27, Raiders 10
Arizona Cardinals (1-4) @ Minnesota Vikings (2-2-1) 1:00 PM EST
Minnesota's defense finally forced some turnovers and held their own last week against the Eagles. The Vikings recovered two fumbles last week, one of which was run back for a touchdown and the other led to Dan Bailey field goal. Now they face the Cardinals with a chance to build off of last week's much-improved defensive performance. This is the perfect opponent to do it against too as Arizona sends out rookie quarterback Josh Rosen to make his second career start after going 10-for-25 last week against San Francisco. Minnesota's secondary should be able to gain some confidence and make the most of the young signal-callers mistakes by forcing turnovers. The run defense has allowed just 99.4 yards per game and if they shut down David Johnson in the backfield, Rosen will be forced to throw which is where mistakes will be made.
Vikings 35, Cardinals 10
Indianapolis Colts (1-4) @ New York Jets (2-3) 1:00 PM EST
Andrew Luck and the Colts have been on the short end of some tough losses this season. If just a few plays went their way, they could be 3-2 right now heading into a matchup with the Jets at MetLife. Their defense is decimated by injuries right now which is not exactly promising considering they face a Jets team that just stuck it to Denver with a three-touchdown performance by Sam Darnold and a 219-yard rushing performance by Isaiah Crowell to blowout Denver, 34-16. Nothing good can come from this matchup on the road for the Colts given their current defensive concerns. It is hard to imagine Luck being able to keep up with Darnold if the Jets pull away early, benefiting from that inury-riddled defense which is why I believe New York pulls to .500 this weekend.
Jets 24, Colts 20
Carolina Panthers (3-1) @ Washington Redskins (2-2) 1:00 PM EST
Coming off an exhilarating road victory, the Carolina Panthers look to extend their win streak to three after a 63-yard field goal by Graham Gano gave the Panthers a victory over the Giants. Momentum is on their side and even though Cam Newton did not have the best of games last week, throwing two interceptions to go along with two touchdown passes, he was still efficient and should be better this week. The Redskins had a dud of a game on Monday Night Football as Alex Smith could not lead the offense to anything substantial and Adrian Peterson suffered a shoulder injury. Luckily for Washington, Peterson did not suffer a serious injury and is currently listed as day-to-day. They have to face a Carolina defense that forced three turnovers, including two interceptions by Mike Adams last Sunday. Mediocrity continues for the Redskins, but they will likely still be in first place after this week even if they fall to 2-3.
Panthers 30, Redskins 17
Buffalo Bills (2-3) @ Houston Texans (2-3) 1:00 PM EST
One week they perform, one week they do not. That has been the theme for this Buffalo Bills team who held the Titans to 12 points and came away with a 13-12 victory last weekend. So what team will show up against the Texans? I am going to go with the one that was shutout by the Packers the other week. Josh Allen shows flashes of potentially being the quarterback of the future for the Bills, but he is still young and going to go through growing pains this year. DeShaun Watson got through his early season pain coming back from the ACL tear and has started to find his way these last two weeks for the Texans to pull them within a game of a .500 record. Watson will be solid this week against Buffalo in what should be a double-digit win for the Texans to get their third-straight win.
Texans 20, Bills 10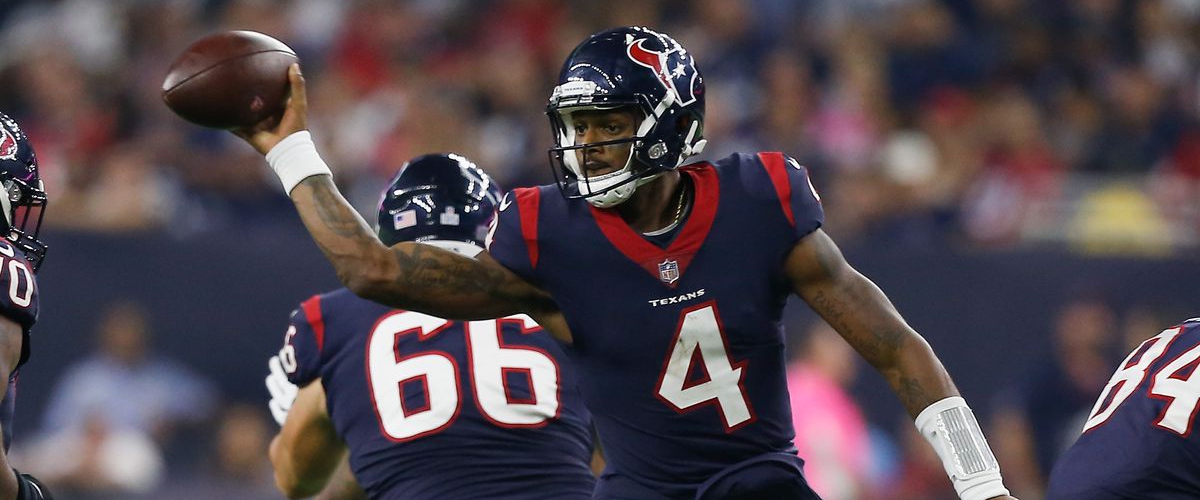 Los Angeles Rams (5-0) @ Denver Broncos (2-3) 4:05 PM EST
If Denver managed to allow Isaiah Crowell to go for 200-plus rushing yards last week, imagine what Todd Gurley could do this week for the Rams. The Broncos were blown out by the Jets last week and Case Keenum has not looked like the same quarterback he was last year with the Vikings. Denver's defense cannot match the high-powered offense of the Rams and this game is likely to get out of control pretty quickly. Jared Goff may not have had the best game for the Rams last week, throwing one touchdown pass and two interceptions, but the LA offense still put up 30-plus points for the fifth time in their five games this year. Forget the snow in the forecast for the game. Goff will bounce back and Gurley should have a big day for the offense to lead the Rams to victory.
Rams 35, Broncos 17
Jacksonville Jaguars (3-2) @ Dallas Cowboys (2-3) 4:25 PM EST
The Blake Bortles of seasons past came back to haunt the Jaguars on the road last weekend against Kansas City. Bortles threw for 430 passing yards, one touchdown pass, and four interceptions in the 30-14 loss. The one bright spot of the game has to be T.J. Yeldon who is proving his worth with Leonard Fournette missing time with a hamstring injury. Yeldon has been a duel threat in the backfield and in the passing game which makes him dangerous against the Cowboys this weekend with Fournette continuing to miss time. Dak Prescott's mediocrity continued against Houston last week with one touchdown pass to compliment his two interceptions in the overtime loss on Sunday Night Football. Now he has to face a Jaguar's pass defense that forced Patrick Mahomes to throw two interceptions and no touchdown passes. This is a recipe for disaster for the Cowboys, kind of like going for it on fourth down in overtime last week.
Jaguars 27, Cowboys 7
Baltimore Ravens (3-2) @ Tennessee Titans (3-2) 4:25 PM EST
I will keep this short and sweet, the Titans need to score touchdowns on offense. They cannot rely on the foot of their kicker Ryan Succop to produce points on offense and expect to win games. Improvement will be hard to come by as they take on a Baltimore team that has allowed 14 or less points in their last three games. It is really a matter of Joe Flacco bringing the offense together and Michael Crabtree not dropping everything thrown in his direction. Piece those two things together and we could be looking at a dominating performance by the Ravens on both sides of the ball. I am going to be generous here and say the Titans score 16 points, nine off the foot of Succop and one touchdown pass by Mariota in what turns out to be a closer game than many would have thought.
Ravens 23, Titans 16
Kansas City Chiefs (5-0) @ New England Patriots (3-2) 8:20 PM EST
The Patriots have found their groove with back-to-back wins in dominating fashion against the Dolphins and Colts. Now they welcome the Chiefs to Foxboro in a rematch of last year's season opener in which Kansas City embarrassed the Pats at home. However while the weapons for KC remain mostly the same, the quarterback is different as Patrick Mahomes is behind center instead of the departed Alex Smith. Mahomes is coming off his "worst" performance of his rookie season, throwing no touchdown passes for the first time in his career and two picks against the Jaguars in their blowout victory. Going against one of the greatest quarterbacks of all time in Tom Brady is hard as is, but this game is also in Foxboro where the Patriots rarely lose. Mahomes keeps pace early on, but the veteran Brady sets the tone for New England in what will end up being at least a two-score game.
Patriots 35, Chiefs 24

Monday Night Football

San Francisco 49ers (1-4) @ Green Bay Packers (2-2-1) 8:15 PM EST

There is honestly not much to say here. Unless Mason Crosby misses five field goals again and Aaron Rodgers fumbles the ball twice, the Packers should take this game pretty handily. For one, they are at Lambeau Field and they are facing C.J. Beathard who made Arizona's defense look great with two interceptions and two fumbles as part of the Niners five turnovers last week. Green Bay's defense is not going to produce those kind of numbers this week against San Francisco, but they should have no trouble stopping the Niners' offense. This one should be over pretty quickly on prime time.

Packers 28, 49ers 10

Questions or comments? Email [email protected] and follow @mtvhottakes on Instagram and Facebook to know when new stories are posted.
---