Big Ten Championship: Can Northwestern Hold On?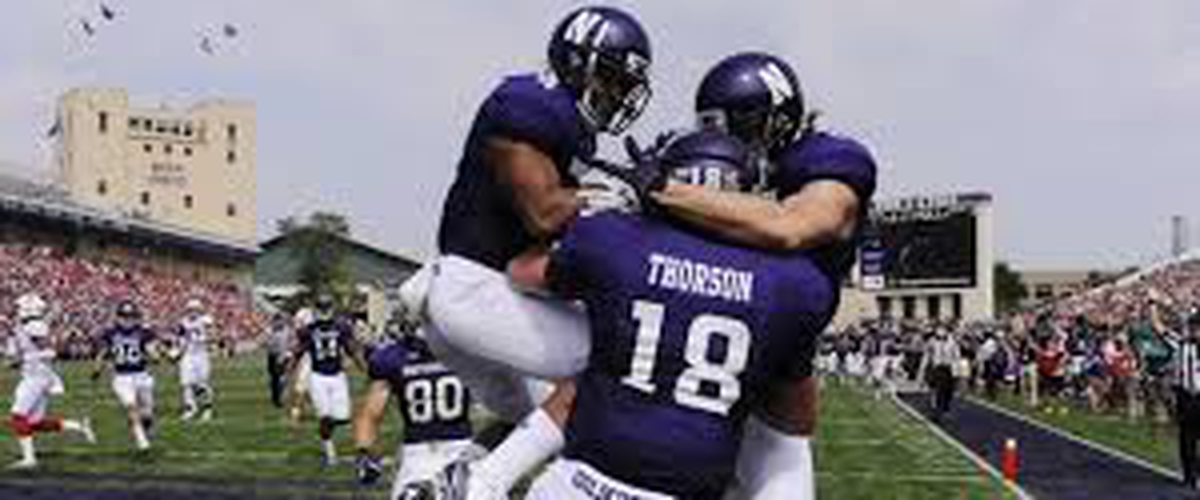 While most people will be watching the Big 10 championship game will give a clear edge to Ohio State. One cannot watch this contest and look past the accomplishments of this Northwestern squad who has bee one of the more consistent forces in the Big 10 over the past couple of years. While Northwestern likely doesn't reach the heights of a playoff contending team, Northwestern has been one of the Big Ten's top teams since 2008 Northwestern has been a seven-win or better team eight times. Pat Fitzgerald has possibly the best job security in the business at the moment. Their track record a claim very few teams in the Big Ten can stake such a claim, but are they ready for the big time lights against the conference's juggernaut? Can they even contend against what appears to be a game trending Ohio State? While Ohio State may be the odds-on favorite to take home the Big Ten title, Northwestern's track record indicates the contest could be closer than many expect.
The Odds
Currently, Ohio State is a 13 point favorite in this contest after a shellacking of Michigan last week. If this game becomes a shootout, the odds greatly favor the Buckeyes of Ohio State, but if Northwestern can control the pace, the 13 point spread could prove to be a bit overzealous.
Their Losses
Mind you this is a four-loss team, but in order to understand their season, one has to look at the quality of their schedule. Their four losses tell two different stories. Following the first four games of the season very few would predict Northwestern would be in the position they are in right now. After opening the season with a win against an improving Purdue squad, they followed this up with two straight gut-wrenching losses to programs which they should have handled easily. They lost 21-7 against a far less talented Duke team, and potentially even more painfully lost 39-34 to Akron. However, their season took a shift a week later. While Northwestern took a 20-17 loss to Michigan, it was at this point where their season really shifted. This team competed against one of the conference's top teams. They held a three-quarter lead which slipped away in the 4th quarter. However, it was during this game Northwestern began to play like the team they truly are. Certainly, they could have won this game and they simply play their conference well. Following this, they went on a hot streak to put them in the spot they are in right now. However, there is one more loss which we need to look at. If you take into account the early struggles of Northwestern, it appears this is Ohio State's game, but most looking in will not see the shift this team took. Their fourth loss came against a stout Notre Dame squad. They dropped this contest 31-21, but for the most part of the game kept it interesting. If you take into account the latter two losses, things could be interesting. Not to mention this has not been the most stable Ohio State squad we have seen in recent history, for every dominant performance over a Michigan squad, there is a cardiac affair which we saw only a week prior against Maryland. They fell to a Purdue squad and had a near fall against Nebraska. If this Ohio State team has taught us anything is they can be equally shaky as they can be dominant. Do we see the Ohio State team ready for battle as we did last week, or will we see a team which onlookers have stated simply doesn't look like a traditional Ohio State team. However, the same goes for Northwestern, has their going trend put them in a spot to contend in this game, and join the ranks of the conference elite, or will they simply fall back into the title of a really good team not quite ready for this stage? If their games against top opponents show us anything it shows us they can compete, but may not have enough to get over the hump. If their early season struggles tell us anything it's that this game is nowhere near a guarantee.
What Need to Happen for a Northwestern Win?
Northwestern will need to continue to be the fundamentally sound them they have been in this stretch. For them to win this contest they will need to play as close to mistake-free football as possible. They are going up against a more athletic and deeper squad. At the top of the list of concerns is Dwayne Haskins who has had a Heisman Contender like season with 4,003 yards and 41 touchdowns and only 7 interceptions. Joining Haskins in Urban Meyers' arsenal is Parris Campbell, KJ Hill, and running back J.K. Dobbins. However, what bodes well for Northwestern is the Ohio State defense has not been the dominant group they were expected to be. If Northwestern will hold a chance against this team they will need Clayton Thorson and Isaiah Bowser to take care of business. Thorson who had a solid season with 2,675 yards 14 TD's and 12 INT's will need to be on top of his game. Thorson an experience Big 10 quarterback will need to control the pace of this game. However, this Northwestern team would not be where they are if it were not for Isaiah Bowser. Part of this teams turnaround was at the hands of Isaiah Bowser who was expected to be redshirted this season, but since jumping into the picture Bowser has been the driving force of this Northwestern offense. A successful game from Bowser could be the key to victory for Northwestern. Bowser a strong runner and the more the ball is in his hands the less it is in the hands of Dwayne Haskins. So what is so special about Bowser? In only six games Bowser has totaled 736 yards and six touchdowns. He is averaging 4.6 yards a carry, and when Bowser is playing well this Northwestern team is playing well. Pat Fitzgerald's arsenal is nowhere near as deep as Urban Meyers', but this group has proven they contend with the top teams in the NCAA.
Final Verdict
It's going to depend on which team shows up. Through the season we have seen Ohio State struggle against conference foes, and for the better part of this season Northwestern take care of business. If the same team we saw against Michigan last week show up it may be a quick one, but if Northwestern can control the pace of the game we could be in for quite a contest. Ohio State certainly has the team to win big, but Northwestern certainly has the team to pull off an upset.
---