Few Veteran OF's Make Sense for Cubs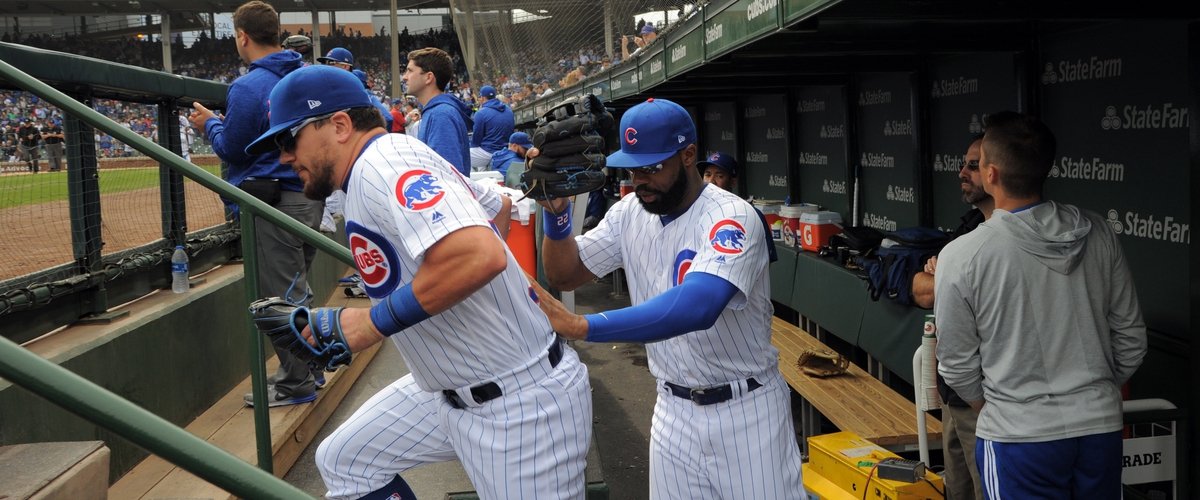 The hot stove is heating up, and while the Cubs are remaining in the rumor mill, it still appears their interest in Bryce Harper is at the right price. Certainly Harper makes the Cubs better, but it does not appear the Cubs will be getting in a massive bidding war if the price continues to rocket. Due to this news the Cubs are consistently being linked to a series of veteran outfielders, but these rumors seem to be more speculative than actual fact. Besides Harper the big names on the market remain Andrew McCutchen, Michael Brantley, and Adam Jones. While at one point in their careers these names would thrill any Cub fan to add, it appears adding these players makes little sense for the team they have in place now.
Adam Jones
Once one of the cornerstones in Baltimore it appears his run in Mobtown is nearing it's end. Three straight seasons with a WAR 2.0 or lower it appears there is a new trend in the career of Adam Jones. Jones in his older age is a significant liability in the field posting minus numbers last season in all three outfield spots. As an outfielder in general he posted -25 DRS, and his UZR is showing nothing that will enthuse fans. Jones may certainly have the ability to play a spot role would be far better suited to sign with an AL team where his remaining offensive talents can still be used. All four Cubs regular outfielders defensively are an upgrade over Jones, does not present an upgrade over any of the Cubs outfielders.
Adam Jones: 0.5 WAR
Albert Almora: 1.1 WAR
Ian Happ: 1.5 WAR
Jason Heyward: 2.0 WAR
Kyle Schwarber: 3.2 WAR
While many Cubs fans may have written off Schwarber, the Cubs front office certianly hasn't. Schwarber had a solid season last year and his defensive metrics are greatly improved. However, the Cubs overall have one of the best defensive outfields as a whole. Factor in Kris Bryant and Ben Zobrist the Cubs have little need to waste money and resources on Jones. Jones a couple years ago presented an interesting arguement, but at this point in his career his impact is limited. To elaborate on this further lets look at the DRS numbers for the players.
Adam Jones: -25 DRS
Albert Almora: +9 DRS
Ian Happ: +6 DRS
Jason Heyward: +6 DRS
Kyle Schwarber: +2 DRS
When you take into account the defensive metrics, it's not even close, Adam Jones makes absolutely no sense for the Cubs unless Theo Epstein has found the fountain of youth, it's highly unlikely the Cubs make the call for Adam Jones.
Andrew McCutchen
An interesting debate could be made for the next two options, but in the case of McCutchen it's a matter of how much longer he will hold up. No longer the serviceable defensive presence he used to be, and his bat has declined as well. The power numbers have remained consistent. On the right deal Andrew McCutchen could make sense for the Cubs. However, the deal would certainly be for two years or less.
Andrew McCutchen: 2.6 WAR
Albert Almora: 1.1 WAR
Ian Happ: 1.5 WAR
Jason Heyward: 2.0 WAR
Kyle Schwarber: 3.2 WAR
Outside of Kyle Schwarber no Cubs outfielder posted a higher WAR than McCutchen, and it appears there is still something left in the tank for him. However, this is a gamble as well because the Cubs would be banking on the fact he would still hold up. He's not really suited to play center field any more meaning he would be splitting time with Kyle Schwarber, and despite what many has said Schwarber was the Cubs best outfielder last season. One could make the arguement to take time from Schwarber if it was for Bryce Harper, but a declining Andrew McCutchen is a different story. Then again he could play a spot role in right as well, but are the Cubs willing to take away Heyward's glove? As I mentioned before, it would be borderline insane to allow McCutchen to continue to play in CF the past four seasons he's posted a -65 DRS in center field. This is beyond a liability. However, he has shown to be serviceable on the corner spots.
Andrew McCutchen: +2 DRS
Albert Almora: +9 DRS
Ian Happ: +6 DRS
Jason Heyward: +6 DRS
Kyle Schwarber: +2 DRS
Certainly you could make the case McCutchen holds value still as a baseball player, but time is not in his favor, and it may only be a matter of time before the rest of his game begins to decline. If one goes by the metrics the Cubs would mostly be adding the outfield version of Daniel Murphy. Like Murphy and Jones, the best place for them to continue to have success will likely be the American League. While McCutchen may have the same DRS as Schwarber, at this point in their careers it would be hard to argue for favoring McCutchen's bat over Schwarber, a couple years ago this is a different story.
Michael Brantley
Brantley perhaps is the most compelling known available outfielder. When he plays it's still at a high level, but the key word there is when he plays. Last year was his first "full-season" since 2015, but health is by in large the biggest red flag for Brantley, add in the fact he is only a year younger than McCutchen, and Brantley doesn't appear to be an upgrade for the Cubs either.
Michael Brantley: 3.5 WAR
Albert Almora: 1.1 WAR
Ian Happ: 1.5 WAR
Jason Heyward: 2.0 WAR
Kyle Schwarber: 3.2 WAR
Brantley represents an offensive upgrade, but a defensive downgrade posting a minus DRS last season.
Michael Brantley: -3 DRS
Albert Almora: +9 DRS
Ian Happ: +6 DRS
Jason Heyward: +6 DRS
Kyle Schwarber: +2 DRS
Certainly we can see that Brantley is not completely awful in the field, but again, does he pose a significant upgrade for this team? If we could look into a crystal ball and see he will be healthy all season, an argument could be made. However, again Brantley is primarily a left fielder, and this is what we have to look at, Kyle Schwarber still has room to grow, do you favor Brantley over Schwarber, and the answer to this blogger is no. Kyle Schwarber has gone from a "legendary" status to being on the door step of being an All-Star caliber player. If this is the Schwarber we will see going forward he is a solid starter with plus power. Again I think it would take Bryce Harper to unseat Schwarber in left, and that's if the Cubs choose to play Harper in left exclusively.
Billy Hamilton
Billy Hamilton on the other hand makes sense. Hamilton is not going to be what his early career hype was, but that's ok. Billy Hamilton is the player I wrote he is last year called the Curious Case of Billy Hamilton. I certainly think the Reds made the right move to let him go. Hamilton is what we have seen a plus speed, plus defender, who only gets on base via the base hit. Awful player to bank your rebuild on, awesome player for a contender who can use him without relying on him.
Billy Hamilton: 1.3 WAR
Albert Almora: 1.1 WAR
Ian Happ: 1.5 WAR
Jason Heyward: 2.0 WAR
Kyle Schwarber: 3.2 WAR
Hamilton makes sense because he provides the Cubs speed off the bench and a guy you don't cringe when he is at the plate. While he is certainly no All-Star, he won't bring back nightmares of Terrance Gore in the NLWC. Hamilton offers a speedy presence offensively, and very little in the OBP department, but he's a mid-level hitter with speed. His speed could be a draw for a team which struggled to get runs across the plate last season.
Billy Hamilton: +4 DRS
Albert Almora: +9 DRS
Ian Happ: +6 DRS
Jason Heyward: +6 DRS
Kyle Schwarber: +2 DRS
Billy Hamilton is not a liability in the field and if need be can likely field all three outfield spots. However, again Billy Hamilton is not a perfect match, but if the Cubs are looking for depth this may be their guy. He is not a major upgrade, but has great speed. Far from a match made in heaven, but between defense, age, and speed he may be the Cubs best option not named Harper.
Closing Thoughts
If the Cubs do not add Harper they honestly should hold firm, their outfield is serviceable, and not thin on depth. If the Cubs want to upgrade their outfield they will need to fork out the money for Harper or be crafty on the trade market.
---